Atlanta Falcons: 5 Things That Infuriate Us Fans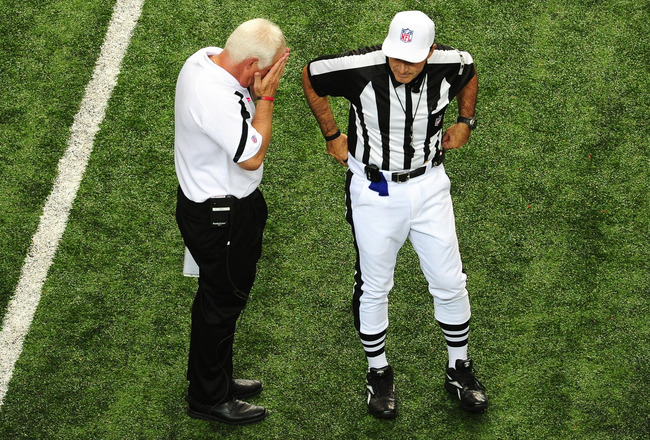 Scott Cunningham/Getty Images
The Atlanta Falcons have rebounded this season and now find themselves right in the midst of the NFC South race. Having said this, the Falcons still have many areas they need to improve in, and quite honestly, there are just as many areas that simply infuriate fans.
Being a Falcons fan is not always an easy task. Here are the top five things that make Falcons fans go crazy.
5. Lack of Big Plays on Offense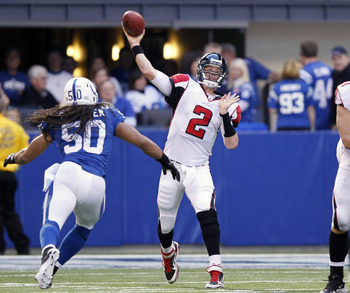 Joe Robbins/Getty Images
Prior to the two big plays made by Julio Jones this past weekend, the Falcons have struggled this season making the big play. A lot of money has been spent on skill players, and the Falcons need to make big plays if they want any chance at beating the Saints and potentially winning the NFC South.
Hopefully this is a sign to come. Keep feeding Julio the rock.
4. Playing Smart Football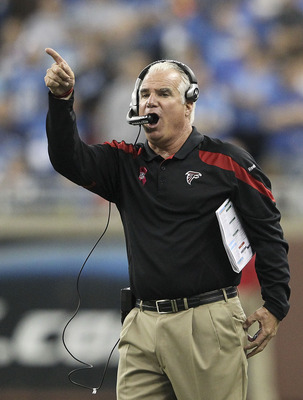 Leon Halip/Getty Images
Falcons fans, remember the play that made Head Coach Mike Smith and Defensive Coordinator Brian Van Gorder irate? A 4th-and-1 against the Tampa Bay Buccaneers when the Falcons defensive line went offsides and everyone knew that Josh Freeman was only trying to draw the team offsides.
Falcons, play smart football please.
3. Michael Turner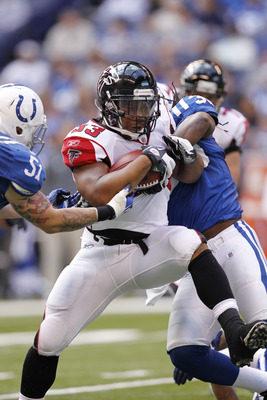 Joe Robbins/Getty Images
Now I realize that Michael Turner is a great running back, but there have been multiple times this season in which he has sprung loose only to be run down for a 30-yard gain. Some of these plays would be touchdowns if he had just a little bit more speed.
Turner, keep doing what you're doing, but us fans would not mind it if you had just a little bit more speed.
2. Not Being Able to Play Four Quarters of Football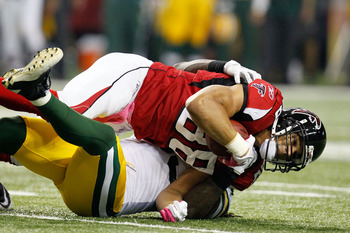 Kevin C. Cox/Getty Images
The biggest difference between this year's team and the 2010 Atlanta Falcons is the ability to play a full four quarters of solid football. The Falcons have been in every game this year, but in the games that they have lost, they have not been able to play consistent football for four quarters.
Whether it is on the offensive side of the ball or the defensive side, the Falcons have struggled with this so far in the first half of the season. If they string together complete games, then they will be able to finish the season strong and make the playoffs.
1. Inability to Get a Consistent Pass Rush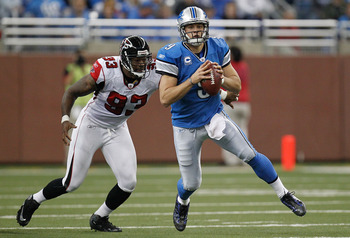 Gregory Shamus/Getty Images
The Falcons have done a better job this year, but they still struggle to establish a consistent pass-rush. Too many times this season have opposing quarterbacks been able to just sit in the pocket and complete easy passes.
This was the Achilles heel of the team last year as Aaron Rodgers exposed the defense in the 2010 playoffs, but Falcons fans want to see a good pass-rush. Ray Edwards, please earn your paycheck.
Keep Reading

Atlanta Falcons: Like this team?