Philadelphia Eagles: The Ultimate Coin-Flip Team
November 10, 2011
Nick Laham/Getty Images
I had the perfect view Monday Night. I was positioned in the winning end zone. That is if the Philadelphia Eagles could get there.
But one yard was too much for Jeremy Maclin on a late fourth down drive and Michael Vick continued his career of never having beat the Chicago Bears.
Imagine that. Somewhere along the lines you'd think Vick would have done it. Maybe in an NFC Championship game. Nope.
Just like Vick has not done in his career, neither have the Eagles in 2011. They haven't won that "must have" game. Add another loss to a season that sought a Super Bowl from the start.
Lincoln Financial Field was restless Monday night. But coming from a dominant 34-7 win over Dallas the week before, you would not have expected that.
Fans booed. The good and the bad. It was Jeremy Maclin with the drops. And DeSean Jackson with the fumble. On this night, the negatives outweighed the positives.
Everyone in the stadium that night saw a team claw its way back into a lead and then blow it out the chimney. Down ten. Tied. Up three. Down four. And finally losing by six.
It was a roller coaster ride. The high points being a lead. The low points trailing from behind.
But either way, you saw a fan-base not back its team. It was fans shaking their head at Andy Reid taking a timeout with four minutes to go in the fourth quarter when you knew the Bears were going to score on their goal line. It was when the Eagles were marching, yet showing no signs of urgency to change up the games pace. No signs of a no-huddle offense. No signs of taking charge and showing this game was theirs.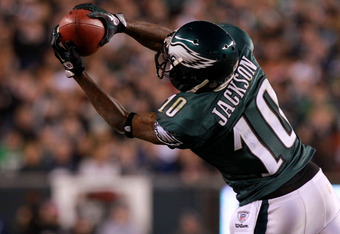 Nick Laham/Getty Images
It was not the fumbles that cost Philadelphia. Because Vick had none. It was instead the clock management and not finding that big play the entire game.
The Eagles surely let Chicago beat them Monday Night. Philadelphia didn't take charge when it could have. Quite frankly, the Eagles were only in the game because of Chicago errors. Matt Forte fumbled twice—his first two of the year.
What Philadelphia will do each week on the gridiron is the million dollar question. None of us know. These Eagles are a flip-a-coin type of team from a performance standpoint each time out.
On paper, you'd like to think all of their next eight games are winnable. But their not. Maybe only four are: Arizona, Seattle, Miami and Washington.
If you could predict this team, you'd be a genius. Until this team gets it figured out in every aspect of the game, their not going to the postseason.
Headaches still remain and the pain worsens after each defeat.