Successful Lawyer Takes Down Breeders' Cup Betting Challenge
November 9, 2011
Rob Carr/Getty Images
Patrick McGoey is your average horse player, which makes his achievement of winning the Breeders' Cup Betting Challenge last weekend at Churchill Downs all the more remarkable.
"I'm not an every day player. I have a day job," said McGoey in an interview I conducted with him.
McGoey is a partner with the commercial litigation boutique firm, Schonekas, Evans, McGoey, and McEachin, L.L.C. in New Orleans. He has been awarded the highest possible rating for ethical standards and legal ability.
Discussing the win further, he said, "Everything fell into place perfectly to be in a position to make the bet on Drosselmeyer and watching his closing kick coming down the Churchill Downs stretch to turn a $100 online qualifying spot into $270,000 is a fantastic feeling."
In its third year, the BC Betting Challenge saw 115 of the best horse players in the U.S. square off in a live-money $10,000 buy-in tournament. McGoey earned his spot on May 28 by defeating 90 players in a $100 qualifying event at www.bcqualify.com. That meant his $10,000 buy-in was paid for.
"I started playing in tournaments last year, but this was the first tournament I did on track … with a lot of people that seemed really serious," McGoey said.
Going into the last race, McGoey was nowhere near the top of the leaderboard, but as is often the case in tournament play, a long shot at the end can turn the final standings upside down in a hurry.
"I originally liked Flat Out, but I knew if he won it wouldn't get me into the prize pool," said McGoey, who wagered $7,000 to win on 14-to-1 shot Drosselmeyer.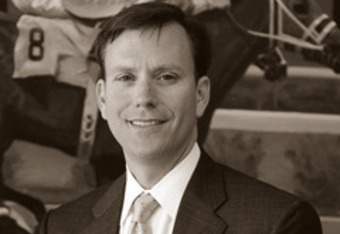 His bet returned $110,600 to capture the contest, which was worth another $160,000.
"I had never made a bet anywhere near that size," said McGoey. "When I made the bet, I was really calm. I'm usually nervous if I make a $100 bet."
Drosselmeyer, who was coming off a second-place effort to Flat Out in the Jockey Club Gold Cup (Grade I), was far behind leader Game On Dude at the top of the stretch. But, he found clear sailing on the outside and rolled home in the final furlong to win the $5 million Breeders' Cup Classic (Grade I) by just over a length under Mike Smith, who earned about the same amount for the win as McGoey.
"It's an adrenaline rush, but it takes work," said McGoey, who started going to the track ten years ago at the Fair Grounds in New Orleans with his brother. "I have a group of about ten buddies that loves to go to the races and we play fantasy football and poker together as well."
Most of the prize money has been earmarked for the college fund of McGoey's children, but some of it may go back into the sport he's passionate about.
"I'd like to get back into owning some horses," said McGoey, who has dabbled in the claiming game with his friends over the years. "It's so much fun."
McGoey's win also earned him an automatic berth into January's $2 million National Handicapping Championships at Treasure Island in Las Vegas where 520 qualifiers will be shooting for the $1 million grand prize in a tournament created by the National Thoroughbred Racing Association.
Make sure to follow me on Twitter @mdoche for much more and visit www.pick4blog.com for daily selections and analysis!
To view my horse racing channel on YouTube click here!
Listen to my weekly sports podcast on MixCloud here!
Also check out my So Cal Scoop Blog on Horse Racing Nation!