Penn State Scandal: Thoughts from a Prospective Freshman
November 9, 2011
Rob Carr/Getty Images
I got home today and had a lot of college-related things to do. I had to call all the schools I applied to to make sure all my applications were complete, be put on hold while the schools looked for said application materials, etc. I turned on my computer and logged on to my e-mail to find an acceptance notification waiting for me from Rutgers University.
I was ecstatic. I was accepted to college. Rutgers is a great school, and getting a "yes" from the first school to reply to me is an amazing feeling.
But when my family and I began the college process last year, I had my eyes set on one university: Penn State.
I loved the campus. The name "Penn State" was guaranteed to impress friends and family. But most importantly, football is life. 
Since I was seven, football has been a major piece of my life. I woke up the day after Super Bowl XXXVI, and instead of being a typical elementary school kid asking what's for breakfast, I asked, "Did the Rams win?" My day got off to a bad start that morning.
But I digress. Now the school where Joe Paterno is god is now in turmoil. Happy Valley is far from jolly. The name Penn State will carry a dark cloud with it for years to come, thanks to scandal. It took the University of Maryland years to recover from the Len Bias tragedy, and Penn State is heading the same way.
When I saw "Breaking News" pop up on the ESPN ticker earlier this week, I paid little mind to it. I figured it was another week of NBA games cancelled. Had I actually paid mind to the news, it would have been the first I learned of Jerry Sandusky. The first I learned of his disgusting acts. The first I learned that my entire college life had changed before it begun.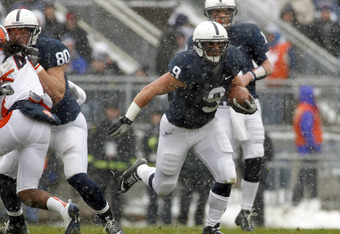 Justin K. Aller/Getty Images
I won't go into detail about what Sandusky did. I can't go into detail about what he did. Hundreds of articles already tell the story, and I can't add any new thoughts. We all agree this was atrocious, and every time the story gets brought up, it makes me sick to think that a man could do this while others were aware. All I can say is that my thoughts are with the victims. 
I know I'm not the only high school senior in this situation. I have several friends who applied to Penn State, and now we are all in the same boat about what to do should we get accepted. 
I viewed Penn State as a haven, a way to get a foot in to the sports writing world. During my college tour, representatives and students alike repeatedly said the words "Penn State" carry power, that dropping the information that you went there would get you a job. It's hard to say that the scandal won't damage the school's reputation.
I sit here now, torn. I can't bring myself to go to a university that, for all intents and purposes, let a pedophile run free. But at the same time, no college is going to offer the same experience Penn State would, pre-scandal.
I used to be able to answer "What school is your top choice?" without hesitation. Now, the answer is simply, "I don't know."