NFL Picks Week 10: New York Jets Will Lay a Hurt on New England Patriots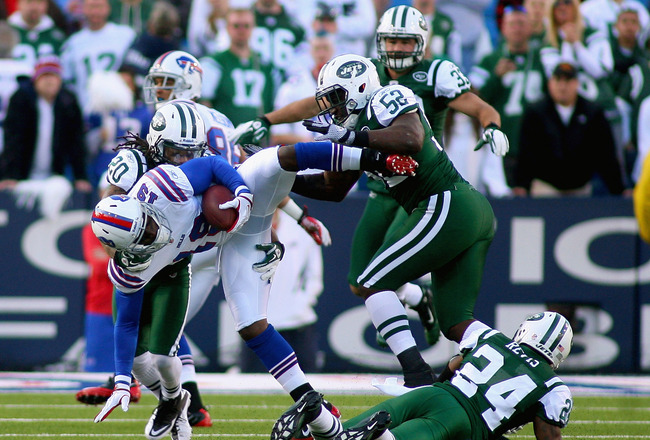 Rick Stewart/Getty Images
Coming out of their bye week, the New York Jets had to face the 5-2 AFC East leading Buffalo Bills in Buffalo. The Bills were averaging 30 ppg and were undefeated at home with victories over the Oakland Raiders, the New England Patriots, the Philadelphia Eagles and the Washington Redskins.
The Jets showed they were more than capable of meeting the challenge. At the end of the game, the Jets defense had two interceptions, forced two fumbles, recovering one, held Fred Jackson to 82 rushing yards and made Ryan Fitzpatrick look like rookie QB.
The Jets offense looked good. Mark Sanchez was able to spread the ball around to Plaxico Burress, Santonio Holmes, Dustin Keller and rookie WR Jeremy Kerley. The running game also showed up, by committee, rushing for a total of 126 yards and two TDs.
It was their best, most complete game of the season. The win put the Jets in a three-way tie for first place in the AFC East as they head back home to face the New England Patriots.
If the Jets are able to accomplish these five things, they will lay a hurt on the Patriots.
Running Game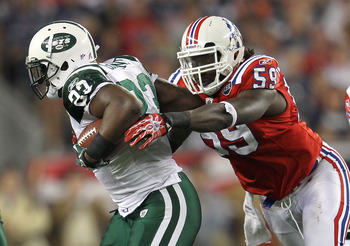 Jim Rogash/Getty Images
I used to believe that running game all depends on Shonn Greene. It doesn't.
Greene does not have to rush for 100 yards every game for the Jets running game to succeed.
The Jets have three capable backs, while neither one is spectacular, they are all productive.
Greene, LaDainian Tomlinson and Joe McKnight are all unselfish and they all keep each other fresh.
If the Jets' three-headed running back goes over 100 yards, the Patriots will find themselves on the losing end of this game.
Passing Game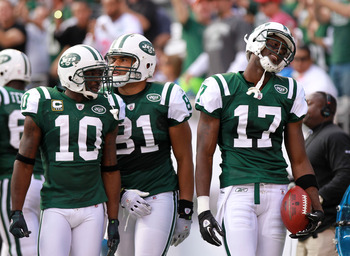 Nick Laham/Getty Images
As the Jets are establishing their running game, they must take their shots against the Patriots' passing defense, which ranks last in the league.
Sanchez is starting to look more comfortable with Burress and with rookie WR Kerley. He already has chemistry with Holmes and Keller.
Like he did against the Bills, Sanchez must try to get everyone involved.
Who can even cover Burress, Holmes or Keller from the Pats? I mean Devin McCourty is decent, but who else do they have? Anybody?
There is a reason why they rank last in the league. If I were them I may try Chad Ochocinco at CB.
Get After Tom Brady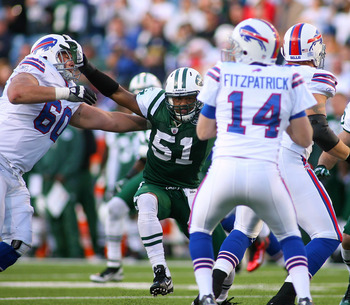 Rick Stewart/Getty Images
The New York Giants showed the blueprint to how to beat the Patriots yet again.
The key is simple, you must hit, sack, bump, do anything physical to Tom Brady.
This really is not easy as it sounds. The Pats' offensive line is pretty good and Brady gets rid of the ball quickly, usually to the open receiver, making the opposing defense look foolish.
Just like their running game, the Jets didn't really have a spectacular pass rusher, so they rely on a few different players and schemes to get after the QB.
Look for Aaron Maybin, Calvin Pace and Muhammad Wilkerson to get after Brady the most, with others all taking their shots.
Linebacker Play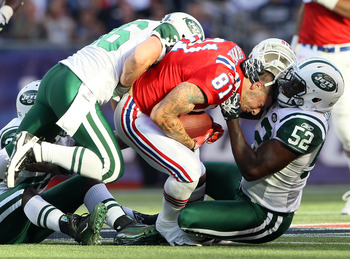 Elsa/Getty Images
Bart "Can't Wait" Scott finally showed up last week, which seemed like for the first time all year. He had a diving tackle against Fred Jackson to hold the Bills on a fourth-and-one fourth down.
Scott, David Harris, Calvin Pace, Jamaal Westerman and the rest of the linebackers need to step up. They need to blitz and confuse Brady while helping out to stop the running game.
They also need to find a way to slow the Pats' two dynamic tight ends in Rob Gronkowski and Aaron Hernandez.
Revis, Revis, Revis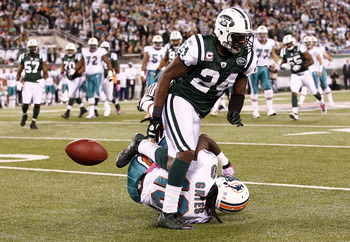 Jeff Zelevansky/Getty Images
Darrelle Revis should mirror Wes Welker as much as he can this time around. Hopefully, Rex Ryan will let this happen, instead of switching up coverages.
If Revis is able to take away the Wes Welker option from Brady, New England can be in trouble.
Besides Deion Branch, the Patriots don't have any other real weapons, well except for the tight ends.
Kyle Wilson should be able to handle Branch.
Antonio Cromartie has to try his best to keep their tight ends in check, since he is the tallest of the Jets' CBs.
Safety Eric Smith also must help to contain Gronkowski and Hernandez.
Keep Reading

New York Jets: Like this team?