Seattle Mariners: 5 Biggest Offseason Upgrades They Need to Make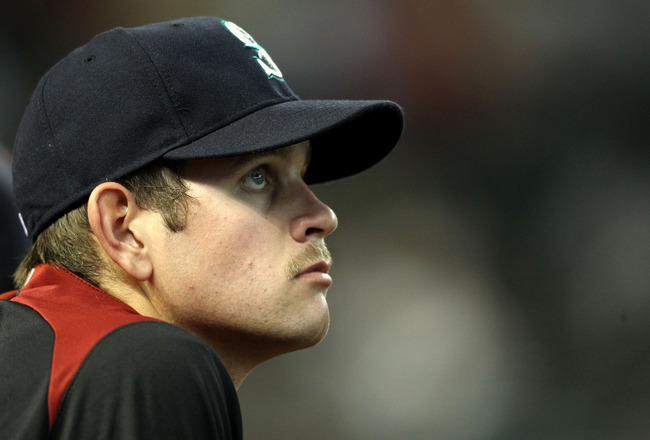 Christian Petersen/Getty Images
Mariners fans across the country, and the world, are hoping for an eventful, productive offseason out of GM Jack Zduriencik and company.
The club is certainly on the right track with players like Dustin Ackley and Michael Pineda surging up, but there are some major adjustments to be made that can't be tended to simply through the farm system.
Here are the five biggest upgrades that need to be made before Spring Training kicks off next March.
Lock Down a Starting Rotation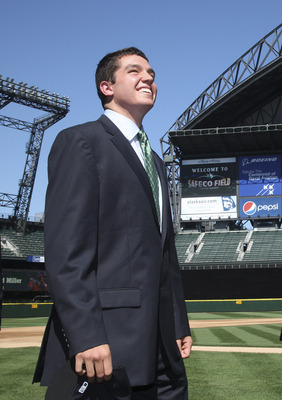 Otto Greule Jr/Getty Images
Apart from Felix Hernandez and Michael Pineda, there is nothing certain about the 2012 rotation right now. That needs to change before Spring Training gets underway.
I hope Jack Z doesn't decide to trade Jason Vargas because I think Vargas is the perfect middle-of-the-rotation pitcher for the M's. He's not ace material, but the Mariners aren't the Philadelphia Phillies—there's no Phantastic Phour here.
Vargas doesn't keep his ERA as low as Felix or Pineda, but he stays late into games and works through at-bats efficiently. He wouldn't fetch a great trade value since he isn't sensational, but he's also in just his second year of arbitration, so the Mariners have control over him for a few more years.
Danny Hultzen is obviously another huge name that comes up when we talk about the 2012 rotation. I've said it a number of times, but I'm confident that Jack Z wants to get Hultzen into the five spot from the get-go—he drafted Hultzen (as a junior in college) for major league-readiness.
Hultzen is already pitching well in offseason leagues, so with some more adaption time during Spring Training, I don't see why he couldn't take the fifth start of the Mariners' season. If he proves he can stay, Jack Z will have a wicked threat: The Big Three.
That leaves one more spot. At the end of the 2011 season, we saw Anthony Vasquez, Charlie Furbush and Blake Beavan. Personally, I have trouble getting very excited about any of them. Although they're still young, they may've missed their chances.
There's a quick pace with Mariners pitching prospects right now, so a small look may be all anyone gets. Taijuan Walker, Mauricio Robles and James Paxton all have call-ups in the relatively near future, and any of them could earn a starting spot within the next three years.
Currently, however, it's James Paxton who has the lead in that race. He had a great season in Double-A last year, and he owns a blazing fastball that was clocked up to 98 mph.
My proposed solution to the current conundrum: Felix, Pineda, Vargas, Paxton, Hultzen.
Acquire More Power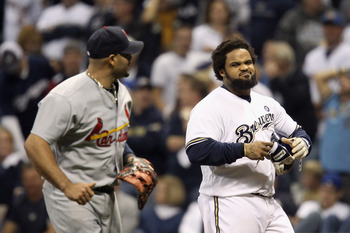 Christian Petersen/Getty Images
Prince Fielder? Probably not. Albert Pujols? Definitely not.
Grady Sizemore, Carlos Quentin or Michael Cuddyer? Now we're talking.
At this point, if I was Pujols, I'd go back to St. Louis where I'm adored and just won a championship. Why on earth would I want to go to Seattle?
Fielder is a little more likely only because he's already denied an offer from the Milwaukee Brewers. However, with Scott Boras leading that charge, it also looks unlikely for our thrifty Mariners.
Sizemore and Cuddyer are two powerful free agents who are more likely to entertain Seattle. They aren't going to be nearly as inflated as Fielder and Pujols.
Sizemore is a Washington native, so he may be more inclined to sign with the Mariners for emotional reasons.
Quentin is another option, since he's on the trade block. The White Sox are going to be "playing the kids" next season, so if they can deal Quentin for some more "kids," they'll be happy. And the Mariners have the kids to deal.
With last year's influx of prospects and many of them already making a major league impact, the M's have the means to send one or two away. Quentin would be a refreshing return value who could shake up the middle of the order and hit some out of the park.
Find a Long-Term Outfield Solution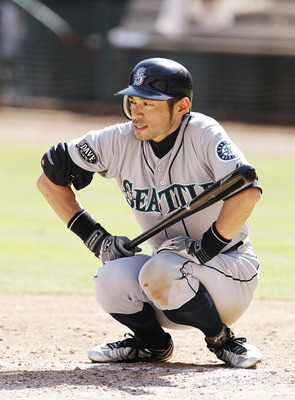 Brandon Wade/Getty Images
Ichiro won't be around five years, but hopefully the Mariners will be a few seasons deep into contention. In order for that to happen, Jack Z needs to find an outfielder or two who have long-term promise but also readily available talent.
I don't think Franklin Gutierrez is the man for the job. Neither are Greg Halman, Carlos Peguero or Mike Wilson. Current Mariners including Casper Wells, Trayvon Robinson and Chih-Hsien Chiang could do the trick, but they aren't necessarily ready to fill that sort of spot just yet.
If the Mariners can add someone to fill one of the spots in the SAFECO outfield not occupied by Ichiro, they can leave the other open for one of the aforementioned farm system players. Then, once Ichiro is done, another of the farm system players can take over.
So who could fill that spot? I've already mentioned three viable candidates: Grady Sizemore, Carlos Quentin and Michael Cuddyer.
Sizemore already plays center, so he is the ideal fit, especially since he played under Manager Eric Wedge in Cleveland a few years back. His bat would also be invaluable to the Mariners.
Quentin and Cuddyer both play right, but Ichiro successfully played center a few years ago, so he could switch there.
Sizemore, Quentin and Cuddyer are all young enough that they could continue to make contributions for several years to come...a long-term deal isn't out of the question.
Upgrade Chone Figgins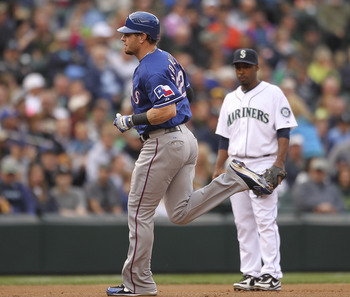 Otto Greule Jr/Getty Images
...to a new team that is. Because that is what it would be, an upgrade. Figgins hasn't been well-received in Seattle, but it's not all his fault. Since switching out of the leadoff spot, his hitting hasn't been the same.
The M's need to send him to a team where he can leadoff and make a real contribution. The destination would preferably be in the National League, though, where he can't come back to bite us.
That move would open up the hot corner for Alex Liddi, Kyle Seager or even Aramis Ramirez. Again, it's pretty unlikely that the M's would sign Ramirez, but not out of the question.
As for the battle between Liddi and Seager, I still like Liddi. Seager had the longer shot last year, and he didn't run with it like many of us would've hoped. Liddi wasn't a lot better, and there are still concerns about his discipline at the plate, but Jack Z is playing him in fall and winter leagues, getting a more thorough look.
Release 5 More Amazing Commericals
Alright, so this doesn't exactly fall in line with the other four upgrades, but it's almost as important to the fans. Personally, I love seeing different sides to the players we usually only get to see on the diamond.
The video to the left is one of my many favorites, along with Larry Bernandez (who keeps coming up and could potentially be that fifth starter I'm looking for), the Ichiro Shift and Working the Zone.
This is also a reminder that it's important not to get to worked up during the offseason. Jack Z will deliver. All we have to do is sit back and wait for the big moves to start rolling.
Keep Reading

Seattle Mariners: Like this team?