SEC College Football: All Potential BCS Bowl Bids Depend on LSU
November 9, 2011
Kevin C. Cox/Getty Images
As the 2011 college football season enters its final stretch, many SEC fans and teams alike are prognosticating where their beloved team may go bowling at the end of the season.
With the current state of the conference still in flux, there is a potentially problematic situation on the hands of the SEC and the Bowl Championship Series.
With last week's "Game of the Century" between top-ranked LSU and then-No. 2 Alabama behind us, the SEC West divisional race and BCS National Championship game became more focused… or did it?
Alabama dropped one spot from second to third behind Oklahoma State, leaving the BCS Championship waters murky. With three points separating the two former top teams in the nation, fans—mainly Alabama fans—are clamoring for a rematch between the Tide and Tigers in the national championship game.
But is that what's best for college football?
LSU is the clear-cut top team in the nation with six of their nine wins coming against ranked opponents, including PAC-12 and Big East stalwarts University of Oregon and West Virginia University, respectively.
The Tigers are not in the clear yet; waiting in the background is eighth-ranked University of Arkansas and unranked Ole Miss.
The Razorbacks have quietly strung together five straight wins after a disappointing loss to the Tide in Tuscaloosa to improve to 8-1 on the season. In their past five games, Arkansas has toppled then-No. 14 Texas A&M, No. 15 Auburn, and No. 10 South Carolina.
The Hogs' running game is slowly coming together, their 2009 All-American kick returner is healthy and making a difference and, more importantly, their defense is finally recovering from five injuries sustained early in the season.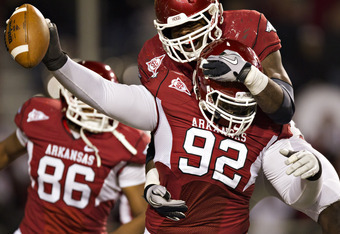 Wesley Hitt/Getty Images
As the defense has welcomed their starting players back, defensive coordinator Willy Robinson has turned up the heat, opting to blitz, call stunts and leave his corners on an island, instead of running a basic, pressure-less 4-3 defense.
The Hogs' last 8-1 start was in 2006, when they finished 10-4 after playing five top ten teams: Southern California, Auburn, LSU, Florida and Wisconsin.
Should LSU be worried about the Hogs? Yes!
The battle for the Golden Boot Trophy between Arkansas vs. LSU has become one of the best college football rivalries in the nation. The result will have BCS and SEC title game ramifications; the winner could earn national championship claiming rights.
Since 2005 Arkansas and LSU have split their series 3-3; the Hogs have won three of the last four. 21 total points separates the winning team from the losing team through those six games. Arkansas has the largest winning margin during this stretch, winning by 8 points in 2010. The average margin of victory between the two schools is 3.5 points.
Before LSU tackles another highly ranked team in Arkansas, they must travel to Ole Miss November 19 to take on the Rebels and their embattled head coach Houston Nutt. Nutt, who resigned as head coach—effective at the end of the regular season—on Monday, has a history of winning big games when he is the underdog.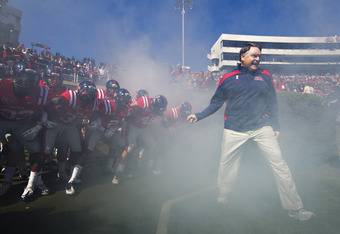 Wesley Hitt/Getty Images
In 2007 while head coach at Arkansas, the unranked Razorbacks beat then-No. 1 and eventual BCS National Champion LSU 50-48 in three overtimes.
In 2008 as the head coach at Ole Miss, unranked with a 2-2 record, Nutt took his Rebel team into The Swamp and defeated the fourth-ranked Gators 31-30. The following year, Nutt beat LSU again to claim the Magnolia Bowl 25-23 in Oxford.
Does Nutt have enough mojo to pull off one more dramatic SEC conference victory?
A loss by LSU to Arkansas forces a three-way tie for first place in the SEC West between Alabama, Arkansas and LSU. Under this scenario, SEC tiebreaker rules will place the team with the best Bowl Championship Series standings as the representative in the SEC Championship Game.
The tiebreaker rules are as follows:
Combined head-to-head record among the tied teams
Divisional record of the tied teams
Record against the team within the division or against non-divisional team
Overall record against non-divisional teams
Overall record against all common non-divisional teams
Team with highest ranking in the Bowl Championship Series standings after the last weekend of regular season play. If the second of the tied teams is ranked within five or fewer places of the highest ranked tied team. The head-to-head results of the top two ranked tied teams will determine the SEC Championship game team.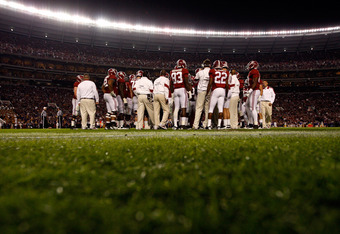 Streeter Lecka/Getty Images
An LSU loss to Ole Miss and win over Arkansas would still put the Tigers in the SEC Championship Game. LSU would be a controversial decision away from playing in the BCS Championship Game with an SEC Conference Title Game win over their would-be eighth ranked team of the year.
Controversy would arise if a one-loss LSU team is picked to play in the national championship game over a possibly undefeated Oklahoma State, Stanford and/or Boise State.
Adding to the confusion of the SEC race is Alabama. Alabama has two potentially tough SEC games remaining, though they should be heavily favored against Mississippi State and Auburn on the road.
Alabama won in Jordan-Hare Stadium in 2009, their first Iron Bowl win at Auburn since 2001. In 2010, Auburn overcame a 24-0 deficit to win 28-27, the largest margin either team had faced for a come-from-behind win in the 75-game history of the Iron Bowl.
Since 2000, Auburn owns an 8-3 record against the Tide. Alabama leads the all-time series 40-34-1.
Nick Saban has won three straight against Mississippi State, including last year's 30-10 victory at Bryant-Denny Stadium. MSU has only beaten Bama 18 times and has lost 73 total games with three encounters ending in a tie.
For Alabama to lose in either game appears a long shot, but that's why they play the games.
Who is the Best in the West?
Should Bama win out and Arkansas defeats LSU, who deserves to represent the SEC West in the conference title game?
Looking at the schedules of each team, LSU has played the tougher schedule. At the end of the season, they will have played seven ranked teams, with three of those in the top ten at the time of their game.
Arkansas has the second toughest schedule having played five ranked teams, as Alabama has as well. The difference between Arkansas and Alabama is the Razorbacks have three top ten foes to Bama's one.
If Arkansas beats LSU, should that serve as redemption for their loss to Alabama in the fourth game of the season? It should, but it will not pass with voters and BCS computers.
The unfortunate reality is Arkansas is getting passed over week after week. Their computed strength of schedule dropped this week from No. 14 to No. 17 after playing 10th-ranked South Carolina, per TeamRankings.com.
The Big 12 continues to get strength of schedule recognition from the computers, even though the conference's only quality non-conference win was Oklahoma over Florida State.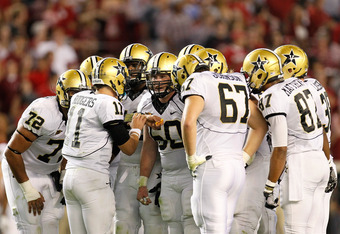 Kevin C. Cox/Getty Images
The Big 12 non-conference losses include Kansas to Georgia Tech, Texas A&M to Arkansas and Missouri to Arizona State.
SEC teams are not getting the same strength of schedule attention, even though they have played a much tougher non-conference schedule. Alabama beat Penn State, LSU beat WVU and Oregon, Arkansas beat A&M, Tennessee beat Cincinnati, and Vanderbilt beat Connecticut.
The SEC's non-conference losses have not been to poor teams sans Ole Miss and Kentucky. Georgia played Boise State and Auburn took on Clemson. Ole Miss lost to BYU, while the Wildcats lost to in-state rival Louisville.
There are still non-conference games left for SEC teams to play. South Carolina has Clemson, Florida has Florida State, Georgia has Georgia Tech and Vanderbilt travels to Wake Forest.
The SEC could have three teams deserving of BCS recognition at the end of the season, unless Alabama or Arkansas lose again. Even if the Razorbacks win out, they appear to be left out of the BCS picture this year.
A SEC Bowl Snapshot
Currently there are six SEC teams that are bowl-eligible. LSU (9-0), Alabama (8-1), Arkansas (8-1), South Carolina (7-2), Georgia (7-2) and Auburn (6-3).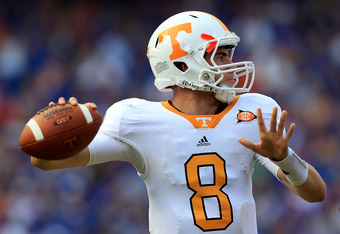 Sam Greenwood/Getty Images
Florida is 5-4 with remaining games at South Carolina, versus Furman and versus Florida State. At worst, the Gators should end the season 6-6, making them bowl-eligible.
As disappointing as the 2011 season has been for Dan Mullen and Mississippi State, they are still candidates for a bowl berth. At 5-4, the Bulldogs only need one win in their last three games. Getting that last win may prove more difficult than any other SEC team on the fence.
MSU hosts Alabama, travels to Arkansas, then gets the Egg Bowl at home. Will the Rebels give Houston Nutt a farewell victory?
Kentucky, Vanderbilt and Tennessee each have a 4-5 record with three games on the schedule. Of the three teams, Kentucky has the longest bowl streak at risk. The Wildcats have made five straight bowl appearances since 2006, a longer active bowl streak than South Carolina, Tennessee, Vanderbilt, Arkansas, Auburn, Mississippi State and Ole Miss. Tennessee has a three-game bowl streak and Vanderbilt is looking for their first appearance since 2008 (Music City Bowl).
Kentucky can play spoiler and advance their own cause when they travel to Vanderbilt this weekend, play Georgia in Athens November 19 and end the season with a home game against the Vols. Which two teams can the Wildcats beat to become bowl-eligible?
Tennessee also controls their postseason destiny. The Vols have to play Arkansas this weekend but get Vanderbilt at home and play Kentucky at Commonwealth Stadium to finish the regular season.
The oddity is the Vols are the team that will have to upset at least two teams to become bowl-worthy. Tennessee is 0-5 in conference play, besting only Ole Miss' record of 0-6.
Kevork Djansezian/Getty Images
Tennessee head coach Derek Dooley's saving grace may be the return of quarterback Tyler Bray. Bray tweeted that he expected to return for the Arkansas game this weekend. Dooley may play a strategic hand and hold his quarterback until the final two games against lesser competition.
Vanderbilt may be the conference and national sentimental favorite to become bowl-eligible. It is hard to cheer against a team that has only made four total bowl appearances throughout their college football existence: 1955, 1974, 1982 and 2008. Their bowl record is 2-1-1.
What a great success story it makes for first-year coach James Franklin if the Commodores sneak into a bowl.
The Commodores host Kentucky this weekend, travel to Tennessee on November 19, then finish up their schedule against ACC foe Wake Forest. Wake is 5-4 and pushing to become bowl-eligible as well.
Ole Miss is the only SEC team currently mathematically eliminated from being bowl-eligible with a 2-7 record.
A Little Bit of SEC BCS History
The SEC has won five straight BCS National Championships and has the most BCS wins by any conference with 15 in 21 appearances, seven of those resulted from at-large bids.
Florida, LSU, Georgia, Alabama, Tennessee, Arkansas and Auburn have all represented the SEC in a BCS Bowl Game. Florida has the most all-time wins with five. LSU and Auburn are both undefeated in BCS games, having gone 4-0 and 2-0, respectively.
The SEC's .714 winning percentage of is highest among the six power conference teams. When the media and fans call the SEC the best football conference in the nation, they do it for a reason.
Competition within the conference is fierce when an SEC title game berth is at stake. In the 19-year history of the SEC title game, nine winners have gone on to win the national championship outright, or at least a share of the national championship.
Arkansas, Alabama and LSU all have legitimate shots at winning the SEC West regular season title. Each team's goal is to win their division knowing that a possible national championship is on the line.
Who Will Go Where?
The BCS will take two teams with the highest Bowl Championship Standings after all regular season and conference title games are played.
The following is a list of predicted bowl berths for all eligible SEC teams.
SEC Seed/Team/Regular Season Record/Bowl Game/Location/Seeded Opponent
LSU, 12-1, BCS National Championship, New Orleans, Oklahoma State
Alabama, 11-1, Sugar Bowl, New Orleans, BCS at-large – Stanford
Arkansas, 11-1, Capital One Bowl, Orlando, Big Ten No. 2 – Michigan State
Georgia, 10-3, Outback Bowl, Tampa, Big Ten No. 3 – Ohio State
Auburn, 7-5, Cotton Bowl, Arlington, Big 12 No. 2/3 – Texas
South Carolina, 8-4, Chick-fil-A Bowl, Atlanta, ACC No. 2 – Virginia Tech
Florida, 7-5, Gator Bowl, Jacksonville, Big 10 No. 4/5 – Penn State
Mississippi State, 6-6, Liberty Bowl, Memphis, C-USA No. 1 – Southern Mississippi
Vanderbilt, 6-6, Music City Bowl, Nashville, ACC No. 6 – Virginia
Who is Left Out?
Kentucky loses out on their sixth straight bowl game, finishing 4-8. Tennessee has poor offensive line play and too many injuries to finish better than 5-7. Ole Miss and their talented underclassmen will have to wait until next year for a chance to become bowl-eligible.
Predicting all BCS Bowl Game Berths
Rose Bowl – Oregon versus Wisconsin
Fiesta Bowl – Oklahoma versus Boise State
Orange Bowl – Clemson versus Cincinnati
Sugar Bowl – Alabama versus Stanford
BCS National Championship Game – LSU versus Oklahoma State