College Basketball: 8 Reasons Kentucky Will Win Its 8th National Title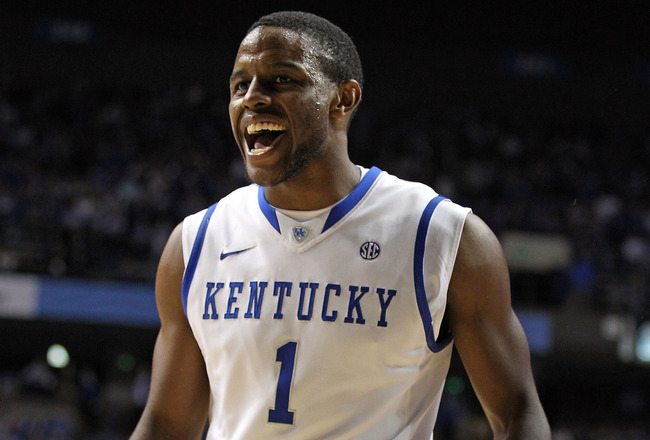 Andy Lyons/Getty Images
They say you will always know when something is special.
The first time I listened to a Radiohead album, I knew that they were a special band. The first time I watched The Simpsons, I knew it was a special show. The first time I saw Cam Newton play quarterback, I knew he was a special player. The first time I watched Keeping Up With The Kardashians, I knew that Kim was special ed.
I got the same special feeling when I watched my Kentucky Wildcats win by 85 points the other night.
Every three-point shot hitting the net had the gracious sound that not even the most beautiful Radiohead song has, the players had so many dunks that they put on a better show than The Simpsons will ever put on and the team had the special charisma and talent of Cam Newton.
This Kentucky team is special in every sense of the word. Here are eight reasons they will win the national title.
Versatility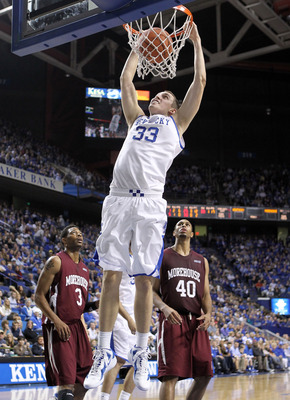 Andy Lyons/Getty Images
In the 2009-2010 season, Kentucky had a "power team."
That Kentucky team was going to beat you using its strength, speed and size.They had three quality post players, two speed players and two great defenders.
That Kentucky team eventually lost because they did not have enough three point shooting to beat West Virginia in the Elite Eight of the 2010 tournament.
In the 2010-2011 season, Kentucky had a "pick and pop" team.
Kentucky's late season success was strictly based off the success of pick and rolls with star point guard Brandon Knight and legend Josh "Jorts" Harrelson. The success of these "pick and pop" players allowed Kentucky to take advantage of their great three-point shooting and crash the boards for offensive rebounds.
Last year, Kentucky was able to scrap their way to a Final Four appearance, but fell short due to their lack of depth.
This season, Kentucky has a perfect combination of both of those teams and may be the most versatile team in America.
Kentucky has six three point threats (Lamb, Miller, Jones, Teague, Wiltjer, Gilchrist), one of the best post players in America (Jones), the best shot blocker in America (Davis) and four players that can guard all four positions (Davis, Jones, Gilchrist, Miller).
When Kentucky cannot overpower teams, they will be able to out-finesse them.
When Kentucky cannot out-finesse teams, they will be able to out-power them.
When Kentucky is in foul trouble, they have four players that can guard every position.
This Kentucky team is so versatile that by the end of the year, it might just be impossible for them to lose.
Terrence Jones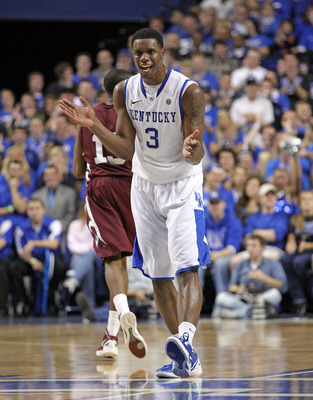 Andy Lyons/Getty Images
The transformation of Terrence Jones has been nothing short of fascinating.
In January, Jones was a player who was considered one of the most selfish players in UK history (just ask John Calipari), one of the laziest players on the team, one of the softest players on the team and the star player that was actually holding Kentucky back.
In January, Kentucky fans hoped that Jones just considered Kentucky a halfway house on his way to the NBA.
Ten months later, and Terrence Jones is a completely changed person.
John Calipari says he is the hardest working player on the team; he added 20 pounds of muscle. He is the leader of the team, he can go to his right and he is unstoppable in the post. He is an All-American, and he is one of the big reasons that Kentucky will win its eighth national championship.
Teague 5.0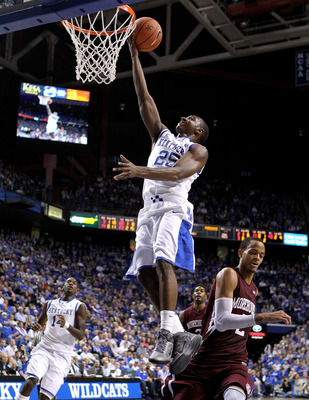 Andy Lyons/Getty Images
Marquis Teague will be the fifth one and done point guard to play under John Calipari.
But Teague's situation is very different from the situations of Derrick Rose, Tyreke Evans, John Wall and Brandon Knight. Those guys had to be the stars of their team, and when they had an off night, the team often lost.
Teague is a top-15 NBA Draft pick who might be the fourth best player on Kentucky.
Kentucky is going to win games because of the three-point shooting of Doron Lamb, the post play of Terrence Jones, the blocks by Anthony Davis and the viciousness of Michael Kidd Gilchrist.
All Teague has to do is play to his strengths.Teague has to create open shots for his teammates, keep his turnovers down and play great defense.
While Kentucky had to be carried by Wall's quickness and Knight's shooting, Teague is really just a quarterback who has to manage the game and not make any critical mistakes.
Kid Vicious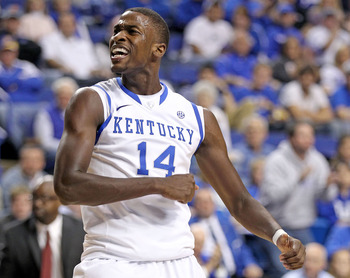 Andy Lyons/Getty Images
The brilliance of Michael Gilchrist is found by just browsing Kentucky message boards
One message board will compare Gilchrist to a more talented DeAndre Liggins; another board will compare Gilchrist to LeBron James. One message board will compare Gilchrist to a calm Ron Artest, and another message board will just call Gilchrist the greatest player that Calipari has ever coached.
To me, John Wall was always just John Wall, Brandon Knight was always just Brandon Knight, DeMarcus Cousins was always just "Boogie," but when I watch Michael Gilchrist, I really believe that he can be whoever he wants to be.
He can drive to the basket and run the fast break like a smaller version of LeBron, play defense like Liggins and Artest, post up smaller defenders like Kobe and rip your heart out like a 2011 Jordan.
Gilchrist is unlike anything we have ever seen at the University of Kentucky. And what player he is might just depend on what team they are playing
Anthony Davis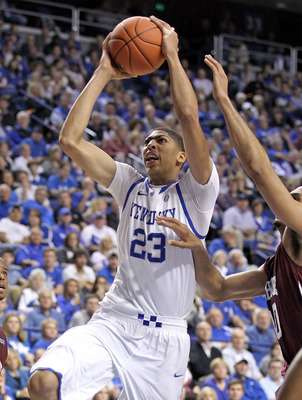 Andy Lyons/Getty Images
I have never seen a player with as much potential as Anthony Davis in a Kentucky uniform.
The worst case scenario is that he breaks the University of Kentucky's single season blocks record, he is the best defensive player in the country and he is an "opportunistic" offensive player.
The best case scenario is that he averages over five blocks a game, is the most dominant defender in college basketball since Greg Oden, develops an offensive game that makes scouts think of a young Kevin Garnett and plays all five positions throughout the season.
Even at his worst, Davis is a unbelievable talent. At his best, he could be one of the best pro prospects in recent history
Defense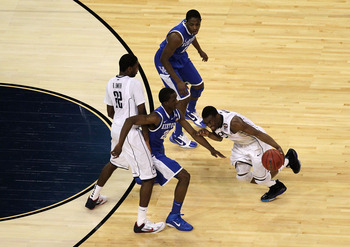 Ronald Martinez/Getty Images
I have no idea how any one outside of UNC is going to score on this Kentucky team.
Kentucky has the best shot blocker in the nation, one of the best individual defenders in the nation, one of the best perimeter defenders in the nation and the only team in the nation that has four players who can guard every position.
Kentucky is the only team in the nation that can use their center to guard the opposing teams point guard and put four shut down defenders on the floor at the same time. They are one of the few teams that is just as good in zone as they are in man to man and one of the only teams that could get 20 points a game just off of their defense.
Kentucky is going to be the best defensive team in the nation.
Coach Cal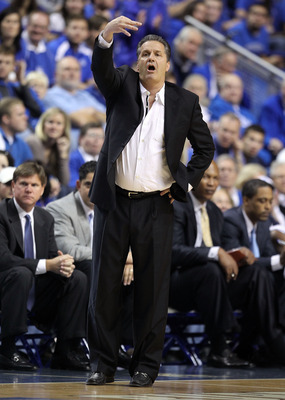 Andy Lyons/Getty Images
John Calipari is easily the most hated coach in America.
Traditional fans are turned off by the way that he left UMass and Memphis, the way he challenges his players, how long his star players stay in school, how confident he is in his teams and even his haircut.
But what gets lost in all of this yelling and unnecessary hatred is just how good of a coach Calipari is. Calipari won 30 games a year at a C-USA school. He took a school that used to struggle to win 10 games to the Final Four and took Kentucky from the NIT to the Final Four in just two years. He also puts even the biggest lost causes (Harrelson and Liggins) in the NBA.
Based off of this evidence, it is easy to say that if Calipari had started his career at UNC or Duke, he might just be one of the winningest coaches of all-time.
It is finally Calipari's time to win a national title in his third year at Kentucky. John Calipari will not go down as the best coach never to win a national title.
The Fans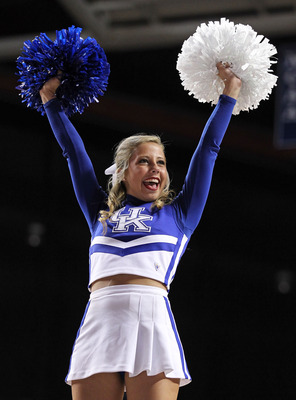 Andy Lyons/Getty Images
Kentucky fans deserve a national championship this season.
These are the same fans that did a dance so much that it got a Wikipedia page.
The same fans that made Freeing Enes a verb.
The same fans that sold out an arena for an NIT game.
The same fans that camp out just so they can get tickets to a practice.
The same fans who will name their children Shabazz in two years
The fans who wish they could get a surgery that could make them bleed blue.
And the same fans that cry after every heartbreaking loss in the tournament.
No more tears, Kentucky fans.
This is our year.
It took us 12 years to find a coach who could actually recruit and hold his liquor and 13 years to have a team that could take us back to the Final Four. In year 14, we will finally win a national title.
Don't be surprised when it happens. You earned it.
Keep Reading

Kentucky Wildcats Basketball: Like this team?