TUF 14: Team Bisping vs. Team Miller, Live Results and Analysis, Episode 8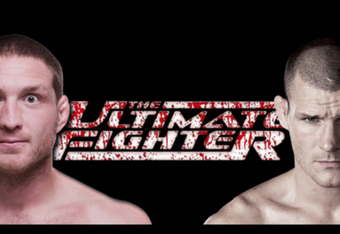 With only four fights remaining, The Ultimate Fighter: Team Bisping vs. Team Miller is entering the stretch run when the eighth episode airs on Wednesday night.
Considering how entertaining the 14th season has been to date—almost an ideal balance of excitement inside the Octagon and shenanigans outside it—that's excellent news.
Both the featherweight and bantamweight contestants have brought the pint-sized thunder inside the cage, exhibiting a level of polish and versatility from first to last man that we haven't seen from previous classes. Whereas most TUF seasons produce a handful of contracted fighters with only one or two developing into legitimate UFC players, it's not unrealistic to think Season 14 might seed the inchoate weight classes with three or four-times that much genuine talent.
Then there's the matter of the reality-television quotient being filled by the competitors as well as the coaches.
Michael Bisping and Jason Miller have actually been understated relative to the volatile reputations both toted with them when they agreed to coach. Though a few pranks have erupted and more are promised, not a whole lot of real malice has bubbled to the surface (with a couple notable exceptions).
Luckily for those interested in such things, the cast members have made up for the lack of coaching heat and done so in spades. Akira Corassani, Diego Brandao, Dustin Neace, Marcus Brimage, T.J. Dillashaw and Johnny Bedford have all added spice to the mix.
And I doubt they're done.
Tune in tonight at 10 p.m. ET/7 p.m. PT and join us as Bleacher Report brings you live commentary on the next installment of The Ultimate Fighter.
Gonna be tough to top this episode, but next week we've got a bug-eating Dustin Pague taking on everyone's favorite draft-dodger T.J. Dillishaw plus the always-entertaining coaches' challenge

So there's a chance.

See ya then.
Time to give credit where it's due—Akira Corassani took that loss like a sportsman should.

Didn't back away from it and sounded like it only hardened his resolve.
As for the winner?

Bermudez needs to tighten up his striking and learn to set up his takedown attempts better, but a chin like that will always play and even more so when attached to a heart like Dennis'.

Bet that chick who conned him and left him the lurch is rethinking her fabulous life choices about now.
That was one of the weirder post-fight scenes I've witnessed—Akira tapped, but apparently not soon enough because my man was out of sorts for a while there once he stood up.

He was obviously discombobulated and hugging Michael Bisping like a small child would hold his/her parent when terrified. Then, it looked like he momentarily broke down when the loss finally sunk in.

Tough defeat for Corassani, but I'm betting that's not the last we've seen of him.
That was a crazy bout—Akira is explosive on his feet and showed a decent beard as well, but Dennis Bermudez is a straight zombie.

He walked through some punches that would've floored many mortals, took a hellacious bomb that would've turned out the lights on most (if not all) featherweights and still came away with the stoppage victory.

I say god damn, god damn.
How many times do we see competitors tap out after professing a willingness to "die" or fight until their heart stops rather than lose?

Might be a good idea to put that hyperbole away for a spell…
No, it's definitely not.

After a momentary respite during which neither fighter did much of anything, Dennis resets his grip (without the slightest complaint from Akira) and goes back to work on the choke.

Now it looks to be in much tighter and, sure enough, it is as Corassani is forced to submit.
Bermudez is right back on the attack after the flash knockdown, grabbing a single leg and using it to put Corassani on the canvas after some resistance.

From there, Dennis slaps in a guillotine choke and starts cinching it in, trying to force the tap from his adversary. He can't get it at first and the pair seem content to just sit in the position until the end of the round.

Of course, there are over two minutes left so that ain't gonna happen.
Holy smokes, another big hook—a right this time—seems to land flush on the side of Bermudez' head and he barely even wobbles, though he does take a mildly drunken step forward.

This prompts the Count to scream at his fighter to press the advantage and a mini-Griffin vs. Bonnar from Season 1 ensues.

Bermudez smacks Corassani with a right hand that might've sounded worse than it actually was, but it sounded bad. Team Miller's semifinalist scores with another big right bomb that causes Akira to take a false step, but the Swede's moment at sea doesn't last too long.

He scores with a right of his own to Dennis' chin, but Bermudez fires back with a right that finds face as well. Eventually, Corassani ends the back-and-forth with a stinging left hook straight to the jaw that finally crumples Bermudez.
Whoops, Corassani wobbles Bermudez almost immediately with a big left hook and that seems to knock the game plan right out the window for Team Miller's entrant.

Dennis begins shooting for the takedown haphazardly and he's eating strikes as a result. He recovers, but still isn't mounting much offense.

Meanwhile, Corassani is winning the standup battle in a freakin' landslide—Bermudez is winging punches from outside his range while his opponent is finding homes for the vast majority of his fists.
For the record, that reach advantage that so impressed the Count at the weigh-ins boils down to less than four centimeters (1.5 inches).
Gotta admit I'm pretty pumped up for this tussle—Akira is a talented talker, which only makes the duped and jilted Bermudez a more sympathetic figure.
Upon further review, I don't think Dennis Bermudez is dumb.

I just think he's not quite smart enough to use the words he tries to use. For instance, he just said he doesn't think Akira can "counterbalance" him anywhere.

Hmmm, think he meant to say just "counter," but wanted to make it sound more impressive so he just threw "balance" on there as well.

Which just proves, more people should listen to Dirty Harry…
My WORD, Akira does love to talk.

Maybe I wouldn't be hanging out with Team Turmoil.
I might've jumped the gun on the Quote of the Season because this is a glittering gem from Mayhem Miller:

"I respect Michael Bisping, he's a seasoned fighter. That being said, I really respect my father and that never stopped me from whipping his ass."

Makes Thanksgiving Dinner at the Miller household sound fairly intriguing.
If the world didn't hate Michael Bisping before, it surely will now that he's kicked Mayhem Miller's innocent little dog out of the gym.

Count, don't you know how seriously Americans take their four-legged friends?

Just ask Michael Vick.
Pay no attention to Mr. Dana White.

Not because he has no idea what he's talking about, but because DW is unafraid to make himself look foolish in the name of building the moment.
Pretty intense staredown, no shenanigans this time.

Based on my gut reaction, I like the way Bermudez held his ground and just stood there, leaving Corassani to fidget about on his own. Made Dennis look like the more relaxed, more poised of the pair.

Or that could just be a manifestation of my obvious anti-Akira bias.

Your call.
"If Akira fights like he talks, then he should win this whole competition…easily."

Quote of the Season from one Dennis Bermudez.

Akira really is a legend in his own mind; he might really be one, but let's see him prove it first.
Whoa, nice job by Bryan Caraway somehow covering up that bald spot. I didn't even notice one when he moved into frame for a second there during Corassani's embarrassingly awkward "song."
Again, another bad sign for Akira because I think Team Miller is being genuine—Team Bisping had two supremely dangerous strikers in Corassani and Diego Brandao, but Brandao looks better handling a ground attack/defense.

So it makes sense for Mayhem and company to have wanted Bermudez vs. Corassani rather than Bermudez vs. Brandao—all three look like above-average strikers, but Dennis has a clearer advantage on the ground over the Swede.

I'm guessing Akira either wins this bout with an early stoppage or Bermudez pulls it out via unanimous decision.

Of course, that's exactly what the editors and producers want me to guess.
Relax, people, just a little light-hearted humor to ease the tension of an eternal war.

Who's with me?
Siyar Bahadurzada.

That's Team Miller's kickboxing coach; I have nothing more to add except that's a sinister name.

And he's from Afghanistan?!

C'mon, he's a born Bond villain…y'know, because all Afghans are evil…
Team Bisping has officially devolved into an elementary school birthday party.

Silly string? Really? REALLY?!?!

Silly string is the best you can to do retaliate for getting a sweaty jock in the face? Poor form. Very poor form.
This article is
What is the duplicate article?
Why is this article offensive?
Where is this article plagiarized from?
Why is this article poorly edited?