Jaguars vs. Colts: TV Schedule, Live Streaming, Radio, Game Time and More
November 9, 2011
Scott Boehm/Getty Images
The Jacksonville Jaguars won't feel too threatened on Sunday when they hit the road to take on the Indianapolis Colts. 
The Jaguars are finding out life with a rookie quarterback can be very difficult, but being positive, they know that at least they're not the worst team in the division.
The Colts have yet to win a game this season, but the chances of them getting their first victory on Sunday are better than ever.
However, just because the Jaguars are struggling at quarterback much like the Colts, they still have a solid run game to rely on. The Jaguars are well rested after their bye week, and it will greatly help them on Sunday. 
In the last 10 years, the Jaguars failed to beat the Colts twice in one season. That could finally happen in 2011 because without Peyton Manning, the Colts may not beat anybody this season.
With that said, let's dig into some specifics about this AFC South showdown. 
When: Sunday, Nov. 13 at 1:00 p.m. ET
Where: Lucas Oil Stadium, Indianapolis, IN
Watch: CBS
Listen: WOKV 690 AM in Jacksonville, WFNI 1070 AM in Indianapolis 
Live Streaming Audio: NFL.com Audio Pass ($29.99 for year, $27.99 team specific, $9.99 a month)
Betting Line
The Jaguars are favored at -3, which is a fair line. Neither team is vastly better than the other, and while the Colts have home-field advantage, the Jaguars will still walk away victorious. It's no easy cover though, as Sunday should be a close division battle.
What's At Stake?
The Jaguars will be humiliated if they're the first team that the Colts beat this year. Jacksonville is already having a tough time, and losing to the Colts would only make matters worse. 
For the Colts, they have no where to go but up. At 0-9, if they lose again it will just be another week, but playing at home they need to find the extra motivation to play great and get that first win.
Jaguars Injury Report
Brock Bolen (calf), RB, Questionable 
John Chick (abdomen), DL, Questionable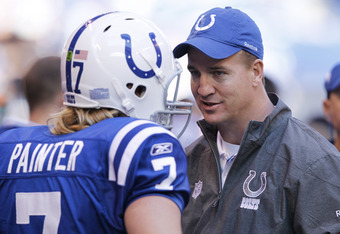 Joe Robbins/Getty Images
Courtney Greene (hamstring), DB, Questionable 
Cecil Shorts (hamstring), WR, Questionable 
Colts Injury Report 
Peyton Manning (neck), QB, Out
Dallas Clark (leg) TE, Doubtful 
Brody Eldridge (hand), TE, Questionable 
Blair White (knee), WR, Questionable 
Fantasy Start 'Em, Sit 'Em, Sleeper 
Start: Maurice Jones-Drew, RB
The only sure bet for this game is Jones-Drew. The running back should have no problem torching the Colts, who happen to rank 31st in the NFL against the run. 
Jones-Drew hasn't been very dominant this season, but he'll crush the stat sheet on Sunday because everybody has owned the Colts this season. 
Sit: Curtis Painter, QB
The Colts replacement QB had a couple of good weeks once he took over as the starter, but he's been downhill ever since.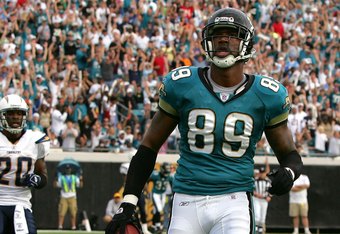 Sam Greenwood/Getty Images
The Jaguars have a top 10 pass defense, and they will prevent Painter from having a productive day. He is a not a guy you want starting on your fantasy football team.  
Sleeper: Mercedes Lewis, TE
The minute the Jaguars went with Blaine Gabbert as their QB, several fantasy players dropped Lewis. I was one of them because Lewis was no longer a top fantasy threat. He still gets the most targets on the team, but he just can't find the end zone.
I think that will change this week, as the Colts pass defense is less than stellar. Lewis may have only scored 13 total fantasy points in standard leagues, but he will have his best game yet on Sunday because the Colts are awful.
What They're Saying 
Tania Ganguli covers the Jaguars for the Florida Times-Union, and she tweeted one Colts player's thoughts about having a press conference for this AFC South battle.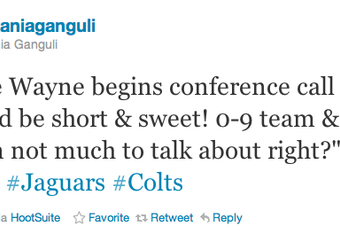 Wayne is exactly right because both of these teams have been pitiful this season. Normally, the Jaguars and the Colts are very competitive and in the hunt for the division, but 2011 is clearly not the year for either squad.
Injuries and inexperience players have put both teams in a bind this season, but even though neither team is thriving, Sunday should still be a good game. The question is, would you want to watch a close game between two slumping teams, or see an elite team in a blowout victory?  
Phillip Wilson covers the Colts for The Indianapolis Star, and he tweeted out a response from a Colts player that is sure to turn heads.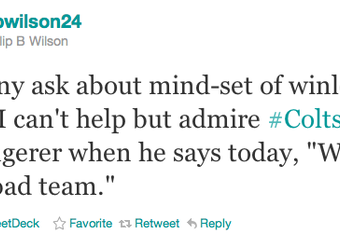 Despite the winless record, the Colts do have talent on this team. However, they have no true leader, and that is why they have struggled so much this year. 
Their record may indicate that they're an awful team, but the reality of it is that the Colts have been discouraged from Week 1, and each week they continue to dig themselves into a deeper and deeper hole.
When you're beaten so bad each week, you start to think you're a bad team, which never has good results. The Colts have talent, but they are mentally damaged this season. 
Jaguars Player to Watch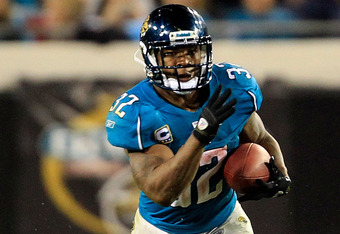 Sam Greenwood/Getty Images
Jones-Drew has really only had one bad game all season, which happened to be in the Jaguars last game against the Texans two weeks ago. 
He needs to rebound strong and deliver one the best performances of the season. The last thing the Jaguars need to do right now is to lose to the Colts, and Jacksonville is counting on Jones-Drew to run all over Indianapolis. 
Colts Player to Watch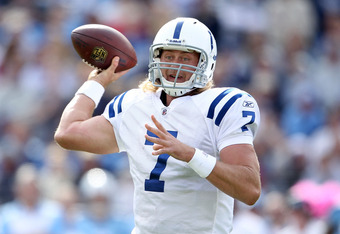 Andy Lyons/Getty Images
In order for the Colts to be successful, Painter has to be effective on Sunday. The Colts offense is built around the pass, and in recent weeks, Painter has been sloppy. 
He was never going to be a started in the NFL, but Manning's lengthy injury has forced him to step up, be a leader and find a clutch gene. So far, Painter has been lacking in all areas that a quarterback should thrive in. 
Key Matchup 
The Colts defense has to find a way to shut down Jones-Drew. If they can eliminate the run game then their chances of winning increase immensely.  
Indianapolis is allowing 146 rushing yards per game, and Jones-Drew should have no trouble blasting the Colts. However, if the Colts step their game up in front of the home crowd and put the game in Gabbert's hands they can finally get their first win. 
On the Hot Seat 
This is a must-win game for Jack Del Rio, or else the countdown for his exit will soon begin. The Colts should not beat the Jaguars, but if it happens it will surely upset some people in Jacksonville. 
Del Rio hasn't done well in the past few seasons, and he hasn't had a winning season since 2007, which is why his seat will get hotter with each loss. 
Prediction 
Both teams will struggle to score in the early going, but eventually the points will come. The Jaguars run game will be the difference maker in Sunday's contest, as Jones-Drew will be too hard to slow down.
In the end, the Colts will fail to make big plays on offense, and their losing streak will continue. 
Jaguars 26, Colts 24