The 15 Greatest Mustaches in MMA History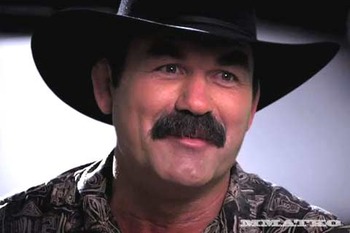 Mixed martial artists should be remembered for their legacy they have left behind in the sport.
Fighters like Don Frye, Dan Severn and Chuck Liddell are some of the early and more prominent figures in the MMA world, and they have left behind legacies that have garnered championships as well as memorable battles all around the world.
You know what these men all have in common?
They all possess epic mustaches, mustaches that are rivaled by no other man in MMA today—well, except for these select few.
Antonio Banuelos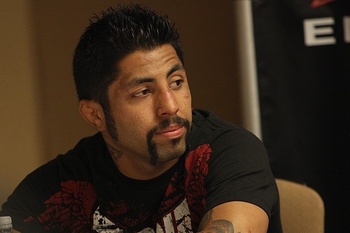 Longtime friend and training partner to the aforementioned "Iceman," Banuelos has perhaps the best 'stache as far as little guys go. The dude is a terror for anyone he faces in the bantamweight class, though, he will most likely be remembered solely for his awesome facial hair.
Yoshihiro Akiyama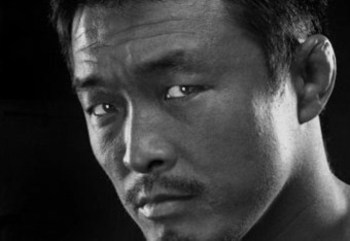 He's called "Sexyama" for a reason.
With a tan that would rival most on The Jersey Shore, Akiyama has the physique and subtle mustache to lay claim as a fairly attractive man.
To save some face, he is also one of the baddest dudes to hail from Japan and was well regarded as one of the best middleweight fighters in his heyday—but the mustache certainly helps.
Tim Sylvia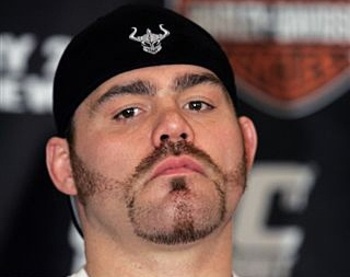 sherdog.com
It's more of an ensemble of collective facial hair, but bear with me here.
Sylvia, the former two-time UFC heavyweight champion, has perhaps the most unique facial hair in his class, having long draping sideburns extending to a prominent batch of hair that lays ever so gently above his lip.
This list is going to get long and awkward.
Tom Lawlor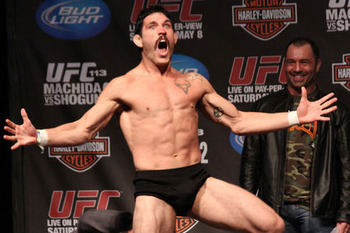 In an ode to the great Dan Severn, Tom Lawlor appeared before the UFC 113 weigh-ins in memorable fashion when he donned revealing under garments and a mustache that "The Beast" would call favorable.
It may have been a one-time fix, but at least it's something.
Matt Wiman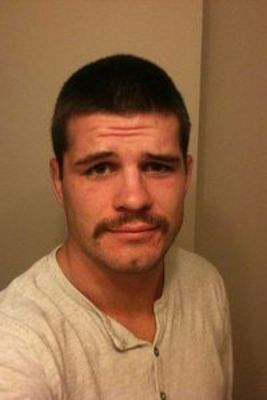 Un-egotistically dubbing himself "Handsome," Wiman usually sports a disgruntled beard come fight time, though, we can all wallow in the pity that surrounds this pitiful display of a mustache.
He's trying, he's trying.
Fred Ettish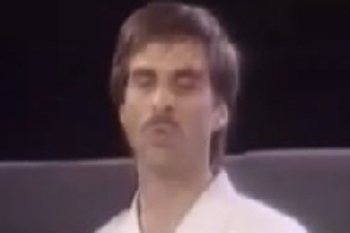 Do you not know who the infamous Fred Ettish is?
Well, he just so happens to be a one-time UFC veteran, who submitted to a rear-naked choke from the unheralded Johnny Rhodes at UFC 2 in 1994. Ettish would later leave the sport altogether in 2009, making a return to MMA after 15 years away from the cage when he TKO'd Kyle Flecther under the CFX banner—with mustache and all.
Dustin Hazelett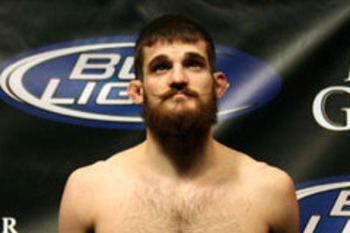 Forget the whole onset beard and pay attention to the subtle detail that Dustin Hazelett put into his mustache. The submission specialist would make early playwrights in Shakespeare's time very, very proud with his romantic mustache that would surely make any woman bat an eye, either out of intrigue or pure confusion, like "Bro, are you really doing that?"
Chuck Liddell
Does this look familiar? Well, that might be because friend Antonio Banuelos bit the style of Chuck Liddell a long, long time ago. The former UFC light heavyweight champion has sported this biker-esque style of facial hair for a while now and it's one of the many features that make him one of the most recognizable figures in the sport today.
Dan Severn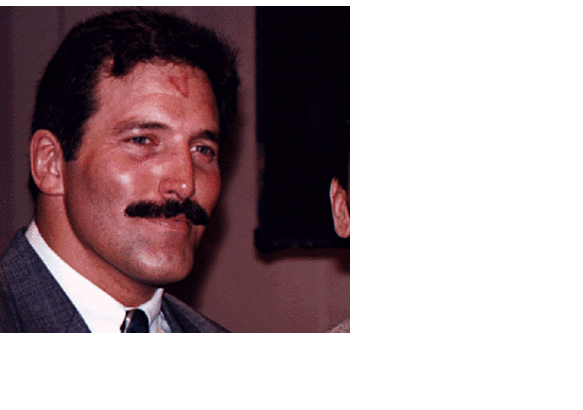 Dan Severn, you handsome, handsome devil you.
Is it the Urijah Faber-esque chin? No, it's the big and proud mustache that truly makes Severn...Severn.
It's his trademark and it's been around since his collegiate years as an amateur wrestler all the way till now, where the 53-year-old still continues to plug away as a mixed martial arts fighter after nabbing several UFC tournament titles in his heyday.
Jon Fitch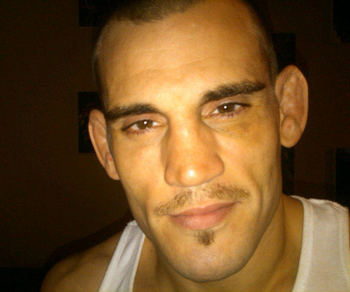 Is that Julio Estevez? Ricardo Estrada? Enrique Lopez?
No, that's UFC contender Jon Fitch. The former title challenger usually sports a rugged beard come fight time, though, the Purdue wrestler changed speeds and decided to go "poco loco" in this one.
Jim Miller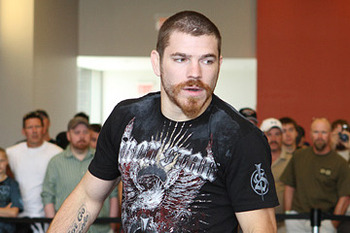 The former UFC lightweight contender rose to prominence in the organization, no thanks to his improved boxing skills, underrated wrestling or prestigious Brazilian Jiu-Jitsu prowess—it was all thanks to the pivotal and powerful Shakespeare-esque 'stache.
Dustin Hazelett can pay testament to the power of the facial hair, mistreat it and you will suffer the consequences. What other rational explanation can there be as to why Miller lost to Ben Henderson otherwise? It had to be the 'stache.
Jacob "Stitch" Duran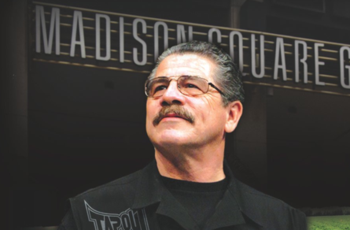 I never noticed it till now, but doesn't Stitch look sort of like Edward James Olmos? The dude that played J Lo's father in the movie Selena and the same dude who is dubbed "The Doomsday Killer" in one of the best shows to ever hit television, Dexter.
Anyway, Duran may not be a fighter, though, he's the most infamous cutman to the stars—but he is one of the more recognizable figures in the mixed martial arts industry. You can spot that 'stache from a mile away.
Mike Beltran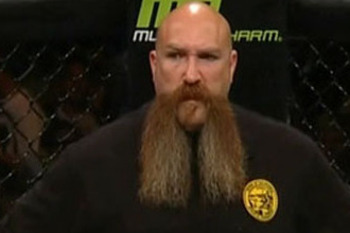 You almost have to call it a beard because of how long and prominent his facial hair resides, but veteran referee Mike Beltran is for all intents purposes a man with a proud mustache. It rivals any other I've seen so far and for that, sir, I tip my hat off to you.
Cody McKenzie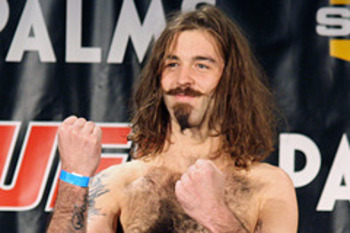 The infamous Cody McKenzie will probably be best known for his "McKenzitine," though, his laurels lay elsewhere.
The Ultimate Fighter veteran is not only owner to arguably the most devastating guillotine choke in MMA today, but he's also the proud man who sports an equally proud 'stache, which is likened to notables in the aforementioned Jim Miller and Dustin Hazelett.
They should all hang out together some time and talk shop about facial hair.
Don Frye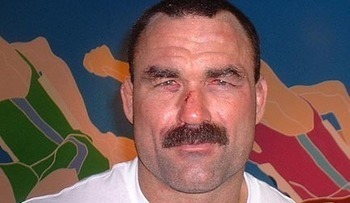 The former Octagon great is owner to the most recognizable mustache in MMA today.
Beginning his legend some years ago, previously owning the fastest recorded UFC knockout in just seven seconds, Frye has since become a permanent fixture in the mixed martial arts today, parlaying his skills on the mic, doing memorable commentary for the likes of Shark Fights not too long ago.
His mustache is tough, burly and aggressive, which perfectly embodies the persona of the legend.
Keep Reading