Pacquiao vs. Marquez: Latest Odds and Updates for Epic Fight
November 9, 2011
On Saturday, Nov. 12, Manny Pacquiao will prove once and for all that he's the best pound-for-pound boxer on the planet by beating Juan Manuel Marquez at the MGM Grand Arena in Las Vegas, Nevada.
However, that's just my opinion. The only thing that's for sure is that there will be a fight on Saturday night between two of the best boxers in the world.
In that fight, Pacquiao currently has 1.11-to-1 odds, according to bodog.com. Meanwhile, Marquez is carrying 6.5-to-1 odds ahead of Saturday's showdown, which makes him a pretty heavy underdog at this point.
Marquez probably expected no different. He's 0-1-1 against Pac-Man, despite pushing each fight to 12 full rounds. Marquez also believes he was robbed by the judges in these fights, as reported by Martin Rogers of Yahoo Sports.
I believe I have already beaten him twice and I think he knows that. I don't care what people think, if they think it is going to be easy for him. I hope he thinks that too because I am going to show everyone they are wrong.
Pacquiao arrived at the MGM Grand on Tuesday.
Marquez made a not-so "Grand" entrance a day earlier and to a much smaller crowd.
According to Reid Cherner of USA Today, the two will take part in the last press conference before the fight at 3:30 p.m. ET.
What will be said? Who will dominate the trash-talk?
Here's one boxer's take on how the fight will end.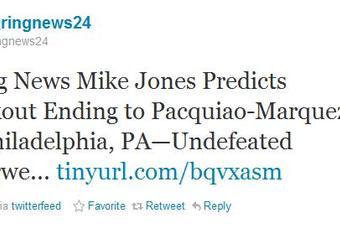 The boxer, Mike Jones, also claimed he would win in a fight with Pac-Man.
I'm 100% focused on just beating Lujan, but if I were to fight Pacquiao I see myself outboxing him. I see him coming in like the whirlwind he is but by the time that I fight him I'll be clicking on all cylinders. I see me beating Pacquiao.
I only trust Jones as far as I could throw him, which isn't very far.
Regardless of his comments, I still believe Pacquiao will defeat Marquez on Saturday by knocking him out for the first time.