The Indianapolis Colts Go from Headlines to Punch Lines
November 9, 2011
Joe Robbins/Getty Images
I think we all have some version of this thought: "I can't miss work. If I do the whole place will fall apart!" 
Most of us probably overstate our importance.  But not Peyton Manning.  Without Manning, the Colts are off to a disastrous 0-9 start.   
This is the year that Peyton Manning should get the MVP award.  Because this is the season that makes it obvious how valuable he is to his team. 
Manning has not been able to play at all because of some neck issues.  Well, he has been carrying the team for a decade.  He has the team on one shoulder, and $300 million on the other.  I imagine that can be a strain on your neck.
Manning and uber-bust Ryan Leaf were drafted No. 1 and 2 respectively when they came out of college.  And this is the first year they are putting up the same numbers.
This week the Falcons had a bit of a trap game against the Colts.  And they got caught looking ahead to next week, so they only beat the Colts by 24.  Because of the time change, the Colts got to sleep an extra hour.  Apparently it was during the first half. 
Actually, at the beginning of the season I think the Colts turned their clocks back to 1997.
The Colts lose so much, the play they see most often against them: the kneel down.  This week the Colts just could not score.  They were like Jersey Shore's The Situation at a NOW convention. 
The Colts' only score was on defense.  Their best offense really is the best defense?  They should punt on first down to give themselves a chance.
The 0-9 Colts rock the blue and white.  Is it just a coincidence that those are the same team colors as the handicapped?  If you're wearing a Colts jersey this season, you should be able to park wherever you want. 
You know your team sucks when you realize that if they had no legs at all, they would have the same record.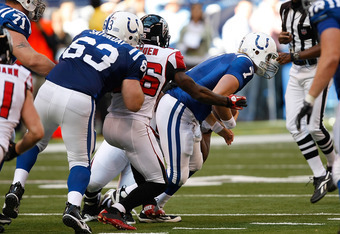 Scott Boehm/Getty Images
I feel bad for the current quarterback Curtis Painter.  That is a tough name.  He is filling in for maybe the best quarterback of all-time. 
He is struggling.  And he has an alternative career choice right on his back.  His back says "Painter."  Maybe they should bring in Jake Plummer.  They did bring back Dan Orlovsky.  By any chance is "Orlovsky" a Polish word for "landscaper?"
Painter said he will get his first win in Week 4.  But he is a Painter.  It is going to take a lot longer.  That was only an estimate!  The good news is that he showed up for work at all.
Writer Costaki Economopoulos and contributor Tom Simmons are stand up comics.  Check them out.