NFL Picks Week 10: Dallas Cowboys Will Defeat Buffalo Because of These Keys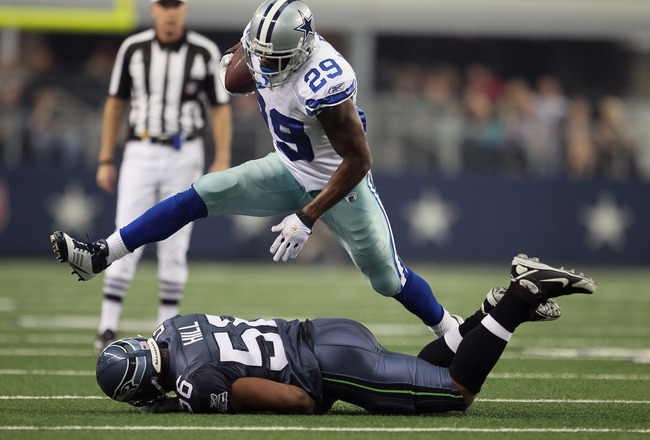 Jeff Gross/Getty Images
Can the Dallas Cowboys defeat the Buffalo Bills and go above .500 for the year this Sunday? Eight games into the season, it's much easier to get a handle on what teams are about and how they perform in specific situations.
The first thing that jumps out at you when assessing the Bills' season is that they have played many of the same teams as the Cowboys. Both teams have played the Patriots, Eagles, Jets and Redskins.
Thus, It's reasonable to say that the stats on their season and the Cowboys' season thus far have some relevance in this matchup. So, let's take a look.
Buffalo is 25th in pass defense and 20th in rushing defense
Dallas is 16th in pass defense and 10th in rushing defense
Those are significant differences, but not dramatic. But, if we look at road versus home breakdowns, what we find is that Dallas is eighth in the league in rushing defense at home, and Buffalo is 22nd in the league in rushing defense on the road.
That is a wider gap and certainly points toward Dallas having a better day running the ball than Buffalo.
A more dramatic statistic for this match up though, is red zone defense of TDs.
Dallas is fifth in the league in preventing touchdowns in the red zone at home.
Buffalo is 20th in the league in preventing touchdowns in the red zone in away games.
Jeff Zelevansky/Getty Images
This would seem to indicate that Dallas should have an easier time defending their goal line than Buffalo. But we really need to look at what these teams have done thus far in terms of offensive production to get a bigger picture.
Buffalo has the seventh-best rushing offense in the league. Dallas has the 12th-best rushing offense. This appears to be a significant difference in favor of the Bills.
But bear in mind, the Cowboys' running game exploded as soon as they began starting DeMarco Murray three games ago.
Since then, Murray has broken the Cowboys franchise record for rushing yards in a three-game span, and has also broken Emmitt Smith's single-game rushing record.
Over the last three games, Dallas ranks fourth in the league in rushing yards, while Buffalo ranks 15th.
Again, statistics here seem to support an advantage for Dallas.
Ironically, Dallas' biggest concern in the first three weeks of the season was running the ball. Their passing offense was doing well, despite injuries to Miles Austin and Dez Bryant, but their running offense was ranked dead last.
Now things seem to have flipped. The passing offense is becoming a concern, while the rushing offense, behind Murray, is more than the Cowboys could have hoped for.
For the season, Dallas ranks seventh in the league in passing yards per game compared to Buffalo, which ranks 15th. However, over the last three games, Dallas ranks 22nd in the league in passing yards and Buffalo still ranks 15th.
Jeff Gross/Getty Images
So, the declining production in the passing game is a concern for Dallas, but the most worrisome stat has to be that Buffalo is second in the league in defensive interceptions and they lead the league in pick sixes, with three.
Getting turnovers is a huge part of how the Bills go about getting wins. In their only road win this year, their season started with them recovering the Chiefs fumble of the opening kickoff!
They went on to get two more takeaways in that game, which set the tone for their season. Against Oakland they got two takeaways, then they beat the Patriots by getting four takeaways, beat the Eagles by getting five takeaways and beat the Skins by getting two takeaways. The Bills do not have a win this season in which they lost the turnover battle.
The good news for Dallas is that when you examine the last three games, the Cowboys are second in the league in avoiding interceptions with just a .3 average per game. Buffalo is 29th, with an average of 1.7 interceptions a game.
Another important stat is sacks: Dallas is eighth in the league in sacks; Buffalo is 25th.
However, Buffalo does a great job of protecting their quarterback. Fitzpatrick has only been sacked nine times, which is the best in the league. Getting pressure on Fitzpatrick will be a difficult to say the least.
Even without the sacks, though, Fitzpatrick threw two interceptions against the Jets last week, so it is possible to limit their passing attack, even if the sacks are not coming.
After sifting through all of this data, it appears as though Dallas is headed toward a win. Here are the hidden keys that point to a Dallas win this weekend:
1) Dallas is on an improving trend when it comes to protecting the football; Buffalo is on a declining trend when it comes to protecting the football: Fitzpatrick has thrown five picks in the last three games.
2) Dallas now possesses one of the NFL's most potent running attacks, which will open up their passing game opportunities and help them control time of possession.
3) Buffalo's red zone defense in away games is poor.
4) Buffalo's only road win this season came against a poor Chiefs defensive team at the start of its 0-3 stretch to begin the season.
5) DeMarcus Ware was prevented from getting any sacks in last week's game against the Seahawks and he's not happy about it; he is currently a half-sack behind Jared Allen of Minnesota for the lead. Ware will be highly motivated to blow up Buffalo's excellent pass protection and regain his spot as sack leader.
6) Although Buffalo is 5-3, they are 1-2 through the last three games, while Dallas is 2-1
7) Rob Ryan's brother just defeated the Bills soundly in last week's game. It is very important to Rex Ryan that his brother win this game, because Rex's Jets are currently in a division tie with the Bills. Rex will make every resource available that he can spare this week for his brother.
Yes, its true that Rex has his hands full this week preparing for New England, but he can certainly have an assistant fax over his game plan to his brother and trade a couple of phone calls. Don't underestimate the importance of this help. Rex Ryan's game plan was the best this year at stopping the Bills, holding them to just 11 points.
8) Although Buffalo possesses a potent offense, much of their gaudy numbers were built up in the first three weeks of the season, when they began by playing the 21st-, 20th- and 32nd-ranked pass defenses. At the end of that three week span, they were near the top in passing offense.
Since then, they have gone 2-3 against the 10th-, ninth-, 17th-, 11th- and seventh-ranked pass defenses, and their passing offense ranking has fallen to 15th. While they are still a potent offense, it has been proven that they can be slowed down considerably and Fitzpatrick is human after all.
In the last three games, their points scored trended down from 24 to 23 to 11.
9) Sean Lee is looking more likely to play each day that passes leading up to this game. Lee is the key to Dallas' excellent run defense from earlier this year. Dallas was leading the league in run defense, up until the debacle in Philadelphia, in which Lee dislocated his wrist. He is now fitted with a cast and is practicing with the team. If he can wrap up and tackle, Dallas can get back to shutting down the run. If that happens, Buffalo will be one dimensional and that much easier to beat.
This article is
What is the duplicate article?
Why is this article offensive?
Where is this article plagiarized from?
Why is this article poorly edited?

Dallas Cowboys: Like this team?