Tim Tebow: What Should We Expect in Week 10 vs the Chiefs?
November 9, 2011
Ezra Shaw/Getty Images
We've already seen the bad side of Tim Tebow, and too many times.
Just recently we've all had the pleasure of seeing the upside of Tebow as he helped the Denver Broncos rush for 289 yards right in the Oakland Raiders' faces.
Which Tim Tebow will show up against the Kansas City Chiefs in Week 10 as the Broncos travel to Arrowhead?
The Chiefs may not be a premiere team in this league but, as the Miami Dolphins showed, it doesn't take a great team to make Tebow look like a terrible quarterback.
So far Tebow has managed to play four quality quarters of football over the span of the last three games.
All four of those quarters turned out to be the difference in the games and contributed to two wins for Denver.
If Denver's main focus in this week of practice is anything other than working on Tebow's accuracy, and ability to read defenses, and read his receivers, they will be unsuccessful for the remainder of the 2011 season.
Denver exhibited an ability to play to its playmakers in Week 9 when they brought a zone-read offense to the NFL, and successfully ran the option consistently against an NFL defense that should have had far too much speed to beat it.
It won't be long before an NFL-caliber coaching staff takes a look at the film from this game and figures out an efficient manner of stopping John Fox and his run-happy offense.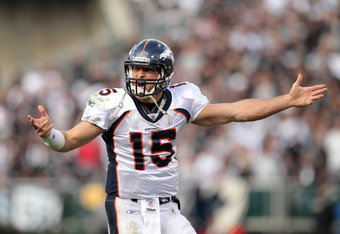 Ezra Shaw/Getty Images
They may have a chance to keep the rushing yards piling up against a Chiefs defense that currently ranks 19th in the league against the run.
The key to keeping the Broncos relevant in 2011 will be Tebow's ability to pass the ball.
There was certainly some great signs from him on Sunday, but he continues to hold the ball too long when making his reads.
Receivers were forced to stop their routes when they became open until Tebow was able to locate them on the field.
Not every pass Tebow made looked poor though.
Each of his touchdown passes were accurate, quick, and in the most perfect position for his receiver to make the play.
The best thing about Tebow's passing in Week 9?
John Fox and Offensive Coordinator Mike McCoy kept it to a bare minimum, Tebow was only asked to pass four times in the entire second half.
Tebow needs this kind of passing to remain competitive and keep his starting position throughout the season.
Expect Kansas City to plan heavily against the one-sided Tebow-led Denver offense.
But also expect Denver to succeed again with the zone-read and option—if only for one more week—on their way to a potential three-way tie for second in the AFC West.
Unfortunately for Denver, either Oakland or the San Diego Chargers will have the outright lead in the division after this Thursday night's game.