NFL Power Rankings: Denver Broncos Beat Oakland Raiders, Earn Some Respect
November 9, 2011
Ezra Shaw/Getty Images
The ESPN NFL Power Rankings are out for Week 10. As usual, the rankings mean nothing.
Aside from the pride that a fan feels in his or her team when they top any list, the rankings really serve no purpose or benefit.
But it's always fun to look, right?
The Denver Broncos are coming off of their biggest win of the season—which also happens to be only their third.
The NFL Power Rankings have responded appropriately and moved Denver up the list from 26th to 22nd.
Keep in mind that 22nd is still nothing special. It's just better than being the very worst.
Sorry, Indianapolis. Enjoy Andrew Luck.
If Denver can this week beat the Kansas City Chiefs, manage a second straight win and improve Tim Tebow's starting record to 3-3, they might make another move upward.
However, it would take one heck of a beatdown to prove to anyone that Denver is more powerful than any of the teams that lay just ahead of it.
The Raiders—whom Denver just beat—and the Chiefs are ranked slightly higher than Denver at this point.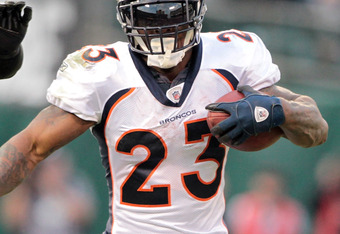 Ezra Shaw/Getty Images
The Broncos have proved they can beat Oakland with the help of Carson Palmer, but couldn't beat them when it really mattered in Week 1.
Kansas City lost its first three, won the following four, but slumped in a huge loss to the Miami Dolphins.
At this point it's hard to tell if a win against the Chiefs is worth much more than it was two years ago, but any win is a good win for Denver at this point. 
Denver still faces the Chargers again in 2011 and ends its season at home in its second meeting with the Chiefs.
With the AFC West suddenly wide open—again—these Denver Broncos could end up anymore on the NFL Power Rankings, and anywhere in the league when the playoffs start.
Except of course for the top.