Saints vs. Falcons: Why Drew Brees' Play of Late Spells Doom for New Orleans
November 9, 2011
Kevin C. Cox/Getty Images
I want to tell the story of a man named Drew. On New Year's Eve 2005, this particular man did what few men do on New Year's Eve—he went to work. 
In fact, he really didn't even have to show up. The company's yearly inventory had already been completed. Letting some of the newbies come in to work his shift was an option any lesser man would've taken. 
Unfortunately, that day a bunch of thugs came into his store smelling blood. They blitzed the counter, beat him up and left the store in shambles. 
That night, Drew and his wife left the hospital with some rather large bruises and cuts, but more importantly, an uncertainty of his future. His bosses told him to take his time and come back to work when he was ready. 
When Drew was ready to come back, though, his bosses had already given his job to the young buck Drew had been training up to do his job. He had no ill feelings towards his protege but wasn't exactly singing the praises of his old management. 
Drew had to find a new location to provide for his family. He chose to move from beautiful San Diego to the freshly ravished city of New Orleans. Four years later, after great effort, Drew had become one of the most renowned men in the entire city and credited for its great comeback to prominence. 
The father of two seemed to be thriving in this once-proud city as a leader of this new changed city—a city that had experienced great suffering but had learned to overcome and improve as a result. Drew was the symbol of that essence. 
But as year five in this new city came about, questions began to surface about the legitimacy of Drew's abilities to continue to lead the city to the next level. People started asking questions such as, "Has he gotten stale?" or my favorite, "Is he too old?" In year five, the city still maintained its high quality lifestyle and entertainment value. 
However, it was actually losing out to lesser cities for certain titles it so strongly desired. Drew was pressing too hard to get things back to the way they were before. No matter how hard he tried to fit certain things in to his plan, the more they responded to him, "We're squares and you're trying to fit us into small circles."
After hard times in Drew's chosen industry forced a work stoppage, his sixth year was delayed and things were starting to get scary for Drew and his family, though he was called on as a leader to get the industry back up and going. 
Eventually he and his team succeeded. And when Drew was able to get back to work, his individual production was as sharp as it had ever been. New Orleans Saints, Inc.—the organization that employs Drew—though, has not lived up to its expectations coming out of the work stoppage. 
Many outsiders looking in have questioned Drew regarding the company's struggles. At times it seems like he's gone back to his year-five approach, trying to fit square pegs into round holes. At other times it seems as if he's doing everything right in leading his company and the city. 
On Nov. 9, 2011, Drew is preparing to lead his company into a great battle against an organization from Atlanta, referred to as the Falcons. There will be an undeniable winner to emerge from their confrontation, which will culminate on Sunday the 13th. 
It is one of the more important competitions Drew will face in 2011. If his Saints organization can come out of it regarded as the winner, his organization and New Orleans will be seen as the favorite in the southern region for the remainder of 2011 in this particular industry.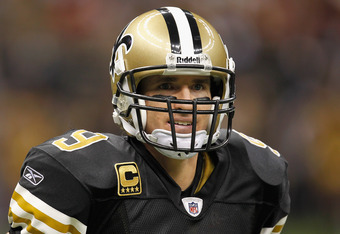 Streeter Lecka/Getty Images
If you haven't put all the details together yet, the organization Drew now works for is the New Orleans Saints. The industry is, of course, professional football. The southern region is the NFC South. 
And yeah, Drew Brees has done some things in the past year and half that Saints fans had assumed he was beyond in his previous four seasons. His interception totals have skyrocketed since 2010—though so have his touchdown totals. 
His sack totals have also gone way up. That fact in itself is discouraging, and in no way Drew's fault entirely. He needs the associates he's managing to up their production immediately. 
The sooner they do, the sooner the Saints' overall play will improve. As I can attest, staying on schedule is always the most important thing an offense can do. 
Drew, the manager of this organization, is looking for a contract extension in order to stay in this city and continue to help it grow. The owners of the Saints want him around to lead this resurgence and there is little doubt he wants to see it continue. 
In order for Drew to be guaranteed the money he wants and the security his family desires, however, Drew needs to clean up his management of his resources and lead his team and the city into 2012 with a championship in the southern region and at least in serious contention for the entire country in the professional football industry. 
If Drew is able to do that, that unfortunate New Year's Eve accident back in 2005 will be a distant memory and a beautiful motivational tool for other people to use and not Drew himself. There's likely nothing he'd like better than that. 
Of course, if he is able to continue, Drew's play may in fact spell doom for the city of New Orleans because it might not be able to afford to keep him.