Michigan Schedule Preview: The 5 Most Important Games in 2012
February 5, 2012

Matthew Stockman/Getty Images
It will be an important year for the Michigan football team. Coming off an 11-2 campaign and champions of the Sugar Bowl, many expect this team to take a step back in Year Two of the Brady Hoke era.
They point to the schedule as being tougher than 2011, with more road games and a season opener with defending national champion, Alabama, as the main argument for taking that step back.
Here are the five most important games that the Wolverines have in 2012. 
5. Alabama (@ Cowboy Stadium), September 1, 2012
David Brandon made a splash when he decided to book this game to start Year Two of the Brady Hoke era. He had no idea where this team would be when he scheduled this game, yet he decided to take a chance and further expose the Michigan brand to the south, especially Texas.
This puts enormous pressure on Hoke.
Not, that it's life or death, but that it's a national stage, first collegiate game of the year and his team may be youthful in experience. Coming off a Sugar Bowl championship, he'll need his team to have a good showing, if not win, to make it worth the trip.
A blowout could hurt the team in the short-term, but will wear off as Big Ten season begins.
It comes in at No. 5 because it's a national game for the Wolverines, so recruiting is effected, perceptions of the team are made and it could set a tone for the season. A win could set confidence in this team and it can carry over to the rest of the games.
A blowout would sting, possibly giving the team less confidence. The Michigan leaders will not let that happen.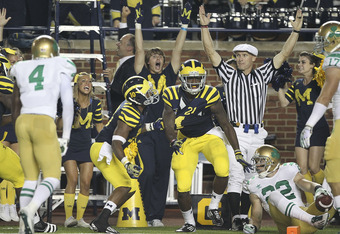 Leon Halip/Getty Images
It's not higher because it's not an important game in reaching their ultimate goal, the Big Ten Championship. In a list of most exciting games, this would see itself much higher. 
4. Notre Dame (@ Notre Dame Stadium), September 22, 2012
In the annual rivalry game, Michigan treks to South Bend to battle Brian Kelly's Fighting Irish. Michigan have pulled off some heroic and historic finishes over the past three years against Notre Dame.
Kelly will look to put an end to that as he is in Year Three of his rebuilding project in South Bend.
It took a miracle to win the game for Michigan last year, so I would expect another close game in 2012. Rivalry games are important, but again, it doesn't win them the B1G.
This game is always important to the Michigan brand, so it sits at No. 4 on this list.
Winning this game can help either team on the recruiting trail. Both teams fight for recruits in the Midwest, and this game only adds to that battle. The 2011 game was a big recruiting weekend for Michigan and I expect the 2012 game to be no different for Notre Dame. A good showing by the Wolverines could lead to extra points on the trail. 
3. Ohio State (@ Ohio Stadium), November 24, 2012
"The Game" comes in at No. 3 on this list. Always an important game, the outcome often becomes relevant on the recruiting trail. A win can garner an edge in this border war.
Michigan finally won a game last year and will travel to Columbus to face the Urban Meyer Buckeyes.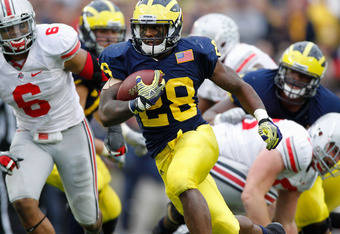 Gregory Shamus/Getty Images
The outcome of this game doesn't play a role in Michigan getting to the B1G Championship game, which lessens its importance.
It doesn't, however, undermine the overall importance of "The Game."
Bragging rights and recruiting wars are whats most at stake with this game giving it importance for the Michigan brand. Being in different division hurts its importance too. A loss hurts badly, but not as bad if it doesn't change your standing in your division. 
2. Michigan State (@ Michigan Stadium), October 20, 2012
The rivalry has been rejuvenated, thanks to Michigan State winning the last four meetings of this game. A division game, this is a must-win for the Wolverines. It is at home, and they can't lose for a fifth time to State.
That would be a heartbreaker.
The importance is three-fold: recruiting ramifications, league title ramifications and bragging rights. Although State has won four in the row, Michigan has continued to battle strong for in-state recruits. MSU went to the title game last year, Michigan really wants to get there in 2012.
Winning this game will set them in that direction.
The reason this game is No. 2 is because it's a home game; they should be able to hold at home and go into Lincoln with huge division implications on the line. That means... 
1. Nebraska (@ Memorial Stadium), October 27, 2012
Nebraska is the most important game of 2012.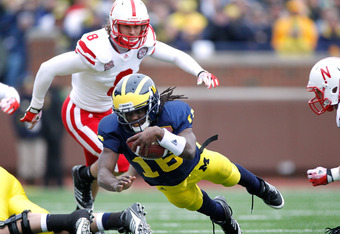 Gregory Shamus/Getty Images
Michigan travels to Lincoln for the first time since 1911 to take on the Cornhuskers of Nebraska. That last meeting ended in a 6-6 tie. This go around in Lincoln, Nebraska will be looking to avenge that tie, but more importantly the clobbering they took in Ann Arbor in 2011.
Michigan seemed to take major steps in improvement during that game and it spring-boarded them to a BCS bowl berth. They played well in all three aspects of the game, a rarity for the 2011 team.
This game could be for a place in the B1G Championship game, depending on other outcomes, which makes it very important for Michigan to win this game. A loss could eliminate them from B1G title contention.
The Wolverines need to win this game. It's a must have. It's earlier in the season and it's after the Michigan State game, so a win or loss in that game makes a win here even more important. They'll have a lot against them going into Lincoln, so it will be an uphill battle from the start.
This could be the game of the season for Michigan. (Given they win the rest of the Legend division games; @ Minn, NW, IOWA.)
So there are the five most important games of 2012. I based this list on winning the B1G Title and recruiting battles as the main goals of the season, which I believe is a precursor for a shot at the national title, thus making these games the most important of the season.
Winning the national stage games are as big as winning a conference title for the Michigan brand.
It was a tough call on MSU and Nebraska, but seeing that Nebraska was after the Michigan State match, I deemed it more important.
The 2012 season should be an exciting one for the Michigan Wolverines, and these five games are the main reason.