Week 10 Fantasy Rankings: Wide Receiver Risers and Fallers
November 8, 2011
Jeff Gross/Getty Images
Week 10 Fantasy Football Rankings are here! Got the bye-week blues because your best wide receivers are out? Don't sweat it, you may have a good replacement on you bench or there could be one sitting on waivers waiting to get picked up.
TheSportsCannon.com's updated positional rankings have the best consistency rankings out there, so you won't pick up a guy that is just a flash in the pan. The road to a fantasy championship is paved by consistency so check out the updated rankings to stay at the top of your league.
How it works
 Each week we analyze a player's production on the football field and rank him accordingly—then we go one step further and analyze their competition. Just because someone dominated the Rams it doesn't mean he was that week's best performer. You want a quarterback that continually puts up big numbers, even when he takes on one of the NFL's toughest defenses.
Rising
14(19)             Brandon Marshall, Miami Dolphins
Marshall is back on pace for a near 100-catch season and remains the top receiving option for quarterback Matt Moore. Marshall went up against one of the better young cornerbacks in the league in Brandon Flowers but tallied eight catches for 109-yards in the Dolphins first win of the season. The Dolphins have had real success running the ball recently, which will actually help Marshall's fantasy value considering he is the only receiving threat on the team.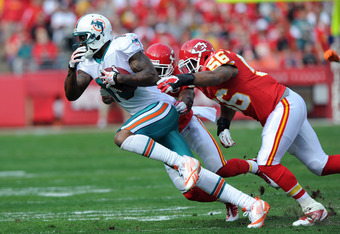 Peter Aiken/Getty Images
19(29)             Vincent Jackson, San Diego Chargers
We hate to even mention Jackson's name here because he has to be the streakiest player in fantasy. Jackson recorded seven catches for 141-yards and two touchdowns in the Chargers Week 9 loss to the Packers. The Chargers were forced to throw the ball the most so far this season going up against the Packers potent offense, so he should get back to his streaky ways against his subpar AFC West competition.
20(24)             Laurent Robinson, Dallas Cowboys
Robinson has been very productive for the Cowboys, even as their third wide receiver. Now that Miles Austin will be out at least a week or two, Robinson will step up in to the starting role. Robinson has always had the talent to make it in the NFL but just couldn't stay healthy enough to make an impact. Robinson may never have a better opportunity to show what he is worth than right now.
31(NR)           Julio Jones, Atlanta Falcons
After being hurt for a few weeks, Jones came up big for the Falcons scoring the first touchdown of his career against the Colts. Jones actually scored twice in the Falcons' romp of the Colts but scored both on two massive catches. Jones had only three receptions on the day, so it is still up in the air as to whether or not he should be a regular start each week.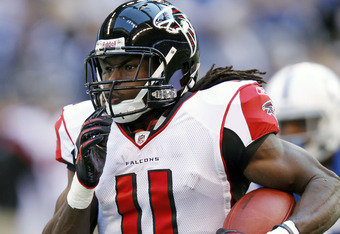 Joe Robbins/Getty Images
33(42)             Steve Breaston, Kansas City Chiefs
The Chiefs passing attack finally seems to be turning things around this season and Breaston is one of the beneficiaries. While rookie Jon Baldwin got most of the hype in fantasy circles, Breaston has quietly become a major force in the Chiefs' offense. In his past two games, Breaston has been targeted 20 times, so he becomes a decent WR3 option in most leagues.
41(48)             Antonio Brown, Pittsburgh Steelers
Brown was again the most targeted receiver for the Steelers in their Week 9 loss to the Ravens. Brown was close to adding two more touchdowns on the day, but had one stolen by Mike Wallace and another missed because of what many assumed to be pass interference (it was never called). Emmanuel Sanders missed the game to attend his mother's funeral, but will miss a few more weeks after undergoing arthroscopic knee surgery, meaning Brown will be even more relied upon.
42(NR)           Jacoby Ford, Oakland Raiders
It appears as if the Raiders have shuffled their depth chart at the receiver position and that Ford is now the top target in the offense. Ford made it seem like they had planned for this to happen over their bye in the previous week, and this gives him the best fantasy value of any Raiders receiver.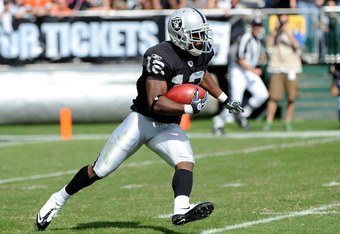 Thearon W. Henderson/Getty Images
Falling
24(20)             Reggie Wayne, Indianapolis Colts
Both Wayne and fellow Colts receiver Pierre Garcon were held to six targets (Garcon also fell eight spots this week). The real reason for the drop is thanks to Curtis Painters' downright awful play as of late.
30(25)             Deion Branch, New England Patriots
Branch is a wily vet that can take advantage of lesser corner backs, but he is also up there in age and can't find separation from the more talented corners. Branch had a great start to the season but has since become nonexistent in the Patriots' offense. Branch may be a starting receiver, but he looks more like the fourth option for Tom Brady to throw to.
47(31)             Darrius Heyward-Bey, Oakland Raiders
If you read the blurb about Jacoby Ford (above), you already know the Raiders shuffled their depth chart at receiver. What may surprise you is that Heyward-Bey was the fourth receiver in line for the Raiders. Coach Hue Jackson has said that it wasn't a benching, which is actually even more of a cause for concern. At least if it was a benching, we would know his role in the offense wasn't based on his skill.
Every week TheSportsCannon.com updates their Fantasy Football Positional Rankings to keep up with the changing landscape of the football season.
The Sports Cannon is a fantasy football news website that offers free advice, rankings, waiver wire pickups and matchup rankings. You can follow TSC on Facebook or Twitter and can even email your questions to: advice@thesportscannon.com.