New York Mets Offseason Outlook: Shortstop
November 8, 2011
Jim McIsaac/Getty Images
Shortstop is easily the most crucial position for the Mets this offseason. Why? Because of Jose Reyes.
The superstar shortstop is now a free agent, and the Mets will try their best to bring him back to Queens. It currently seems as if the Mets have a 50 percent chance of re-signing Reyes.
Jose Reyes was signed by the Mets at the ripe age of 16. Reyes would work his way through the Mets' minor league system rather quickly. He quickly got labeled as on of the team's top prospects. Reyes was creating a huge buzz around the Mets and their fans.
Roughly four years after Reyes signed with the New York Mets, he made it to the big stage. Reyes made his major league debut the day before his 20th birthday. He was a wide eyed 19-year-old when he came up to the big leagues.
It was a dream come true for him, and big things were expected from the kid. Reyes disappointed none, as he got his career off to a blazing start.
Reyes captured Mets fans hearts with his amazing skills, determination and million dollar smile. It seemed as if a new era was beginning in Queens.
Reyes placed eighth in rookie of the year voting in 2003. He hit for a .307 batting average and stole 13 bases. Reyes would suffer a bit of a setback in his sophomore season. He suffered from a lame right hamstring. Sound familiar?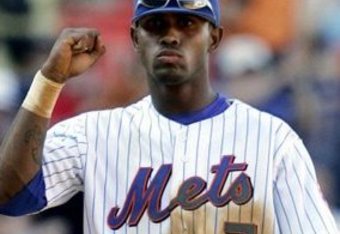 Reyes' hamstring caused a rather large stir in the media. People were debating if Reyes would still become the Mets' next superstar. As we all know, things turned out pretty good for Jose.
Fast forward seven years and Reyes is a premier free agent. He is seeking a deal worth $100 million. Despite his ups and downs, Reyes is going to score big this offseason. He does deserve it though, Reyes has definitely had more ups then downs, and he is a magnificent, once-in-a-lifetime talent.
The main question inside the Mets organization is whether or not they will be able to re-sign their homegrown superstar, Jose Reyes. In the midst of the teams' financial issues, there are a lot of uncertainties surrounding the Mets organization.
Mets' general manager Sandy Alderson is prepared to make Reyes an offer if he hasn't already. It is said that Alderson will offer Reyes a modest contract. Reyes has made it clear that he is looking for a deal worth at least $100 million over a five- or six-year time span.
It is unknown whether or not the Mets have that type of money, or if they are willing to spend that type of money on an injury-prone player like Reyes.
It seems as if the Mets are holding their ground in the early stages of their negotiations with Reyes. Alderson is not a fan of handing out mega contracts to risky players, no matter how high the reward is.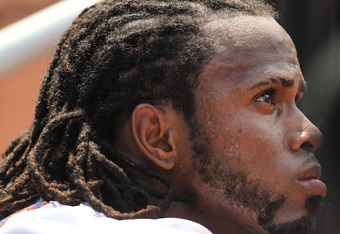 Al Bello/Getty Images
That seems like the right idea, but some teams beg to differ. It has been reported that their are some teams out there that are prepared to offer Reyes the mega contract he wants, or something close to it.
If that indeed does happen, then the Mets will most likely be out of luck, and their efforts to retain Reyes will come up just short.
Many Mets fan's opinions on the Reyes situation are very different. Some fans believe that the Mets should do whatever they can to keep Reyes in Queens, while others believe that the team should let Reyes walk because he is a risky player.
I believe that the Mets should be smart with this whole situation. The team shouldn't offer a lucrative contract to Reyes just because another team did. The truth is that Reyes is an injury-prone player. He is asking for a hefty amount of money and it seems as if the Mets already have their hands tied financially.
Reyes is indeed a once-in-a-lifetime player, and he is one of my favorite players of all time. He brought a new element to the Mets with his electric play and eccentric personality. Reyes played the game with an unseen passion. He enjoys playing the game of baseball as much as anybody.
If Reyes does indeed leave, then it will be a huge blow to the Mets organization and their fans.
But it won't be something that the team and fanbase to recover from. I'll be the first one to get teary eyed if Reyes decides to leave, but the truth is, this is a business, and unpopular decisions have to be made sometimes. Emotions can't get in the way of decisions when it comes to baseball.
With that said, I still believe that the Mets can resign Reyes. It is no secret that Reyes and his family love living on Long Island. They love everything about their current situation. Reyes family even encouraged him to try and sign an extension with the Mets during the season, but he ultimately decided not to engage in talks with the team.
Reyes does want to stay with the Mets, though. He appreciates everything that the Mets organization has done for him, and he might even be willing to give the team a discount because of that.
The Mets will be smart in their negotiations with Reyes. I believe that the two sides can agree on a four- or five-year deal worth $16-$18 million a year with an option for another year based on his games played. That is a reasonable contract, and it seems to satisfy both sides.
Their will be hundreds of rumors swirling around Reyes this offseason. Mets fans just have to hope that the two sides can come to terms on a reasonable contract to keep him in Queens. Reyes has been the heartbeat of the Mets and the team just won't be the same without him.
Although it may seem like losing Reyes might possibly be a good thing for the team, I disagree with that. I do strongly believe that the team can survive losing him, but I never said that it would be painless. It would be a painful loss for the team. As they say, "You don't know what you got 'til it's gone."
Mets fans will just have to keep their fingers crossed and hope that the Mets get this right.