Toronto Blue Jays: 5 Closing Options That Can Be Acquired Via Trade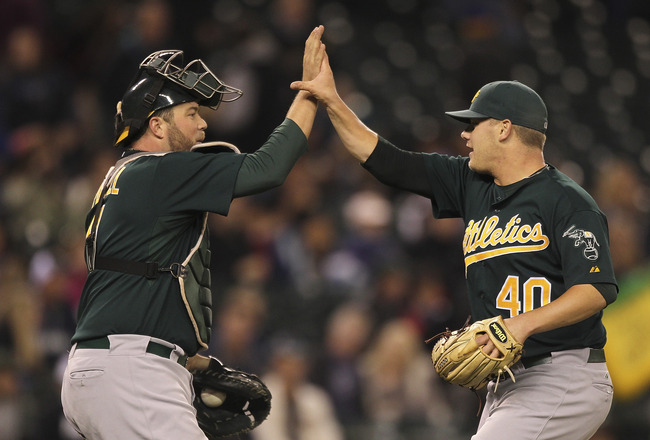 Otto Greule Jr/Getty Images
In my last article, which mostly fell on deaf ears, I outlined five pitchers the Jays should pursue via free agency. Realistic and noteworthy, many readers here believe Alex Anthopolous and ownership will not open up their pockets and sign a closer long-term.
In the end, you only go as far as your pitching will take you. If your starters are good and your bullpen stinks, you won't win games. The same can be said for a good bullpen and a bad rotation. The competitive balance of both squads is critical in the success of a baseball franchise.
So with that said, I've opted to list five closers the Jays should try and acquire. All of these closers are legit closers with experience closing big games. Some may come at a hefty price tag, while others can be had for next to nothing.
Andrew Bailey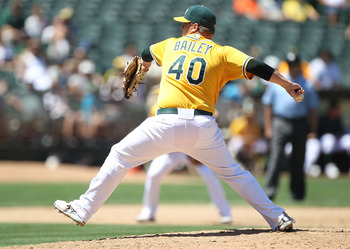 Jed Jacobsohn/Getty Images
Bailey is a big presence at 6'3" 245 pounds, and he has the stuff to really be successful in any division in baseball.
He has never has a BAA over .220, and in his career has always been a strikeout per inning pitcher.
The Athletics are always looking to trade their talent, but it's usually those players that are near free agency that they look to trade.
According to Cot's contracts, Bailey is still three years arbitration eligible until he becomes a free agent in 2015. This player is a Alex Anthopolous special; a player who is contract controllable for the next handful of years.
Trade Offer
Travis Snider, David Cooper and Brett Cecil for Andrew Bailey
Both players right now are replaceable on the Toronto Blue Jays. Snider may have gotten moved ahead of by Eric Thames, and Cecil could use the change of scenery to a more pitcher friendly ballpark. Cooper just plain needs to get out of Adam Lind's shadow in Toronto.
The A's still have a good bullpen and will likely use a combination of Brian Fuentes and Grant Balfour to close out games.
The A's right now are starved for outfielders as their only returning outfielder right now appears to be Ryan Sweeney, as outfielders Coco Crisp, Josh Willingham, Hideki Matsui and David DeJesus are all free agents.
This will likely result in the promotion of former Jays prospect Michael Taylor to the big club. The Jays acquired Taylor in the Roy Halladay deal and subsequently shipped him off to Oakland for first baseman Brett Wallace.
Joakim Soria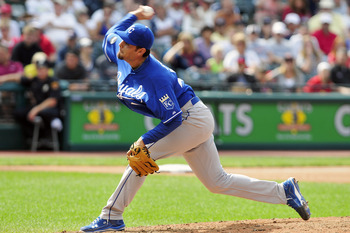 Jason Miller/Getty Images
Another pitcher that is contract controlled somewhat until 2015 as well. Soria on the other hand is a more expensive option as he has club options worth $6 million in 2012, $8 million in 2013, and $8.5 million in 2014. All club options also have a $750k buyout option as well.
Either way, Soria has closer stuff but was hit hard last season. He still managed to strikeout a batter an inning, keep walks low, and keep the ball in the yard for the most part, but everything that seemed to get hit found holes in the Royals defence.
He blew seven saves this season, up from three the previous three seasons.
The Royals rotation is rather sad looking without them having to call up Mike Montgomery, John Lamb, and moving Aaron Crow to the rotation.
The Royals in an attempt to strengthen their rotation have traded for Jonathan Sanchez to help out their rotation. In other news The Royals may be looking to add Jair Jurrjens to their rotation as well, possibly dangling blue-chip prospects Lorenzo Cain and Wil Myers in an attempt to get him.
With that said, the Royals like any other team will likely be wanting prospects. If they deal away Cain, look for them to as for at least an outfielder, then prospects.
Trade Offer
Deck McGuire and Moises Sierra for Joakim Soria
McGuire is a victim of a numbers game as the Jays only have so many rotation spots and not enough room. With the development of Nestor Molina, Noah Syndergaard and Drew Hutchison skyrocketing last season, McGuire's rather steady year went unnoticed.
With an improving rotation by the year, the Jays could afford to use one of their arms to grab a closer.
Sierra is also a victim of a numbers game in Toronto. With five outfielders already ahead of him, and his position filled by one of the best right fielders in the game, Sierra will likely be traded.
Soria gives the Jays a good closer to help their starving bullpen out.
Leo Nunez/Juan Oviedo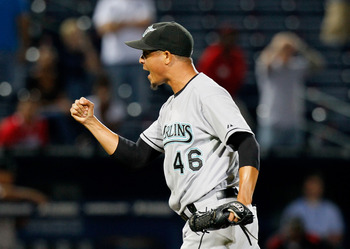 Kevin C. Cox/Getty Images
Likely to come the cheapest among all closers listed here, Oviedo is an inconsistent closer but has electric stuff.
Currently he's involved in a scandal that could result in him doing jail time for using another identity to play in the major leagues.
Everyone knows him as Leo Nunez, but he's actually goes under the name Juan Oviedo.
Needless to say he could be charged and face jail time in the United States and as a result could face problems getting a VISA to play in the United States.
He's been placed on the major league restricted list until this mess is sorted out.
Trade Offer
Travis Snider, Rajai Davis, Dickie Thon Jr, Danny Farquhar and Tryston Magnuson for Logan Morrison and the man of many names.
Two decent bullpen pitchers for getting rid of a headache. Oviedo is coming off a year in which he finished seventh in the NL in saves with 36, however he blew six saves. Oviedo pitched like a man possessed after August 23rd, only giving up one hit in eight innings of work.
Logan Morrison would fit into the Jays plans perfectly, and Miami may want to avoid headaches heading into a new park.
It's an idea for a trade, not an end product, so more pieces could be added to make things work.
Huston Street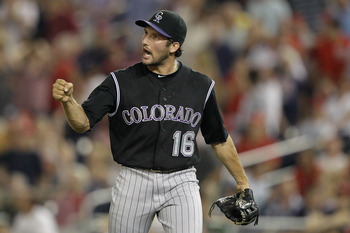 Rob Carr/Getty Images
Another reliever who got hit pretty good last season, Street's calling card is location and painting the corners of the plate. Street last season had an up and down year and eventually lost the closing job to Rafael Betancourt in the last month or so of the season.
Needless to say Street was a launching pad for opposing batters as they launched 10 home runs in only 58 IP for Street. Pitching in a severe hitters park doesn't help matters for Street, but one positive is he wasn't wild, only walking nine batters.
One could argue this is a good thing, while I believe this may of been the reason for him struggling. Much the same as Jesse Litsch, when he's successful he's locating on the corners, however for Street, it appears he may of been "wild" in the strike zone.
Trade Offer
OF Eric Thames and 1B David Cooper for RHRP Huston Street and LHRP Rex Brothers
The Rockies and Eric Thames could be made for each other. The thin air up in the Rockies and a good upper cut swing mean good power numbers for Thames.
Cooper on the other hand could thrive in Colorado and isn't blocked by Adam Lind, Edwin Encarnacion, and Michael McDade in Toronto.
Cooper will eventually take over for Rockies legend Todd Helton at first base.
As for what the Jays would be getting are two power pitchers. Street will be the closer in Toronto, however, Brothers is equally as nasty. The 6'0" 200 pound lefty has just filthy stuff, and is a strikeout machine.
Honestly, he reminds me of those old school pitchers who just grip it and rip it. Eventually I think he will have to have surgery because he'll blow his arm out, so hopefully the Jays pitching coaches can work with him.
Having a power lefty like that out of the pen who can locate is a big plus. Just as long as his name isn't David Purcey.
Joel Hanrahan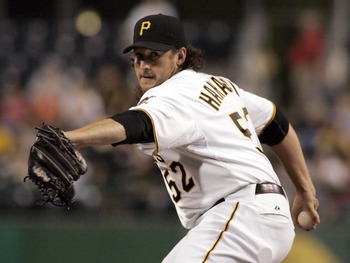 Justin K. Aller/Getty Images
This one is tough. The Pirates are a club in transition. Their team isn't good enough right now to win, but one day when all their top level prospects develop, they should emerge as a power.
That's the big word though "if'. The Pirates for as long as I can remember have been a terrible ballclub, despite always having high draft picks. This organization just struggles to win.
Hanrahan is a pure power pitcher who isn't a free agent until 2014, yet another Anthopolous special.
He pitched as a closer for the Pirates and managed to only give up a single home run as closer. He finished with a 1.83 ERA and finished under a strikeout per inning for the first time in his career. The previous season he recorded 100 strikeouts in 69 innings.
This year he cut his walk rate almost in half as he walked only 16 batters as opposed to 26 the year previous.
For the Jays to get Hanrahan, look for them to give up a catcher, first baseman, and an outfield prospect to get Hanrahan.
Trade Offer
Adam Lind, Carlos Perez, Asher Wojciechowski and Moises Sierra for RP Joel Hanrahan and 2B/3B/SS Chase D'Arnaud.
This offer would only happen if the Jays manage to somehow sign a big name first baseman like Albert Pujols, Prince Fielder, or trade for one like Kendrys Morales or Yonder Alonso, both names that have been rumored to be on the move.
Hanrahan and D'Arnaud give the Jays two things they've been starving for, a closer and a second baseman in one huge scoop.
We'll see how things develop in the offseason, but these five are likely to be on the Jays' radar to fill the closer role.
Within the Organization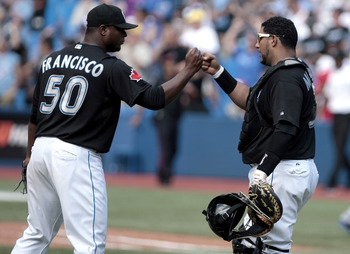 Abelimages/Getty Images
This last slide is to remind everyone that I could be just speaking just to speak here.
There's no denying the Jays are looking for arms, both in the rotation and the bullpen, but you never really know, the Jays may likely opt to fill the bullpen from within.
Look for returning bullpen pitchers Casey Janssen, Jesse Litsch, Carlos Villanueva and Joel Carreno to play a vital role in middle and long relief, but don't discount the Jays re-signing Frank Francisco who was lights out in the second half of the season.
It's a long shot, but he could still remain in Toronto.
Another option at closer may be Dustin McGowan, even though he finished the year out in the rotation.
McGowan's stuff is closer ready and closer worthy, but has it in his plans to become a starter and remain there for the rest of his career.
Despite the shoulder and knee injuries, McGowan wants to give it all he's got to be a starter. However, he may be better served being a closer.
Another option could be Kyle Drabek, who due to a numbers game, may not have a starters spot next season if McGowan recaptures what he has in 2008 or the Jays look to acquire more starting pitching.
All I can say is it should be an eventful, bumpy ride until the Jays manage to sort out their bullpen and rotation, but its a ride I really don't want to get off anytime soon.
Keep Reading

Toronto Blue Jays: Like this team?