7 Positives to Look at Coming out of Carson Palmer's Slow Start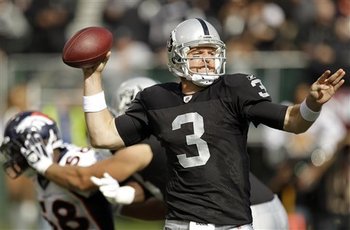 Three weeks ago, Carson Palmer was sitting on his couch eating bon bons, thinking that football wasn't going to happen for him this year. Suddenly, he gets a text, saying, "You're gonna be a Raider. Get your butt to Oakland tomorrow so we can get this thing crackin'!"
He then goes to Oakland, thinking that he was going to get a little time to get acclimated to his new team. Instead, he gets thrown into the fire halfway through the game, down 21 points, after three days of practice where he didn't get many reps.
Despite only knowing 15 plays going into the game, he threw the ball 21 times in the second half—and it wasn't pretty, as he threw three interceptions. He then gets a bye—two weeks to get to know his team before making his first start for the Raiders.
It was another three-interception game for Palmer, but this time he had 332 yards and three touchdowns to accompany the interceptions. As bad of a start that Palmer is off to, many positives can be taken from it.
Turn the page to see what they are.
Physically the Carson Palmer of Old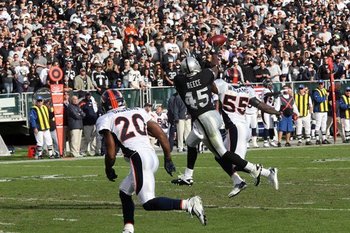 Immediately following the trade, many questioned if the Raiders were getting the Palmer of 2004-2007 or 2008-2010. Palmer was an elite quarterback from 2004-2007 with unusual arm strength before partially tearing a ligament in his throwing elbow—causing him to lose a few miles per hour from his fast ball.
Instead of having Tommy John surgery, Palmer opted to rest the elbow to see how it heals that way. The first thing we can take from Palmer's slow start is that there is nothing wrong with him physically.
His arm is very live, and he has shown that he can still put a ball in some spots that not many quarterbacks can. The deep out to Chaz Schilens as well as the touchdown passes to Jacoby Ford and Marcel Reece were absolute dimes over, between and around defenders.
The only thing wrong with Palmer right now is rust and familiarity with his receivers. For all you Jason Campbell fans, if he dreams of making some of the throws Palmer has made, he better wake up and apologize.
Palmer has regained the arm and needs only to resharpen his mind.
Got Some Work in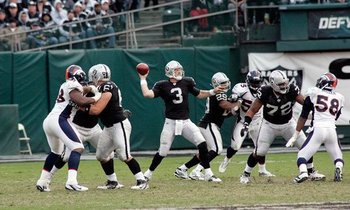 I don't like the way Hue Jackson went about it, but Palmer was able to shake off a lot of rust with all the work he got over the last couple of games. Palmer threw the ball 21 times in a little less than a half of a game against the Kansas City Chiefs.
I don't have a problem with that because the Raiders were already down 21 points, so Palmer might as well get some work. I have a huge problem, however, with Palmer throwing the ball 35 times in his first start on Sunday.
Darren McFadden was injured, but Michael Bush had 73 yards in the first half while the Raiders were up 17-7. Jackson opted to air it out instead of pounding Bush, who the Broncos were unable to stop.
Jackson sacrificed Sunday for Palmer to be ready on Thursday. One game at a time, please!
Directing the Offense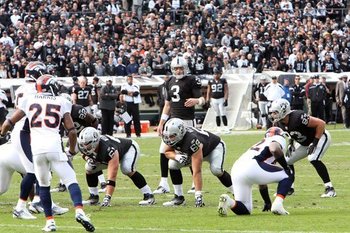 In getting the work that he got in Sunday, Palmer showed that he had a much firmer grasp of the offense. He went to the line and was decisive when he made his checks at the line of scrimmage.
He pointed out blitzes and made changes to the protections—making it harder for the Broncos to get to him. Against the chiefs, he seemed to simply run the play that was called in the huddle.
It looks like he now knows more than the 15 plays and three protections he knew in his first game against the Chiefs.
Deep Threats Can Eat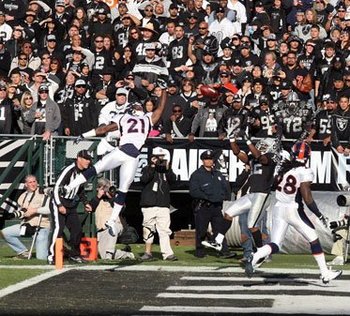 You can see from Sunday that Palmer is in Raider Nation to make use of all the deep threats on the team. Even fullback Marcel Reece is a deep threat, and Palmer made great use of him on a 42-yard touchdown pass.
He also made great use of Jacoby Ford, who had five catches for 105 yards—including an 18-yard touchdown pass to Ford that was a dime. As disappointed as I was at the fact that the Raiders didn't use Darrius Heyward-Bey, he did have his chance to make a play.
Palmer threw him a dime on a deep ball on the side of the end zone that hit Heyward-Bey in the face mask. The coverage on Heyward-Bey was tight but the ball hit his facemask—showing he still needs to work on catching the deep ball.
He was doing well with Campbell in there because, in a way, they are actually mirror images of each other. Campbell has a big arm but only does well throwing short passes, and Heyward-Bey is a blazer but only catches short passes.
That solidified their quarterback/receiver marriage, but Campbell is out, so it will be tough for Heyward-Bey to get fed until he learns to consistently catch deep balls. Until he does, I actually look forward to seeing what deep threat Louis Murphy can do with Palmer.
I'm having trouble seeing how Moore passed Heyward-Bey in the pecking order.
Will Open Up Things for Darren McFadden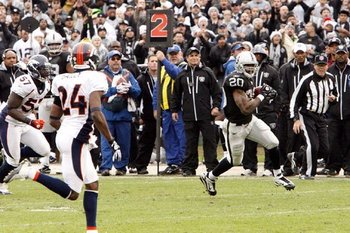 With all the passes Palmer threw Sunday, the perception is that Jackson is in the process of turning the Raiders into a passing team. The league is on notice from the flashes that Palmer showed against the Broncos.
Future opponents know that Palmer is only going to get better, so they will prepare for Palmer. The Broncos ran a lot of cover-two-man-under—indicating they were afraid of the deep ball and willing to take their chances with the Raiders running game.
With this new perception of the Raiders, opposing defenses can get beat with an 80-yard run while over-concerned about being beaten by an 80-yard pass.
Unstoppable Offense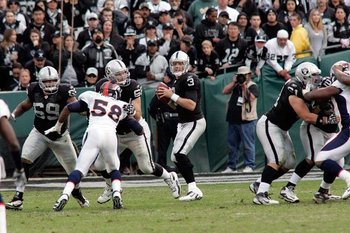 McFadden will take advantage of Palmer's presence and light defenses up. Then suddenly, defenses will load the box again. That will leave guys like Murphy and Ford one-on-one for Palmer to light the defense up himself.
The Raiders offense will make opposing defenses pick their poison between the running game and deep ball. A big play can come from both so that won't be the easiest of decisions for opposing defenses.
You can's stop both!
New Season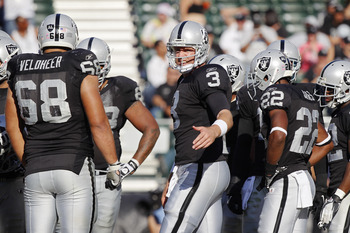 Brian Bahr/Getty Images
The first half of the season is over with a three-way tie for first place and the last place team just one game out. To me, that means that the Raiders are starting a new, eight-game season to try to win the AFC West.
During the first season, Campbell managed the team to a 4-2 record before getting injured. Palmer was then brought in with no camp or familiarity with his teammates and struggled the last two games of that season.
Palmer has now had the equivalent of a preseason with the a game and a half's worth of snaps. The Raiders can now start their new season with Palmer up to speed more with his teammates, playbook, and sharpness.
The next eight games are going to count the most.
I like the Raiders' chances if Palmer is sharp on Thursday.
Overview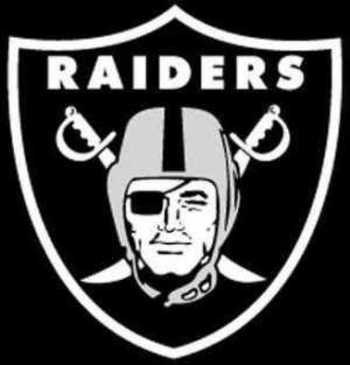 Relax, Raider Nation—Oakland isn't out of anything yet.
The whole AFC West is within a game of each other, and there is still half of a season left. Tomorrow is a colossal game that the Raiders can actually get an upper hand in the division, but even then it's not over.
The Raiders had the toughest schedule in the division in the first half of the season. They lost their starting quarterback—the best player on the team among other key players—and they're still tied for first place.
With the addition of Palmer, the Raiders offense took a step back to take 10 steps forward. Once he gets settled in, the Raiders offense is going to be as dynamic as there is in the NFL.
I just hope that Palmer arrives before the season is lost.
I think he's getting close.
Keep Reading

Oakland Raiders: Like this team?