NHL Power Rankings: An Inside Look at Each Team's Top Line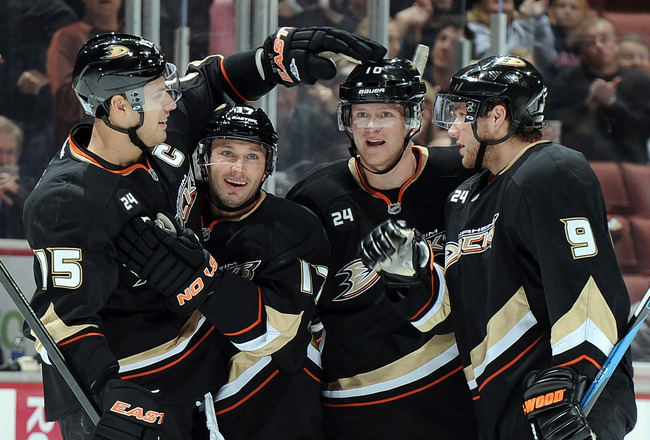 Harry How/Getty Images
The NHL is a scoring league. A consistently elite first line is a rarity in the NHL, but the teams that are blessed with one, reap the benefits.
Lines are juggled so often that it's often tough to pin down exactly what each team's first line is. I've done my best to give an inside look at the most recent version of what I consider to be each team's top line based on what I have watched.
30. New Jersey Devils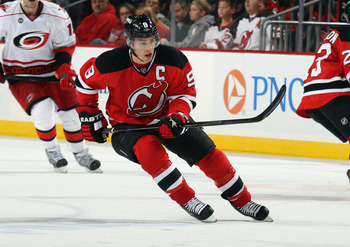 Bruce Bennett/Getty Images
Zach Parise, Adam Henrique, David Clarkson
The Devils top line is an elite unit when healthy. Unfortunately, that is rarely the case.
29. Phoenix Coyotes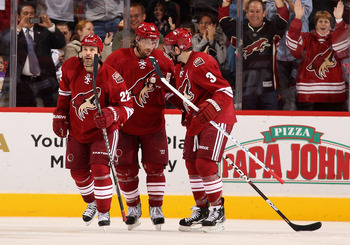 Christian Petersen/Getty Images
Lauri Korpikoski, Daymond Langkow, Shane Doan
Shane Doan is a definite bright spot on this line, but there is not much else to write home about.
28. Nashville Predators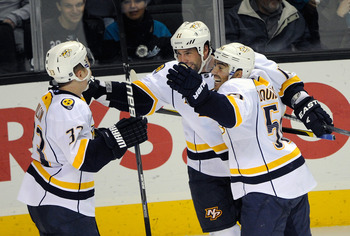 Thearon W. Henderson/Getty Images
Colin Wilson, David Legwand, Patric Hornqvist
There is a reason Shea Weber, Ryan Suter and Pekka Rinne have to carry this team. Look at that top line.
27. Columbus Blue Jackets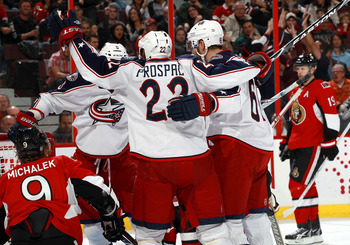 Jana Chytilova/Freestyle Photo/Getty Images
Vaclav Prospal, Derick Brassard, Rick Nash
Rick Nash has to be sick of playing with scrubs at this point.
26. Winnipeg Jets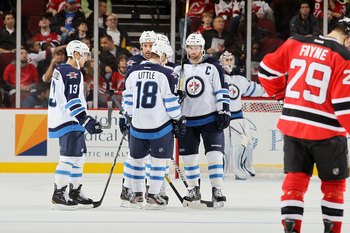 Jim McIsaac/Getty Images
Andrew Ladd, Bryan Little, Blake Wheeler
The Winnipeg Jets have been uninspiring in their first year home, and the play of the top line has been a reason why.
25. Ottawa Senators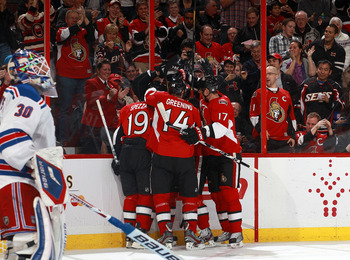 Jana Chytilova/Freestyle Photo/Getty Images
Milan Michalek, Jason Spezza, Colin Greening
The Ottawa Senators are in a youth movement, but that hasn't stopped Jason Spezza from getting the job done with the kids.
24. St. Louis Blues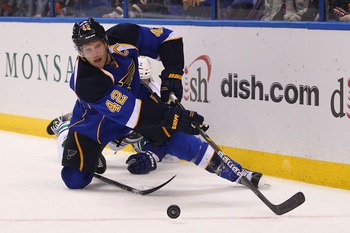 Dilip Vishwanat/Getty Images
Vladimir Sobotka, David Backes, T.J. Oshie
We'll see if Ken Hitchcock can get more out of this top line than his predecessor was able to.
23. Colorado Avalanche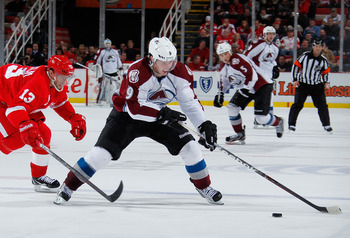 Gregory Shamus/Getty Images
Matt Duchene, Paul Stasny, Milan Hejduk
On their good nights, this line is one of the 10-15 best in hockey. However, they are too streaky to be placed there in these rankings.
22. Florida Panthers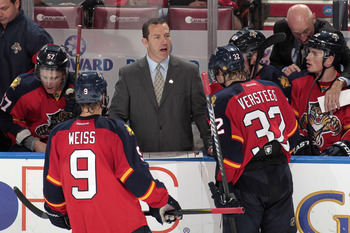 Joel Auerbach/Getty Images
Tomas Fleischmann, Stephen Weiss, Kris Versteeg
The Florida Panthers have surprised a lot of people to start the season, and they have done so with a solid all-around effort from the first line. Durability is a concern, but when healthy, this unit should continue to be rock solid.
21. Calgary Flames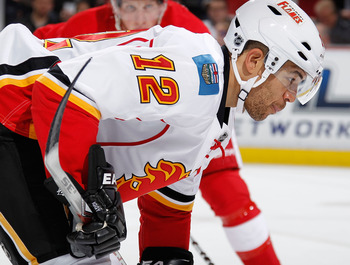 Gregory Shamus/Getty Images
Alex Tanguay, Roman Horak, Jarome Iginla
An experienced crew, Calgary's top line continues to put together decent results. Unfortunately for the Flames, Tanguay and Iginla are no longer in the prime of their careers.
20. New York Islanders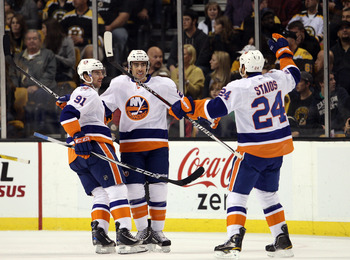 Elsa/Getty Images
Matt Moulson, John Tavares, Michael Grabner
Give this line some time, and they will shoot up this list. This young group just hasn't put it all together quite yet.
19. Carolina Hurricanes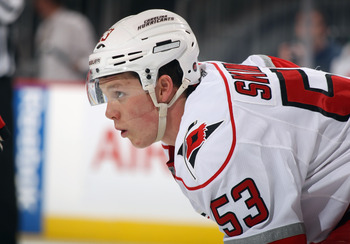 Bruce Bennett/Getty Images
Jeff Skinner, Eric Staal, Chad Larose
Jeff Skinner's impact early in his career has been incredible. He gets better with each and every shift he takes, and this line benefits as a result.
18. Dallas Stars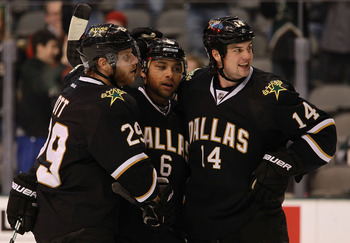 Ronald Martinez/Getty Images
Loui Eriksson, Jamie Benn, Michael Ryder
Even if nobody is watching them do so, Loui Eriksson and Jamie Benn work magic in the offensive zone for the Dallas Stars. Maybe they won't miss Brad Richards after all.
17. Minnesota Wild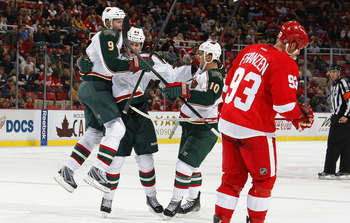 Dave Sandford/Getty Images
Dany Heatley, Mikko Koivu, Guillaume Latendresse
The perfect complements to one another, this trio has scoring, playmaking, defense and grit.
16. Buffalo Sabres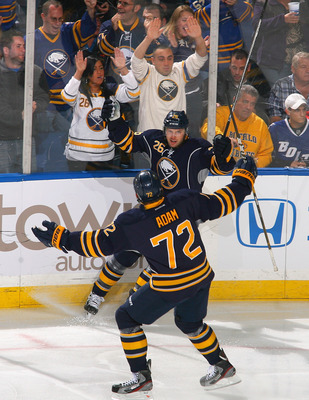 Rick Stewart/Getty Images
Thomas Vanek, Luke Adam, Jason Pominville
Thomas Vanek is quietly putting together another productive season. He carries this line a lot of the time, but his linemates really feed off his energy and creativity in the offensive zone.
15. New York Rangers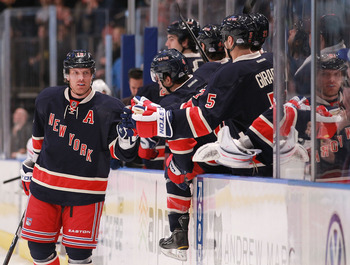 Nick Laham/Getty Images
Brandon Dubinsky, Brad Richards, Ryan Callahan
The Rangers offense has underachieved after an offseason of big-time spending from the organization to get Brad Richards.
Richards and Gaborik can't do all of the scoring.
14. Toronto Maple Leafs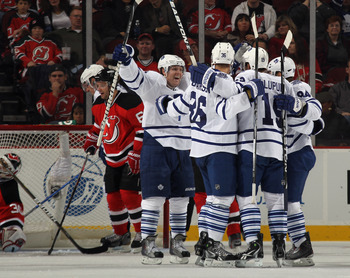 Bruce Bennett/Getty Images
Joffrey Lupul, Tyler Bozak, Phil Kessel
Look at what Phil Kessel is capable of with talented players around him? It's funny how people start to view that trade a bit differently now.
13. Boston Bruins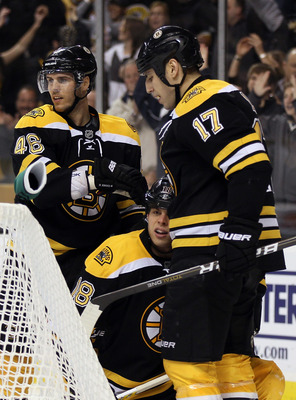 Elsa/Getty Images
Milan Lucic, David Krejci, Nathan Horton
This line stepped up big for the Bruins in the playoffs, but the top-end talent isn't there. They combined for only 177 points a season ago, and no player on this line is truly an elite player. The highest point total among them last year was David Krejci's 62.
12. Los Angeles Kings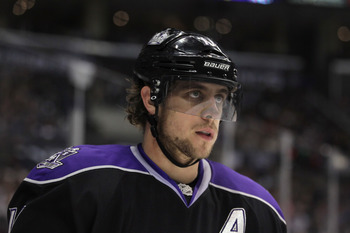 Jeff Gross/Getty Images
Simon Gagne, Anze Kopitar, Justin Williams
Anze Kopitar centers two former Flyers, and the results are lucrative. It's really fun to watch these guys go to work on a nightly basis.
11. Montreal Canadiens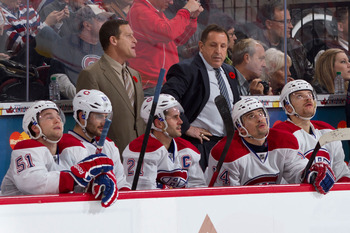 Jana Chytilova/Freestyle Photo/Getty Images
Max Pacioretty, Tomas Plekanec, Brian Gionta
While the Canadiens may have an undersized and underachieving top line, they deserve some credit as a top 15 unit based on talent and past performance.
10. Edmonton Oilers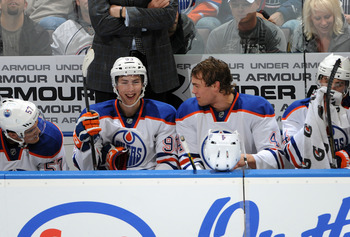 Dale MacMillan/Getty Images
Taylor Hall, Ryan Nugent-Hopkins, Jordan Eberle
Maybe I'm being bold, but I can't think of many top lines I would rather throw out there than this one. Sure, they are all extremely young, but can anyone honestly say there are 10 lines you would rather have on your team? These kids have been incredible this season, and they are gelling so well with one another.
9. Pittsburgh Penguins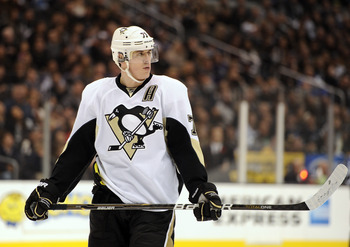 Harry How/Getty Images
Steve Sullivan, Evgeni Malkin, James Neal
This line is certainly subject to change upon Sidney Crosby's return, but the current top unit has played pretty well so far. James Neal is certainly the breakout star for this team.
8. Philadelphia Flyers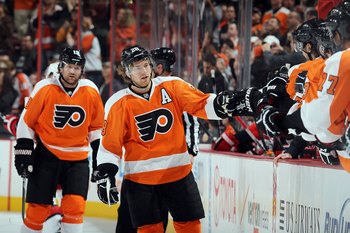 Jim McIsaac/Getty Images
Scott Hartnell, Claude Giroux, Jaromir Jagr
This line has come together nicely in the early part of the season. Claude Giroux is an elite playmaker while Jagr still has his scoring touch. Scott Hartnell has also found some success early in the season, finishing opportunities and playing solid hockey at both ends of the ice.
7. Detroit Red Wings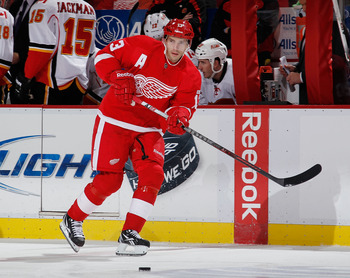 Gregory Shamus/Getty Images
Daniel Cleary, Pavel Datsyuk, Tomas Holmstrom
As if having Pavel Datsyuk on this line isn't enough to put this line in the top 10, Tomas Holmstrom puts this line on another level defensively.
6. Washington Capitals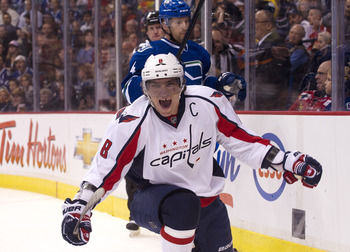 Rich Lam/Getty Images
Alexander Ovechkin, Nicklas Backstrom, Troy Brouwer
Any line with Alexander Ovechkin and Nicklas Backstrom on it deserves a spot in the top 10 of this list. The fact that Washington struggles in the playoffs is no reason to disrespect how talented and productive their top line is.
5. San Jose Sharks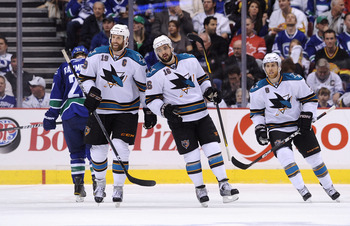 Harry How/Getty Images
Logan Couture, Joe Thornton, Joe Pavelski
There is a reason the San Jose Sharks are always near the top of the league in scoring; they have a couple of elite lines, and the top trio is scary good.
Thornton is a once-in-a-generation playmaker, Logan Couture is developing a great offensive game to go with his defensive excellence, and Joe Pavelski is always a threat to score.
4. Chicago Blackhawks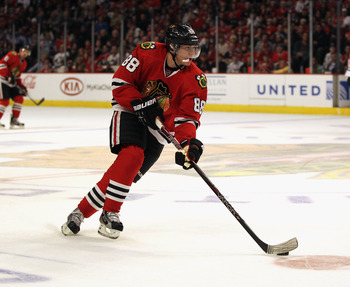 Jonathan Daniel/Getty Images
Patrick Sharp, Patrick Kane, Marian Hossa
The Blackhawks put Patrick Kane at center this season, and it is paying dividends. Kane's defensive prowess and playmaking ability are a beautiful fit with Hossa's shooting ability and Sharp's all-around great play.
3. Tampa Bay Lightning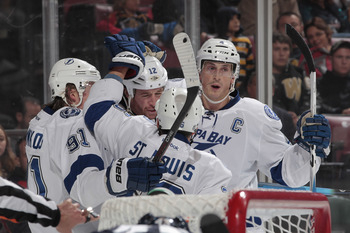 Joel Auerbach/Getty Images
Ryan Malone, Vinny Lecavalier, Martin St. Louis
Last season, Martin St. Louis and Steven Stamkos were an elite duo. However, the Lightning have put Lecavalier and St. Louis together more often this season, and it's just like old times.
2. Vancouver Canucks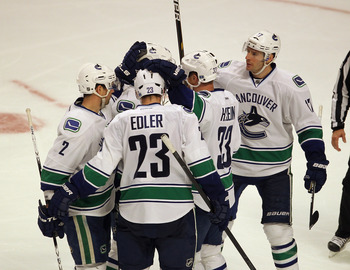 Jonathan Daniel/Getty Images
The Sedins and Jannik Hansen
Say what you want about the disappearing act this line did as the 2011 NHL playoffs wore on, but it's impossible to ignore the number this line puts up.
The Sedin twins are often unstoppable, and Alex Burrows is the perfect complement to them on the wing. It's no surprise that the three put up a total of 246 points a season ago.
1. Anaheim Ducks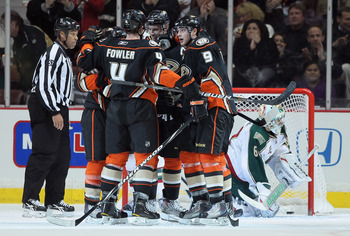 Jeff Gross/Getty Images
Ryan Getzlaf, Corey Perry, Bobby Ryan
Maybe it's due to imbalance or the fact that they are relied on for so much of the offense, but Anaheim's top line of Corey Perry, Ryan Getzlaf and Bobby Ryan is without question the best in hockey.
As a line, they piled up 245 points a year ago and are more valuable to their team than any line in hockey. The physical presence they bring to the game in addition to the ridiculous production made them an easy choice.
Keep Reading