ESPN Films Roll Tide War Eagle: Iron Bowl Is Biggest Rivaly in Sports
November 8, 2011
The passion surrounding the Alabama-Auburn rivalry is both inspiring and frightening. There is nothing else like it in sports, and the nature and history of this rivalry is about to take center stage.
ESPN Film's Roll Tide War Eagle documentary premieres on ESPN/ESPN HD on Tuesday, Nov. 8, at 8 p.m. ET.
This film was directed by ESPN's own Martin Khodabakhshian and produced by Joe Tessitore and Bruce Feldman.
This rivalry has seen it all. There is a history of great games. And its recent history has made this game one of the biggest on the college football season.
These two have split the last two Iron Bowls with the winner going on to win the national championship. The past two Heisman Trophy winners have hailed from these two schools. 
But as riveting as this rivalry is on the field, it is the fans that take this one to the next level.
Director Khodabakshian summed this up when he addressed an Alabama crowd at the premier of his movie and is quoted on al.com:
"I've got to tell you, you guys are nuts!"
The crowd seemed to embrace this notion as one member of the audience screamed, "Welcome to Alabama."
Even in a full-length documentary it is hard to convey what this rivalry means to the state. There are no professional sports in Alabama. There is almost solely Alabama and Auburn football.
This brings out the best and worst. The best is on display in the film, as the two sides came together to help Alabama rebuild the tornado-ravaged state. And it displays some of the worst, as it highlights the poisoning of two famous oak trees on the Auburn campus by an angry Alabama fan.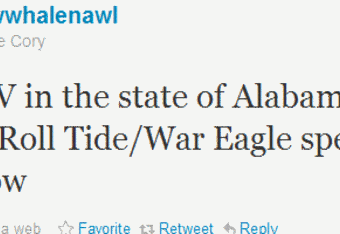 The documentary is sure to illuminate some insight on a rivalry that can't be fully understood unless you are a part of it.