NHL: Is Trading Rick Nash the Best Option for the Columbus Blue Jackets?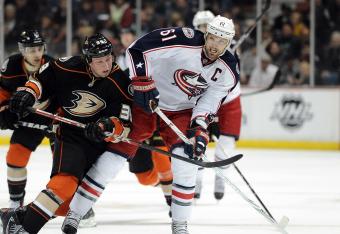 Harry How/Getty Images
With the 2012 NHL trade deadline fast approaching, general managers are looking for that one special player who could catapult a team to a Stanley Cup in June.
On the other end of the spectrum are the teams that are at the bottom of the standings and want to either keep moving forward with the youth they already have or trade away several key players in order to rebuild.
For the Columbus Blue Jackets, the decision to "blow up" the team will be most difficult.
After a close to .500 finish in 2010-2011, the Jackets were looking to surround superstar and captain Rick Nash with a higher level talent. They acquired sniper Jeff Carter from the Philadelphia Flyers for Jakub Voracek and draft picks.
Carter was coming off a season in which he had 36 goals and 66 assists for a high-octane Flyers offense. Columbus was hoping he could do the same in Ohio.
Unfortunately, Carter has been injury-riddled for most of the season and Columbus stumbled out of the gate, losing its first eight games and nine of its first 10. After 57 games, the Blue Jackets has a measly total of 40 points.
This horrible start has led to GM Scott Howson placing Rick Nash, the heart and soul of the Blue Jackets, on the trade block.
Nash, a former No. 1 overall pick by Columbus in 2002, is the franchise leader in points (488), goals (259) and assists (229). He has been the Jackets' most notable star since they entered the league in 2000.
Should The Blue Jackets Trade Rick Nash?
So why would Columbus trade a player of Nash's caliber? Here's the conventional thinking, most of which I disagree with.
1. To get younger
Columbus already is one of youngest teams in the NHL. Its average age of 27.3 trails only Buffalo's 27.2. Thus, getting draft picks and young players would only lessen the experience that this teams already lacks
Plus, if the Jackets trade Nash, who will be left as a mentor? Even though he has no Stanley Cup appearances to date, Nash has a gold from the 2007 World Championships and from the 2010 Winter Olympics in Vancouver. The guy knows how to win.
The Jackets also already have formidable young guns such as Derick Brassard, Ryan Johansen and Antoine Vermette. Plus, recent draft picks Matt Calvert and Cam Atkinson are enjoying successful seasons with the Springfield Falcons of the AHL.
If the season continues the way it has, the Jackets should land Sarnia's Nail Yakupov with the first pick in the upcoming draft. Putting him on a line next to Carter and Nash could do some damage in the league for many years to come.
Yes, I agree that trading Nash could land a solid player in Cody Hodgson, Mats Zuccarello, Nazim Kadri or Keith Aulie. What I don't agree with is that Columbus already has these type of players in the system. I think letting Nash go would negatively impact the club's success on and off the ice.
Columbus Dream: Nash-Carter-Yakupov
Columbus' average attendance has declined every year since expansion. The fans in Columbus want a winner. With only one playoff appearance in team history (getting swept by the Red Wings in 2004), this franchise is looking very "Atlanta Thrasher-esqe" right now.
Trading your best player is not going to help those attendance numbers. If the attendance continues to dip, we could this franchise move. Cities such as Seattle, Kansas City and Quebec City are building or have built state-of-the art facilities with the hope of landing a pro team
The Jackets need to be careful to not put this team into a 10-year rebuilding project, or we might be seeing the Seattle Thunder-birds in the NHL very soon.
2. To get a franchise goalie
Nash has been linked to go multiple teams in exchange for a package that included a young goaltender such as Vancouver's Cory Schneider or Los Angeles' Jonathan Bernier. While these guys have the potential to be the franchise guy the Jackets are looking for, the answer to the Jackets net-minder issues already resides in Columbus. Yes, Steve Mason is a franchise goalie.
Statistically, Mason's performance has declined since his superb rookie season in 2008, but so has the Jackets' blue line. No goalie can do it alone. Patrick Roy won the Stanley Cup with the likes of Chris Chelios, Rob Blake, Adam Foote and Ray Bourque. Martin Brodeur has had Scott Stevens and Scott Niedermayer run the show in front of him.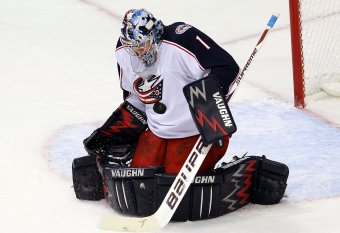 Ronald Martinez/Getty Images
Who has Mason had?
The Jackets need to upgrade on defense. They have some good players in James Wisniewski and Marc Methot. Some other players are in development. You can't blame Mason for all of the Jackets' troubles. You also can't give up on a 24-year-old goaltender for two goalies who are 26 and 22, respectively.
If Mason plays with a little more confidence and the team shows more confidence in him, he will be worth the wait. Trading Nash for another goalie would be getting something back that they already have.
If they want to get rid of Mason, there are a lot of solid goalies in the draft. Malcolm Subban, Oscar Dansk and Brandon Hope headline the names.
3. To give Rick Nash a chance to win
I completely understand that every professional athlete has the same goal, and that is to win. Nash had the opportunity to leave. Yet, he signed an eight-year contract extension in 2009.
He wants to be in Columbus. Yes, the grass was a bit greener those days, but it shouldn't be too long before the Jackets are back.
They have the chance to grab Yakupov in the draft and should be able to lure some unrestricted free agents to Ohio for the upcoming season.
Nash has five years left on his deal, meaning he will be 33 when it will end. I don't see why he needs to be in such a hurry to leave at age 28,
If he demanded a trade, that would be different. Signing that deal in 2009 was such a good thing for smaller market teams in the NHL. Unlike the NBA, players like Nash are staying true to the cities that have given up so much for them.
If Nash gets traded on Monday, the NHL will have the same problem as the NBA. The rich get richer, the poor get poorer....and eventually leave town.
So, for the sake of the fans and the NHL in Columbus, don't trade Nash. Although the offers will be tempting, saving hockey in Columbus will be the best move the Jackets can make.
This article is
What is the duplicate article?
Why is this article offensive?
Where is this article plagiarized from?
Why is this article poorly edited?

Columbus Blue Jackets: Like this team?