BCS Rankings: Boise State, Alabama and More BCS Bowl Bound Teams
November 7, 2011
Ethan Miller/Getty Images
With just a few games left in the 2011 college football season, we're starting to see which teams are true contenders and which ones are merely pretenders in the BCS. 
Even though a team may have one loss, they aren't completely out of contention for a BCS Bowl. Some teams need more luck than others, but the chance to play in one of college football's top bowl games is still there. 
Everybody knows LSU is all but guaranteed a spot in the title game, so they will be excluded from this list. 
Here are few teams that are bound to make it to a BCS Bowl this season. 
Boise State
The Broncos résumé gets stronger with every Georgia Bulldogs victory, and the chance of them playing in the SEC Championship Game is a strong possibility. All Georgia has to do is win out, which would give Boise State a great chance of playing the Tigers in the title game.
But could they contend? ESPN's Michael Wilbon tweeted after the Alabama LSU game his thoughts.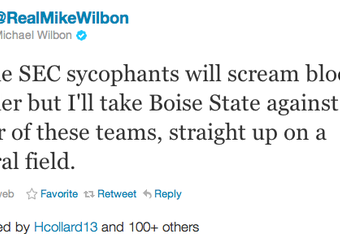 Boise State will finish the season undefeated, and the Broncos will end up in either the Fiesta Bowl or the Sugar Bowl. 
However, don't rule the Broncos out of the BCS title game just yet. They'll need some things to fall their way, but 2011 could finally be the year the Broncos play for it all.
Either way, they're a lock for the BCS, and college football fans hope they play a legit team and not someone from the ACC or Big East. 
Alabama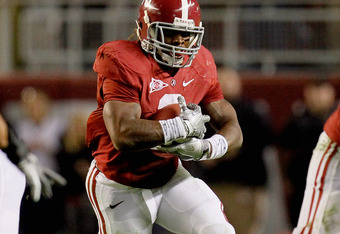 Kevin C. Cox/Getty Images
The Crimson Tide's one loss barely hurts them right now. In order to reach the BCS title game they'll need some other teams to lose, which is a strong possibility. 
Should Oklahoma State and Stanford lose before the season is over, the Crimson Tide would likely be No. 2 in the polls, unless the computes put Boise State ahead of them. 
One fan doesn't hope that happens, and he isn't the only one who feels that way. Of course, there are also a lot of people against him as well.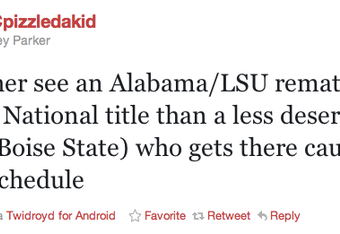 Still, though, the Crimson Tide will win out, and if they don't get some luck they're a lock for the Sugar Bowl.
Alabama has the best defense in the country, only allowing six touchdowns on the year, and no other team on their schedule will be able to compete with an angry Crimson Tide team.
Stanford 
The Cardinal must win the Pac-12 in order to reach a BCS bowl because too many other good teams will likely prevent a one-loss Stanford team from getting in, especially because Stanford's one loss will come so late in the season.
Stanford is currently ranked No. 4 in the BCS, but many believe they should be ahead of Alabama because they're undefeated. ESPN's Pac-12 blog tweeted why those people should just relax and let the season play out.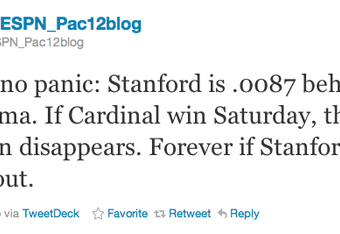 Andrew Luck and company will try for revenge over the Oregon Ducks this Saturday, and if they win they shouldn't have any trouble winning the rest of the games on their schedule, including the Pac-12 Championship Game.
Oregon has been off the radar since losing in Week 1 to LSU, which is probably something they prefer. However, this Saturday Luck and Stanford will take care of business to put the Cardinal as sure things in the BCS picture. 
Houston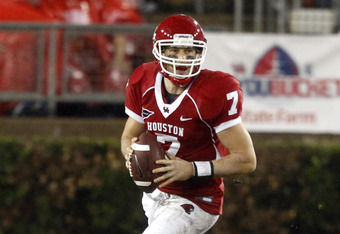 Bob Levey/Getty Images
The Cougars are going to be undefeated this season, as they don't have another opponent on their schedule that can handle the rocket arm of Case Keenum. 
Their weak schedule is the only thing holding them back, but some of the higher ranked teams will keep losing, which means an undefeated Cougars team will keep rising. 
There will be an outrage at this, but the computers love teams that win, and there's no denying that Houston is on one heck of a roll. 
You can argue all day long whether or not they belong in a BCS Bowl, as the Cougars defense is only subpar, but they will squeeze into a BCS Bowl because they'll keep winning while others will be losing. 
Other teams I see making it in a BCS Bowl are the Oklahoma State Cowboys, Clemson Tigers, Cincinnati Bearcats, Wisconsin Badgers and Oklahoma Sooners.
And of course, as mentioned before, the LSU Tigers because they're obviously headed to the title game.   
As to who plays who and in which bowl game, that remains to be seen. Some matchups I think everyone would love to see would be LSU/Alabama vs. Boise State, Wisconsin vs. Stanford and Oklahoma State vs. Houston, since those are the top two offenses in the country. What a shootout that would be. 
BCS Standings for Week 11
| Rank | Team | BCS Average |
| --- | --- | --- |
|  1 |  LSU |  .9931 |
|  2 |  Oklahoma State |  .9447 |
|  3 |  Alabama |  .8836 |
|  4 |  Stanford |  .8749 |
|  5 |  Boise State |  .8473 |
|  6 |  Oklahoma |  .7978 |
|  7 |  Oregon |  .7708 |
|  8 |  Arkansas |  .7452 |
|  9 |  Clemson |  .6435 |
|  10 |  Virginia Tech |  .5913 |
|  11 |  Houston |  .551 |
|  12 |  Penn State |  .484 |
|  13 |  South Carolina |  .453 |
|  14 |  Kansas State |  .381 |
|  15 |  Georgia |  .370 |
|  16 |  Texas |  .366 |
|  17 |  Michigan State |  .337 |
|  18 |  Wisconsin |  .305 |
|  19 |  Nebraska |  .279 |
|  20 |  Auburn |  .210 |
|  21 |  Georgia Tech |  .209 |
|  22 |  Southern Mississippi |  .204 |
|  23 |  Cincinnati |  .187 |
|  24 |  Michigan  |  .177 |
|  25 |  Baylor |  .071 |