William & Mary Basketball 2011-12 Preview: Older and Wiser Tribe Improving
November 8, 2011
Head Coach: Jeff Shaver—Eighth year at William & Mary: 97-134; 455-267 overall
Previous Season: 10-22; 4-14 CAA (11th)
Departures: F Marcus Kitts
Additions: F Tom Schalk, G Marcus Thornton
In the 2009-10 season, William & Mary shocked the majority of college basketball fans by finishing third in the Colonial Athletic Association with a 12-6 record and ending the year at 22-10.
That season, the Tribe defeated such teams as Maryland and Wake Forest. William & Mary lost to Old Dominion in the CAA Tournament Final and to North Carolina in the National Invitation Tournament.
With of most their key personnel not returning, the Tribe entered the 2010-11 season with low expectations.  The team started 0-3 before achieving narrow victories over Gardner-Webb and Mercer.
William & Mary lost their first five conference games before defeating the Drexel Dragons at home. Primarily starting two freshmen guards, the Tribe won only four conference games and just two road contests for the entire season. 
Projected Starting Lineup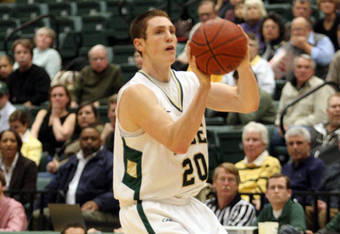 PG Brandon Britt, 6'1", 182 lbs., So. (10.9 PPG, 2.2 RPG, 2.2 APG, 31 3PT%, 38 FG%, 72 FT%)
Britt was one of best freshman guards in the CAA last year. Although he was not asked to run the team in the Tribe's version of the Princeton offense, Britt did a great job in bringing the ball up the court even when under pressure.
Britt has a quick first step and can drive to the basket at any time. He did a good job keeping defenses honest by making 34 three-point shots.
Britt does need to improve on the defensive end as he only averaged 0.5 steals per game.
SG Julian Boatner, 6'2", 185 lbs., So. (6.8 PPG, 1.4 RPG, 1.3 APG, 40 FG%, 83 FT%)
Coach Shaver will look for Boatner to increase his offensive input this year. Boatner shown signs of offensive improvement by averaging 8.7 points in conference play.
Boatner set a Tribe freshman record by making 58 three-point field goals. At times, he is susceptible to taking poor shots and losing confidence in his offensive abilities.
SF Quinn McDowell, 6'6", 215 lbs., Sr. (15.5 PPG, 5.4 RPG, 2.1 APG, 48 FG%, 87 FT%)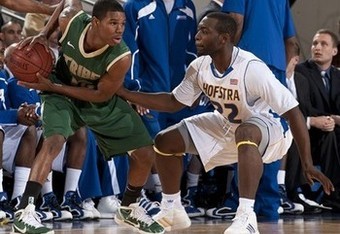 Without a doubt, McDowell is the best player on the team and one of the most dominant scorers in the CAA. He is a solid jump shooter but can also drive to the basket. 
MCDowell is a the team leader on the floor and is not afraid to take the big shots. He made 70 of his 154 attempts from long distance last year. 
PF Kyle Gaillard, 6'8", 220 lbs., Jr. (5.8 PPG, 3.3 RPG, 1.4 APG, 48 FG%, 46 FT%)
Gaillard is known for his defense but showed an ability to score when he tallied 25 points against North Carolina. He also surprises fans and opponents with his ability to dunk the basketball.
Gaillard needs to improve his free throw shooting and become more aggressive in rebounding the basketball.
PF Tim Rusthoven, 6'9", 230 lbs., So. (5.5, PPG, 2.8 RPG, 0.5 APG, 0.6 BPG, 57 FG%, 84% FT%)
Rusthoven is probably the only new starter on the Tribe this year as he is the likely replacement for Marcus Kitts. Kitts was a tremendous passer from the pivot, and Rusthoven will have to improve his passing skills so that the offense runs smoothly.   
Rusthoven ranked sixth in rebounding among CAA rookies last year. He became better at blocking shots as the season went along.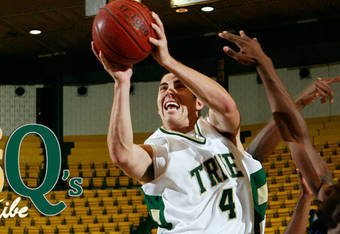 Other Contributors
G Kendrix Brown, 6'3", 195 lbs., Sr. (3.3 PPG, 3.1 RPG, 2.4 APG, 1.1 SPG, 39 FG%, 62 FT%)
Brown will again be a backup at both guard positions. He led the team in total assists and assists per game last year.  Brown is a strong defensive player with an ability to break up passing lanes.
C/F Fred Heldring, 6'9", 240 lbs., So. (0.6 PPG, 1.0 RPG, 29 FG%, 67 FT%)
Heldring appeared in 21 games and averaged 7.7 minutes per game last season. As a senior in high school, he was rated as one of the best center prospects in the state of Illinois by the Chicago Sun Times.  
Because of William & Mary's lack of size, Heldring's improvement this year would help the Tribe defensively against physical teams like Drexel and Old Dominion.
G Doug Howard II, 5'9", 160 lbs., Jr. (0.6 PPG, 0.2 RPG, 50 FG%, 100 FT%)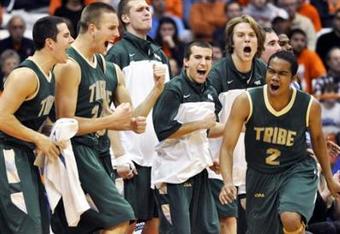 Howard is a hard worker in practice but will mainly see the floor only at the end of blowout games. He scored a career-high four points in the CAA Tournament against Hofstra.
F JohnMark Ludwick, 6'8", 230 lbs., Sr. (3.8 PPG, 1.7 RPG, 0.8 APG, 39 FG%, 38 3PT%, 60 FT%)
Ludwick appeared in all 32 games and started nine times. In his career at William & Mary, Ludwick has had 13 games of making three or more three-pointers.
Ludwick provides valuable leadership to a team that is still relatively young. 
F Andrew Pavloff, 6'9", 240 lbs., Jr. (0.1 PPG, 0.6 RPG, 0.1 APG, 100 FT%)
Pavloff only averaged 2.9 minutes on the floor in his 14 appearances last season. He provides the Tribe with much needed size but needs to improve his athleticism in order to gain more playing time.
G Matt Rum, 6'4", 205 lbs., Jr. (5.1 PPG, 3.0 RPG, 2.1 APG, 35 FG%, 80 FT%)
Last season, Rum started 14 games for the Tribe. He provides scoring punch off the bench but needs to improve his shot selection.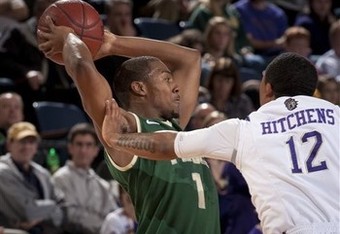 F Tom Schalk, 6'8", 210 lbs., Fr.
Schalk was a four-year starter and two-year captain for Apple Valley High School in Burnsville, MN. He averaged 22.8 points and 12.0 rebounds per game as a senior.
Schalk was rated as the 63rd best power forward in the Class of 2011 by Scouts Inc. He was named the MVP of the HoopsMinnesota.com Exposure Showcase.  
G Marcus Thornton, 6'4", 170 lbs., Fr.
Thornton averaged 23.4 points, 4.8 rebounds, 2.3 assists and 1.7 steals per game as a senior at Bishop McNamara High School in Upper Marlboro, MD. He was a career 52 percent field goal shooter and an 82 percent free-throw shooter in high school . 
Thornton is an accomplished three-point shooter and is a perfect fit for William & Mary's offense. He will also provide the team with some much needed athleticism.
G Ben Whitlatch, 6'1", 170 lbs., So. (0.4 PPG, 20 FG%, 25 3PT%)
Whitlatch joined the Tribe as a walk-on last season and appeared in seven games. He was a  member of the 2009 Indiana High School Athletic Association 4A State Championship team at Bloomington South in Indiana.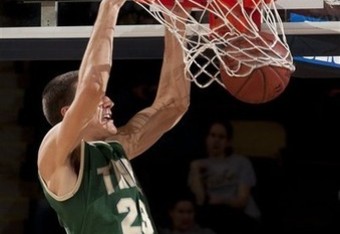 Whitlatch will probably see very little playing again as Thornton joins the squad as a freshman, and all the guards from last year return.
Key Games
Nov. 12 @ Hampton: This is a winnable game for the Tribe.
Nov. 14 Liberty: William & Mary's first home game of the year.
Nov. 18 Lehigh: Another game to gauge the team's improvement.
Dec. 3 @ Georgia State: It is important that William & Mary gets off to a quick start in conference play.
Feb. 1: Virginia Commonwealth: The Tribe welcomes the team most likely to win the CAA this year.
Season Outlook
William & Mary took a giant step backwards last year after winning 22 games two years ago. This year's team should somewhere between those two marks.
The Tribe returns four starters and brings in two new players that should be able to contribute immediately. McDowell is a great player, but he cannot do everything himself. Britt and Boatner need to continue to expand their games to take some pressure off McDowell.
The Tribe needs to do a better job of converting drives to the baskets into points. Three-point shooting will again be the strength of William & Mary, but inside scoring and rebounding look to be the major weaknesses.
The continued improvement of Rusthoven is a key for the Tribe to be successful this year. Getting some immediate production out of Schalk would also provide William & Mary with more balance offensively.
William & Mary is one of five original teams in Division I to never participate in the NCAA Tournament. It is doubtful that this team is ending the drought, but making a minor postseason tournament is a possibility. Having a winning season and finishing in the top half of the CAA are realistic goals for the Tribe this year.