England's Football Team: Where Are Steven Taylor and Micah Richards?
November 7, 2011
Michael Steele/Getty Images
England's manager, Fabio Capello, released his selections yesterday for the upcoming friendly fixtures against Spain and Sweden. It is no secret that when England plays there are high expectations for the team's performance, but they fail to play to expectations.
Part of the reason why England has failed to win tournaments in recent years must be due to coaching, because individually, the players that are more than capable to win.
However, it seems the players never play to the best of their ability in international matches.
When players do not perform, it is a fairly good indication that it is time to try something new. Capello has named a 25-man squad to go up against Spain and Sweden—Jack Rodwell and Daniel Sturridge have been given their first calls.
It is hard to argue with the selections of Rodwell and Sturridge, but it is not difficult to find a name that's clearly missing on the list.
Steven Taylor has played astonishingly well for Newcastle United so far, and the tough center back has been one of the main reasons why the side's defense has been nothing short of brilliant this season.
Taylor, who seemed set to become the next great English center-back, is yet to play for England.
In all honesty, when you have a look at the other central defenders that was given a call to join the squad yesterday, there is nobody that stands out as better than Taylor, as he is playing close to the level that we expect to see from John Terry.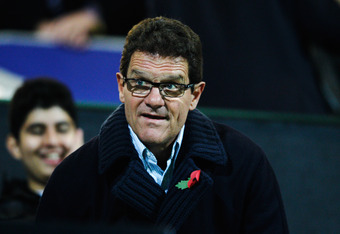 Paul Gilham/Getty Images
As a matter of fact, one can make an argument that considering Taylor's current form, he is the very best option out there next to Terry.
Another name that did not make the list was Micah Richards. The versatile Manchester City defender has been at the top of his game for the past games, and it is a rather strange decision not to give him a call up.
Richards, who plays equally well at both right fullback and central defender, would have been a nice acquisition to a squad that is set to take part in two difficult friendlies.
A lot of the same arguments to put Taylor in the squad can be used about Richardson. He is flat out better than some of the other players and he can compete with the very best.
Capello's squad looks like a more than decent side, but we suppose that has been said about the national team before.
It is disappointing that the best players in the nation do not get to play for England. One can only hope Capello didn't actually forget about the two defenders, but actually made a reasonable decision.
Here is England's squad against Spain and Sweden:
Goalkeepers:
Scott Carson (Bursapor), Joe Hart (Manchester City), David Stockdale (Ipswich Town – loan from Fulham).
Defenders:
Leighton Baines (Everton), Gary Cahill (Bolton Wanderers), Ashley Cole (Chelsea), Phil Jagielka (Everton), Glen Johnson (Liverpool), Phil Jones (Manchester United), Joleon Lescott (Manchester City), John Terry (Chelsea), Kyle Walker (Tottenham Hotspur).
Midfielders:
Gareth Barry (Manchester City), Stewart Downing (Liverpool), Adam Johnson (Manchester City), Frank Lampard (Chelsea), James Milner (Manchester City), Scott Parker (Tottenham Hotspur), Jack Rodwell (Everton), Theo Walcott (Arsenal).
Forwards:
Gabby Agbonlahor (Aston Villa), Darren Bent (Aston Villa), Daniel Sturridge (Chelsea), Danny Welbeck (Manchester United), Bobby Zamora (Fulham).
Comments are always appreciated.