Cleveland Browns: Scott Fujita Proves "Suck for Luck" Drives NFL Players Crazy
November 7, 2011
Chris Graythen/Getty Images
We often forget that playing in the NFL—or any professional sport, for that matter—is a job.
Losing is something professional athletes take personally, and no player or coach steps on the field with the intention of losing.
It is different for general managers and owners, though.
And while they'll never admit it, sometimes losing now to better the future of the franchise is a legitimate thought.
We've talked about this more than ever this year with Stanford quarterback Andrew Luck expected to enter the 2012 NFL Draft.
In fact, the phrase "Suck for Luck" has become a prominent part of the 2011 season.
Every time the phrase is brought up around a winless team (Indianapolis Colts) or one-loss team (Miami Dolphins), you can visibly see the players get angry about it.
Following yesterday's loss to the Houston Texans, a team not technically in the "Suck for Luck" race saw one of its own players speak out after another loss.
Scott Fujita, a veteran linebacker and Super Bowl winner with the New Orleans Saints, vented his frustrations on Twitter saying: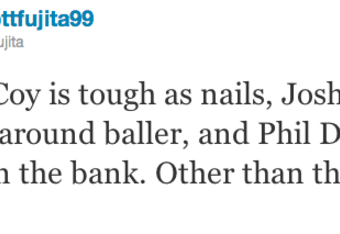 These comments can be viewed in two ways.
For one, a veteran such as Fujita should be rallying a team filled with younger players led by a rookie head coach. Quite simply, he should know better than to do this.
He is one of the few experienced veterans playing in Cleveland, and rather than being the voice of anger and criticism, he needs to be the voice of reason in that locker room.
That brings us to the next point: losing.
No player wants to lose. Ever. It brings out the worst in everybody.
Unlike the GMs and owners, every snap a player takes on the field could his last.
Trying to guarantee the franchise future success by losing is unacceptable for anyone that wears a helmet and shoulder pads.
We've heard it all year long from players of losing teams.
"Suck for Luck" may be fun to talk and write about, but it isn't even a thought in another NFL player's mind.
Fujita knows better than this and will probably say something to back up his comments sooner rather than later.
What this really shows is that no matter how bad a team is, the players want to win.
Fans may want to see their team "Suck for Luck, "but don't expect any team to go along with it.