2012 NFL Draft: Seattle Seahawks and 5 Teams That Need a Marquee QB
Ezra Shaw/Getty Images
The Seattle Seahawks, Miami Dolphins, Washington Redskins, Cleveland Browns and Jacksonville Jaguars should be especially interested in the 2012 draft—it just might bring them the QB they've been looking for.
It looks to be a top-heavy year for quarterback prospects, with a large gap between the top talent and the rest of the pack. Find out inside which teams could end up with the right prospect.
Omitted from the list are two teams, the Indianapolis Colts and the Denver Broncos, that may actually draft a quarterback. They've been discounted for two reasons:
Indianapolis doesn't need to draft a quarterback like the rest of the teams on this list. That might be a different story when we find out that Peyton Manning can't return, but until then I assume he'll be back.
And for all you Tim Tebow fans—don't worry, the Denver Broncos already have their quarterback of the future. His name is Kyle Orton.
On to the list!
Miami Dolphins: Andrew Luck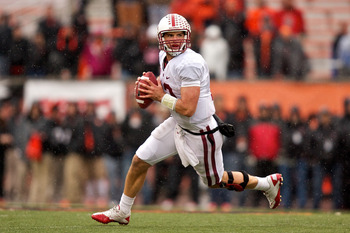 If Andrew Luck becomes an Indianapolis Colt there is no God.
Craig Mitchelldyer/Getty Images
Beating the Kansas City Chiefs last week didn't exactly help the Miami Dolphins' cause, but unless that becomes a trend I see only one more possible win on their schedule: at the Washington Redskins next week. If they manage to mess that one up, they should be well on their way toward challenging the Indianapolis Colts for the rights to the next big thing.
Let's all hope they are as bad as they seem. How spoiled would Indianapolis be if they drafted Andrew Luck right after Peyton Manning?
Jacksonville Jaguars: Landry Jones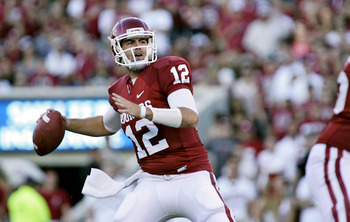 Brett Deering/Getty Images
While the Jacksonville Jaguars spent the 10th overall pick last year on Blaine Gabbert, they may find it difficult to pass on a player like Landry Jones if he falls to them.

Gabbert has been a nightmare every Sunday for the Jags. He has a QBR of just 62, and is on pace for less than 2,000 yards passing.
Jones, on the other hand, is a veritable stud, posting a 28-9 touchdown/interception ratio, 3,349 yards and 64 percent completions so far this season.
The Jaguars would be lucky to draft Jones, but if the Indianapolis Colts don't land the No.1 pick, it would ramify throughout the rest of the draft—possibly putting them in a position to benefit handsomely.
Seattle Seahawks: Matt Barkley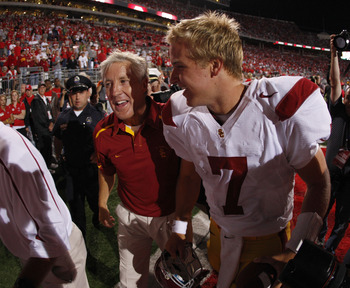 Gregory Shamus/Getty Images
There's been a lot of speculation that Pete Carroll might like to dip into his University of Southern California heritage for Matt Barkley in next year's draft.
I tend to think that Carroll would prefer Landry Jones, but who wouldn't? The Seattle Seahawks could finish anywhere between 3-13 and 5-11 with games against the St. Louis Rams and Arizona Cardinals still on the schedule, which means they might have a shot at the third-best quarterback in the 2012 draft.
If they are wise, they wont stray too far from ineptitude. The drop-off after Barkley (28 touchdowns to just six interceptions, 67 percent completions) is as steep as at any position in the draft.
Cleveland Browns: Nick Foles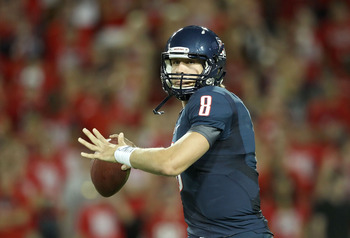 Christian Petersen/Getty Images
The Cleveland Browns should be very interested in a guy like Nick Foles. They may even be able to trade down in the first round, or up in the second round, to get him.
The Browns have ridden Colt McCoy as far as he is likely to take them. He hasn't been all that bad, but a prospect like Foles, with his 3,260 passing yards, 68 percent completion percentage and 22 touchdowns, could make the Browns double-think their plans at quarterback.
Washington Redskins: Ryan Tannehill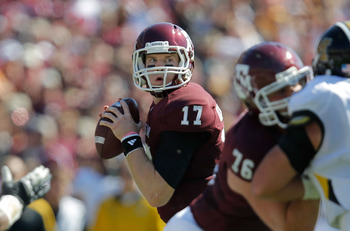 Sarah Glenn/Getty Images
The poor Redskins need a quarterback as much as anybody, but they might actually wind up with a steal in Ryan Tannehill.
Of all the quarterbacks in this draft, Tannehill (still an enigma of sorts) reportedly has one of the highest upsides. Maybe that will change as the draft nears and analysis runs rampant.
But with games left against the Miami Dolphins, Seattle Seahawks and Minnesota Vikings, the Redskins could find their way to as many as six wins.
Considering their draft position, Tannehill represents a tantalizing possibility as the fifth quarterback off the board.
Keep Reading