Oregon (+3) vs. Stanford: All About "Luck" in the Pac-12 Game of the Year
November 12, 2011
Stephen Dunn/Getty Images
Sometimes the best things in life really are free.
And sometimes the best things in life aren't things.
Sometimes it's a feeling, especially when it's a feeling so very few athletes ever achieve.
It's not always money.  Lots of people have money.
Far fewer have millions of dollars.
But only a handful have a national championship to their name.
For Andrew Luck, it's that motivation to do what only one man can do in a given year, and it's far more valuable than a multi-million dollar contract.
It's free yet priceless, and it takes hard work.
And if Oklahoma State loses to Oklahoma on December 3rd, Oregon is likely the only team that stands in the way of what Andrew Luck bypassed the NFL draft for.
Two weeks ago in my top plays for Halloween weekend, Stanford and Andrew Luck headlined a trio of NFL and NCAAF selections with the Cardinal needing overtime and a two-point conversion to barely cover the 7.5 point spread, which now leaves them undefeated on the season both straight up and against the number.
Oddsmakers seem to be paying little attention, because Stanford is favored by only a field goal.
Can Oregon's fast-paced offense keep up with Stanford's powerful offense, or will Luck's motivation be enough to propel the home team to the victory and one step closer to a national championship?
Steve Dykes/Getty Images
Even if Oklahoma State finishes the regular season undefeated, chances are good that Stanford will bypass them in the BCS standings with quality wins over Oregon and Notre Dame, especially if Oklahoma were to lose to Baylor, which would make an Oklahoma State victory over the Sooners look a bit less impressive.
And if Oklahoma does win out, what an epic bowl game it would be if undefeated Boise State met the Sooners for a rematch of that great 2007 Fiesta Bowl, with Oklahoma State playing Alabama in a juicy Sugar Bowl.
Still, between a 12-0 Stanford and a 12-0 Oklahoma State, Andrew Luck likely will win the vote.
After all, who wouldn't want to see college football's top quarterback prospect against that stout LSU defense? 
The star quarterback, who can zip a 35-yard out pass between the numbers with ease, is a shoe-in to be the first pick in the 2012 NFL draft.
He is so highly regarded, even Colts owner Jim Irsay admitted on October 10th what I predicted in my October 8th article (NFL Prediction Against Spread: Chiefs (+2) at Colts Could Be the "Luck-Y" Choice) that detailed some interesting information from 2009 and this season that many people may have overlooked.
"Guys like that come along so rarely," said Jim Irsay in the NFL's annual fall meeting in Houston.  "Even if that means that guy sits for three or four years, you'd certainly think about taking him."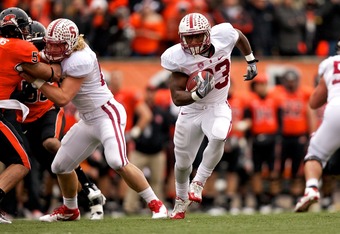 Craig Mitchelldyer/Getty Images
Well, you don't say, Jim! 
Oregon's usual game plan of fast-paced offense just might be what the doctor ordered for Stanford.
It will give the Cardinal offense more time to pound the ball methodically with a mix of spread formation passing and their very effective running game with guard pulls and counters that no team has been able to stop, even when the Cardinal run the same play multiple times in a game.
Oregon and Stanford are about even statistically in the offensive category, but the Ducks' defense is yielding 60 yards per game more than Stanford's unit. 
Most impressively, Stanford is literally perfect in the red zone this season. 
Last season Stanford blew a 21-3 lead at Oregon and lost 52-31 while allowing star running back LaMichael James to rush for 257 yards, but expect the Cardinal to be much more prepared this time around.
Despite Oregon's title hopes getting dashed in the opening week against LSU, the Ducks still have plenty of motivation to win considering the Rose Bowl berth looms in the distance.
However, Oregon can still achieve the Rose Bowl with a loss to Stanford. 
If Stanford were to get promoted to the national championship, which they are projected to do if they win their remaining games, then the Rose Bowl can still take Oregon against the Big Ten champion.
Andrew Luck didn't skip the draft for the fun of it, simultaneously risking injury and passing up millions of dollars.  He came back to Stanford for one reason and one reason only:  to win a national championship.
As a three-point underdog, one basically assumes the Ducks might win the game outright if Oregon is the choice with the points, but that's asking a lot.
However, the point spread has moved to 3.5 points across the board as of Friday, which gives a bit of value to the Ducks in the event of a close game decided by a field goal. 
Like Andrew Luck, Sam Bradford bypassed the NFL draft and came back to Oklahoma for his senior season to get to the national championship, and he did it with one loss, but the Sooners faced similar adversity late in the season. 
Having lost to Texas earlier in the season back in 2008, Oklahoma had to defeat Texas Tech in November, and the Red Raiders were coming in undefeated at 10-0 with a very high-powered offense led by quarterback Graham Harrell.
Texas Tech had scored no fewer than 35 points in their 10 wins, and was expected to give the Sooners a game, but Sam Bradford got the best of them, getting out to a 48-7 lead and an eventual 65-21 victory as a seven point favorite.
Oregon is getting half the points Texas Tech was getting. 
With that in mind, look to the Cardinal to take no chances, and continue to keep their "luck-y" streak alive, running their consecutive ATS winning streak to 13 games as oddsmakers seemingly didn't take that into consideration for this game.
Oregon is great and they will compete, but go with the Cardinal in this one and another stroke of "luck" as they move to 10-0 both straight up and against the spread.
Take Stanford minus the points