Fantasy Baseball 2012: Grading the Top 15 Right Fielders
November 7, 2011
Ezra Shaw/Getty Images
We finally get to the last spot for the position players. As we continue along we need to go through the numbers we are using and how these spots are determined.
The primary metric used is one called real offensive value (ROV). It is calculated by combining batting average and secondary average. Typically, a .300 ROV is considered to be good. 
Runs created (RC) is calculated using a complex formula that takes everything a player does into account. It reads like runs scored and RBI. So, 100 runs created tends to be the benchmark for all-star performance.
We are basing the rankings largely on what happened last year. There will be time for projections later.
A large part of the projections will be based on a statistic called batting average on balls in play. This counts average only on balls that are hit into fair territory. Usually, the league average is around .300, but some players will have superior averages based on speed, percentage of line drives hit, and sometimes the home ballpark. 
15. Jeff Francouer, Kansas City Royals
ROV= .279
RC= 90
BABIP= .323
Francouer never met a pitch he didn't like. Stat-minded fans don't want to touch him, but when playing fantasy baseball you often have to hold your nose and go.
Sometimes you have to take guys you don't like to win. Francouer still hits 20 home runs throughout all of his flaws.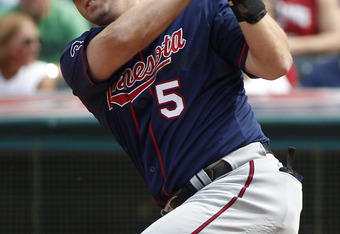 David Maxwell/Getty Images
14. Michael Cuddyer, Free Agent
ROV= .285
RC= 82
BABIP= .325
Cuddyer will be extremely valuable in some leagues because he can be eligible in right field, first base, and second base. Some leagues don't count him as a second baseman. He gives you good power numbers and depending on where he signs, he could be more valuable.
13. Carlos Quentin, Chicago White Sox, Sleeper
ROV= .290
RC= 74
BABIP= .261
Carlos Quentin could be a hot commodity this winter depending on the direction that Ken Williams wants to go with the White Sox.
If he ends up moving to a contender, he could be really good for more RBI and runs scored. His BABIP points to more success in 2012.
12. Nelton Cruz, Texas Rangers
ROV= .294
RC= 74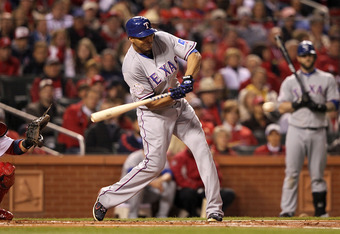 Jamie Squire/Getty Images
BABIP= .288
Cruz did miss considerable time this past season, so he likely would have created close to 90 runs in a full season. Some players will go nuts on draft day based on his awesome postseason. He's good player, but don't get fooled into thinking he's turned the corner into super stardom.
11. Jay Bruce, Cincinnati Reds
ROV= .298
RC= 95
BABIP= .297
Jay Bruce did turn a corner last season, but that corner was from solid player with potential to a legitimate good player. Mind you, he will never be great, but if you have to wait on draft day you won't kill yourself with his power.
10. Seth Smith, Colorado Rockies
ROV= .299
RC= 82
BABIP= .320
Seth Smith is less heralded than the guys behind him in the standings, but Coors Field is a great place to play and the Rockies have more talent in that lineup than you think. Someone has to clean the runners off the bases left by CarGo, Tulow, and Fowler.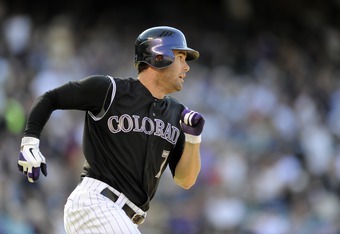 Jack Dempsey/Getty Images
9. Hunter Pence, Philadelphia Phillies, Buyer Beware
ROV= .302
RC= 112
BABIP= .361
Pence's numbers are a little scary based on a high BABIP. He typically has been a .280/25/90 kind of player and that has some value, but not superstar value. The fact that he can add 20 steals is a bonus. Just don't overpay.
8. Matt Joyce, Tampa Bay Rays
ROV= .305
RC= 80
BABIP= .317
It took awhile for him to get regular time, but once he did he didn't look back. At about three weeks worth of plate appearances to his totals and you can see where he will likely end up next year. He will give your team a little of everything.
7. Corey Hart, Milwaukee Brewers
ROV= .308
RC= 87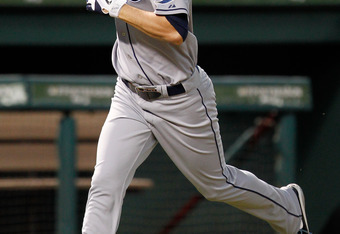 Tom Pennington/Getty Images
BABIP= .323
Hart moved to the leadoff spot and seemingly rejuvenated himself. I can't say he will or should remain there. If Prince Fielder leaves via free agency I imagine the Brewers would move to a run producing spot of the order.
6. Nick Swisher, New York Yankees
ROV= .313
RC= 91
BABIP= .295
Leave it to the Yankees and their fans to be dissatisfied with someone like Swisher. All he does is steadily produce towards the bottom of their order.
It is hard to differentiate between rumors trumped up in the media and those that are legit. If the rumors of other right fielders are legit they are making a mistake.
5. Justin Upton, Arizona Dbacks
ROV= .325
RC= 118
BABIP= .319
Some people insist that Upton should be a serious contender for the MVP award. That may be stretching it some, but 2011 was a huge season for Upton and hopefully a foreshadowing of what will be.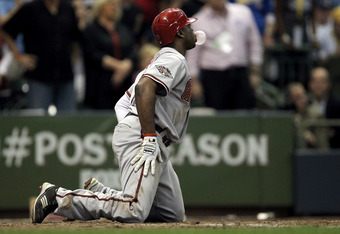 Jonathan Daniel/Getty Images
4. Carlos Beltran, Free Agent
ROV= .333
RC= 103
BABIP= .324
Beltran returned from the injury wasteland to have a great campaign. Of course, the fact that it was a contract year probably had nothing to do with it. Beltran is the same as he has always been. He is brilliant when healthy, but that doesn't happen as often as when he was young.
3. Mike Stanton, Miami Marlins
ROV= .337
RC= 99
BABIP= .314
Stanton has star written all over him. When the Marlins move into their new park we will have to rethink how to treat their hitters and pitchers. Early returns say that it looks to be a better hitter's park than Whatchamacallit Field.
2. Lance Berkman, St. Louis Cardinals
ROV= .364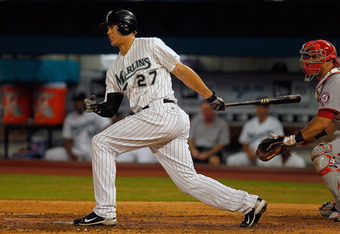 Mike Ehrmann/Getty Images
RC= 113
BABIP= .315
It was a magical season for Berkman in a lot of ways. He got off to a fast start and he finished as strong as he finished. Berkman likely will not do that again, but he is an on base machine and he plays in a great lineup.
1. Jose Bautista, Toronto Blue Jays
ROV= .437
RC= 149
BABIP= .309
Are you kidding me? Bautista has been putting up cartoonish numbers the past few seasons. In some leagues, he will qualify at third base, but really it doesn't matter. This is the No. 1 overall pick no matter where he plays.