NHL: New York Rangers: Can the Blueshirts Continue Broadway Revival?
November 7, 2011
Nick Laham/Getty Images
The New York Rangers have been a prototypical Jekyl and Hyde hockey team.
Was it not just a week or two ago that the Rangers were in the lower 20s of most power rankings? It is not an attempt to be redundant, but was it not just a week or two ago that many started to criticize the Brad Richards signing and the impact it was having on the youth movement?
The Blueshirts had a slow start in Europe, heated up in the tundra of Western Canada and have had some success at home playing in Madison Square Garden.
Now the Rangers look pretty good sitting just a point out of second place in the Atlantic Division.
The Rangers' record of 7-3-3 with 17 overall points puts them fifth overall in the Eastern Conference. Marián Gáborík leads the team with seven goals and 13 points. So far, things are looking good for the Rangers.
It is surprising that both superstar forwards—Richards and Gáborík— have had success despite being separated early on by Rangers bench boss John Tortorella. Richards has four goals and six assists for 10 points.
This coaching decision led to some criticism by both the fans and members of the media. However, the team embraced the moves and have developed some line chemistry.
For the most part, lines have stayed the same during the streak. The minor subtraction from the lineup is Wojtek Wolski. Wolski was placed on injured reserve Friday and won't be eligible until the Rangers return home to face the Carolina Hurricanes.
This is the most recent combination of lines for the New York Rangers. 
Artem Anisimov | Derek Stepan | Marián Gáborík
Brandon Dubinsky | Brad Richards (A) | Ryan Callahan (C)
Ruslan Fedotenko | Brian Boyle | Brandon Prust
Sean Avery | Erik Christensen | Andre Deveaux
Anisimov has embraced his bump in ice time and was the first star of the game against Montreal. He fits in on the top line playing with skill guys like Stepan and Gáborík. Stepan has continued to shine and he had a great game against Winnipeg in conjunction with Gáborík.
Christensen has also stepped up his game and has looked good on the power play. If he can play consistent hockey, he can be a factor for this hockey club.
When Richards signed his mega deal, critics wondered if he could perform on Broadway. Well, so far so good for the Prince Edward Island native as Richards has had an impact on the team.
Richards is starting to really feel comfortable as a member of the New York Rangers. His passing of the puck on the power play with skill and ease has really benefited the Rangers. They may be 25th overall in the league for power play efficiency, but the lessons he is teaching the youngsters will benefit them in the long run.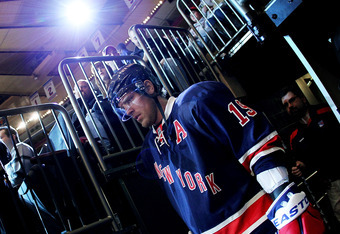 Nick Laham/Getty Images
The power play has looked better with Del Zotto, Stepan and Richards playing a large role. All three are offensive minded and it would only make sense to exploit their skill on the man advantage. Del Zotto especially has been impressive so far. He has scored two goals, has assisted on four others and is a plus-six overall.
Del Zotto also has been playing a significant role on the blue line in Staal's absence. He is third amongst Ranger defensemen as he is averaging 21:49 of ice time.
Stepan is also starting to come into his own. He was the most recent recipient of the Broadway Hat.
@TheBroadwayHatBroadway Blueshirts@DerekStepan21 LOOKING GOOD WITH#TheBroadwayHat ON!2 hours ago via Twitter for iPhone  Favorite  Retweet 
This was well deserved as Stepan has really turned it on as of late. He has two goals and five assists for seven points in 13 games this season. He is just starting to develop some serious chemistry with his line mates and has tried his darnedest to avoid the dreaded sophomore slump.  
However, what has stood out most about the Rangers recently is their work effort. The Rangers are starting out strong in the first period and are applying pressure. It is this work ethic that has propelled the Rangers to four straight wins.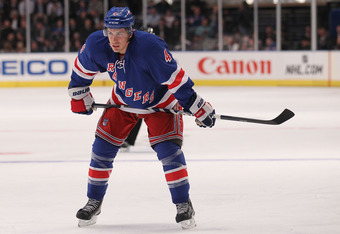 Nick Laham/Getty Images
The Rangers went into this season with the connotation of being a strong defensive team with an improved offense. Despite losing stalwart Marc Staal, defensively the Rangers have been solid. They are currently sixth overall in the league for the least amount of goals surrendered with 29.
Ryan McDonagh has been a breakout star so far this season. Montreal fans are probably cursing out former general manager Bob Gainey for including this defensive stud in a deal for Scott Gomez. Last year, McDonagh played solid defensive hockey and now he has started to add an offensive game to his arsenal.
In thirteen games, McDonagh has three goals and assists for six points. He is only four points away from surpassing his point total from last season. McDonagh has also been very productive on the ice.
He ranks second on the team in overall average ice time with 25:04. He is probably one of the biggest reasons the Rangers have had this early success. 
McDonagh is really solidifying his place on the Rangers blue line. If and when Staal returns this season, the Rangers will have a very dangerous blue line.
Despite the early success,the biggest question on the minds of most fans is can the Rangers continue to win? Blame this question due to the pessimistic outlook of most fans. Blame this on the fact that the Rangers are a streaky team at times. As you have seen, they can be very good or very bad as they are seldom a team that straddles the middle ground.
The Blueshirts should continue to play productive hockey as they are starting to find a groove. Thus far the Rangers have productively rotated both Henrik Lundqvist and Martin Biron in goal.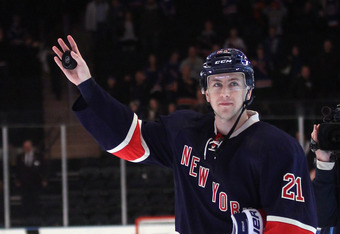 Bruce Bennett/Getty Images
By rotating two goaltenders, the Rangers can establish a rhythm. The major problem the Rangers had last season was balancing Lundqvist's work load. Lundqvist was ridden like a workhorse down the stretch of the regular season into the playoffs.
With both goaltenders having success early on, John Tortorella can rotate both with confidence no matter who the opponent is.
Biron played spectacular hockey against the San Jose Sharks on Halloween. Some fans even joked that Lundqvist dressed up like Biron that night. Biron is 2-0-0 and has only allowed three goals so far.  
The season is still in its infancy but it is encouraging to see the team pulling its weight early on in the season. If this team can rack up enough points to secure a playoff spot earlier than they have in the past, the Rangers will then be in a better position to have playoff success come late April and early May.
The Rangers have always been in a position where they are forced to play "balls to the wall" and are crossing their fingers to squeak into the playoffs. This mentality is not a favorable one because it gets harder to win in the playoffs.
This team has a balanced lineup of skill and grit and they have solid young defenseman on the back end of their blue line. If they can continue to play smart and solid two-way hockey, the sky is the limit for the Rangers this season.
Wednesday they will face the Ottawa Senators again but this time they will be on the road. They will seek to avoid recreating the third period meltdown that transpired at MSG a week ago.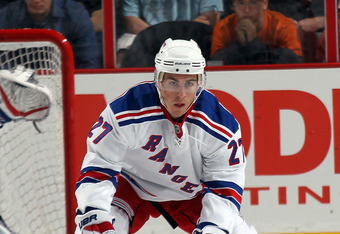 Bruce Bennett/Getty Images
The Rangers are pretty hot right now with a four game win streak. Who will Tortorella put in goal? Will he ride the hot Biron who has only allowed three goals this season, or will he stick with his bread and butter of Lundqvist?
A lot is going on in New York Ranger land, so check the Bleacher Report New York Rangers page tomorrow for some more updates and alerts.

Statistics courtesy of NHL.com.
Tom Urtz Jr. is an NHL Featured Columnist. For more NHL free-agent news, updates and alerts about players: