Browns vs Texans: 6 Things We Learned from Cleveland's 30-12 Loss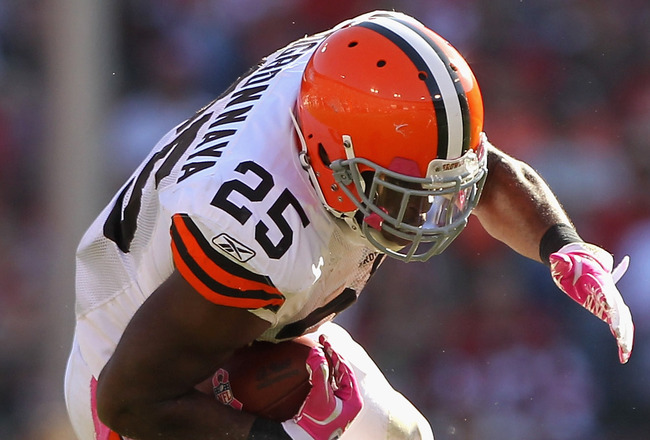 Ezra Shaw/Getty Images
In another instance of what has become a painful Sunday afternoon pattern, the Browns were soundly defeated at the hands of the Houston Texans, 30-12.
While the playoff hopeful Texans improved to 6-3, the reeling Browns fell to 3-5, thanks to a run defense and an entire offense that appears to only exist on the side of a milk carton.
The Browns D looked helpless against the run, and the offense let its typical scoreless first-quarter woes continue all the way through the third quarter, only finding the end zone in the middle of the fourth, when it was far, far too late for it to matter.
No true fan wants to admit that their team is a total mess, but as a writer striving for at least some degree of objectivity, it's time to call a spade a spade: The Browns pretty much stink, and while we have to attribute some of that to the growing pains of a young team that has adopted new systems on both sides of the ball this year, the disturbing trend of a lack of improvement from week to week remains the hallmark of the Browns 2011 season.
As always, the Browns had a few individual performers who managed to rise above the prevailing struggle for the rest of the team, but for the most part, there was little to supply any hope for belief in the Browns for Believeland today.
Following are six things we learned in the Browns loss to the Texans.
1. Running the Offense into the Ground Both Literally and Figuratively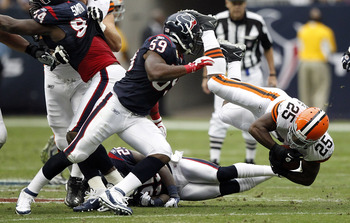 Bob Levey/Getty Images
Eschewing the usual "lightbulb" version of the joke, Browns fans now have to ask themselves with a sad sense of irony, how many running backs does it take to gain 50 yards in a game?
The answer today turned out to be, "more than the Browns have on their roster," as the ground attack was stifled to the tune of just 44 total rushing yards.
Hilariously enough given the outcome of his performance, RB Chris Ogbonnaya was the most-acquired player in fantasy football this week. His 28 total yards on 13 carries must have a whole bunch of fantasy owners banging their heads against a wall.
Further twisting the knife was the fact that the Browns were facing the team that now possesses FB Lawrence Vickers, the blocker whose value they severely underestimated when they let him walk away after the 2010 season.
The Browns problems with blocking obviously extend beyond the fullback position, but there's no denying that their futile attempt to throw a rookie out there to do the job this season has played a huge part in burying their running game over and over in 2011.
It's tough to come down too hard on Ogbonnaya, who was clearly in way over his head when asked to take on the lead RB job for this game, but he didn't do much to help himself either. He fumbled on the Browns' first offensive play of the game (which led to a Houston score), and puttered around ineffectively for the rest of the game, winding up with a pitiful 2.2 yards-per-carry average on the day.
Thomas Clayton, signed this week to help pad the Browns at running back due to injuries to Peyton Hillis and Montario Hardesty, was no better, logging five carries for just 10 yards.
2. Run Defense Hits a New Low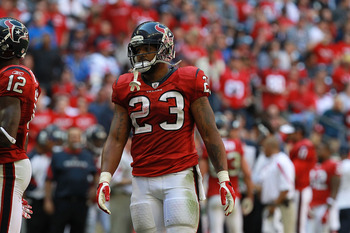 Ronald Martinez/Getty Images
As if it wasn't bad enough that Cleveland couldn't get anything going in their own ground game, they were summarily crushed by Houston's.
A big goal for the Browns defense this week was to contain Arian Foster and to halt their trend of giving up 100-yard or near 100-yard games to stellar opposing running backs.
Turns out, not only did they fail to achieve that goal, but the nightmare grew to epic, largely unforeseen proportions.
Not only did Foster bulldoze the Browns for 124 yards and a touchdown, but his teammate, Ben Tate, put up 115 yards and a touchdown.
At the end of the day, the Texans rushers had posted 261 yards, a franchise record.
Perhaps even more concerning than the totals is the number of yards per play that the Browns gave up on the ground. Foster averaged 6.5, and Tate posted a horrifying 9.6.
So it seems that not only are the Browns unable to stop opposing rushers from slowly and steadily grinding out big yardage totals, they've also developed a terrible tendency to allow gains that are far too large on individual rushing plays.
The Browns defense is pretty good against the pass, but this game proves why that alone doesn't matter much. Any team that has both a solid rushing game and a solid passing game can simply forgo an aerial assault for the most part and rely on their ground game, rendering the Browns impressive pass D largely irrelevant.
3. Cribbs, TEs, Once Again Account for Nearly 100 Percent of the Offense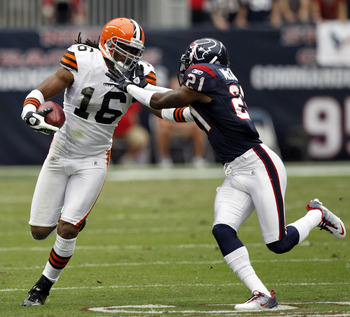 Bob Levey/Getty Images
Last week, many of us noted Josh Cribbs' solid performance against the 49ers in Week 8 and stressed that the Browns appeared to still be underusing him.
Much to our collective chagrin, he didn't see a whole lot more involvement this week, and once again turned in a solid performance that proves the Browns made a mistake in that vein.
Cribbs caught five of five targets for 50 yards and a touchdown, and did a nice job on kick returns as well until the Texans figured that out and predictably stopped kicking to him.
So once again, Cribbs did literally everything he possibly could have with the opportunities he was given, and as usual, wasn't given nearly enough of them.
Though their contributions were less than that of Cribbs, the same goes for the tight ends. Ben Watson, Evan Moore and rookie Jordan Cameron were targeted just five times collectively, and caught all five passes that came their way. Once again, they appear to have been underused, yet another issue with offensive play calling that continues to plague the Browns.
As for rookie Greg Little, while he did log 33 yards, he caught just two of eight targets. As always, you can't blame the receiver for 100 percent of the passes that come in his direction that he doesn't come down with, but the percentage caught for Little is still too small to let him off scot-free.
It appears that in their attempts to fill the void created by Massaquoi's injury and Robiskie's ineffectiveness and subsequent dismissal from the team, the Browns are trying to lean far too heavily on a receiver who is still way too raw to be the go-to guy in Little.
I think Little will come around with more experience, but in the meantime, the Browns need to stick with the TEs and Cribbs, or their passing game will continue to be a complete wreck.
4. O-Line Forces McCoy to Continue Playing the Role of Pinata
Bob Levey/Getty Images
Sometime well before the half, I lost count of the number of times where Colt McCoy was chased around, decked by a defender, and then described by the announcers as "slow to get up."
Obviously, everyone in Cleveland knows that the Browns offensive line is a complete mess and is more to blame for the team's offensive shortcomings than any other position group, but I still have to bring it up yet again after watching McCoy get tossed around like a rag doll by Texans' defenders all afternoon.
With the way this line lets McCoy get beaten up every Sunday, I'm truly amazed that he hasn't landed on the IR yet.
Sadly, that's entirely due to McCoy's toughness and refusal to give up rather than in any part thanks to the line whose job it is to protect him.
Whatever you think of McCoy as a passer or as the potential long-term answer at QB for Cleveland, there's no denying that the kid can take a beating and will never, ever quit.
But sooner or later, he'll take a shot in the wrong place, and it won't be up to him to decide whether he can take the next hit or not because he'll be carted off the field on a stretcher.
Management is largely to blame for the issues on the line. Even if you're in a rebuilding year and your team had other holes to fill in the offseason, sending your quarterback out there with protection this poor every week is unconscionable.
And ignorance is no excuse, either. The Browns' party line about not being able to predict that Pashos and Lauvao would struggle with injury is, well, garbage. Both are injury prone, and neither has proven they can do the job even when healthy.
Beyond that, the line itself also has to be accountable for this. Their main job is to protect their quarterback's health, and they're failing miserably. If the rest of us did our jobs that poorly, we would have been fired after about a week.
Bottom line: Either McCoy was spectacularly stingy with the steak dinners before this season, or the bulk of the Browns o-line will just never be able to hack it at the pro level.
5. The Devil in the Details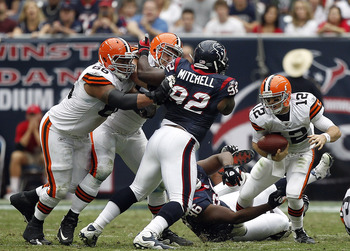 Bob Levey/Getty Images
While the Browns' total lack of offense and lack of run defense provide plenty of screaming catch-all explanations for why the team tanked this game, they also nickel-and-dimed their way to this loss via a host of mistakes that came in smaller areas here and there.
The first offender on this front was special teams. While Cribbs did a decent job on kick returns at the start of the game, once the Texans started kicking away from him, their return game completely flat-lined.
And on the flip side, their special teams also let Texans returners run all over them on kick returns, resulting in Houston repeatedly getting excellent field position to begin their next offensive series.
Also contributing to the problems that nicked away at the Browns: the fact that they couldn't convert on third down, the fact that the secondary was allowing far too many yards downfield and that, as usual, their pass defense seems to be able to handle wide receivers relatively well, but is stymied by opposing tight ends.
And while the front seven has been one of the few brighter spots for the team this year, they couldn't touch QB Matt Schaub this week who, despite their feeble attempts at blitzing, was hit just three times and didn't suffer a single sack.
6. Something's Gotta Give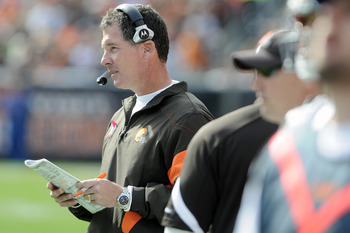 Jason Miller/Getty Images
Nobody knows better than Cleveland fans that believing in miracles will only leave you crying in your beer, but even the Browns faithful had a right to believe they would at least be seeing more progress in their young team's development by this point in the season.
Overall, the defense has been better than expected and progressed nicely. Obviously, the run D needs serious work, but overall, Dick Jauron is doing his job.
But unfortunately, the accolades for forward progress end there.
In the end, I do believe this team will get better; first they can't really get much worse, and second, despite all evidence appearing to the contrary, they do have a significant amount of talent on this team, even if it is entirely too green to be effective for now.
The problem seems to be that the Browns management is failing to get the talent the team does have to gel in any cohesive way that translates into significant overall improvement.
Perhaps we're just getting frustrated by watching a team that isn't ready yet, and the pieces will eventually fall into place as promised. But then again, perhaps the master plan just isn't working, or at least needs some very serious alterations if it's ever to be successful.
As difficult as it is to do when the boat is sinking, I'd encourage Browns fans not to jump ship just yet. That said, though, I'd keep my life vest on if I were you. It appears the Browns will be attempting to navigate a very rough sea for the rest of 2011. Let's hope they can keep their helmets above water.
Keep Reading

Cleveland Browns: Like this team?