NBA Lockout: Who's to Blame, the Owners or the Players?
November 6, 2011
Neilson Barnard/Getty Images
Instead of writing about the opening week of NBA games, I'm stuck with looking at both sides of the argument between players and owners and determining who is really at fault for the impasse.
The players' side is their careers only last for a limited amount of time, and that they are the attraction that the fans are paying to see.
The owners' side is that they are the ones assuming the risk, and that they are entitled to make a profit.
Both sides make sense, because nobody would pay to watch the owners, but, the owners, like the players, are entitled to make money, so who is wrong here?
The previous agreement the owners signed was a 57-43 split in favor of the players, and that didn't work out very well for them. They reported losses of $300 million dollars, and this time, they're trying to even things out.
They're asking for a 50-50 split, which you think would be fair, but the players are holding out for a 52-48 margin, saying they are giving enough cutting down their percentage from 57 percent.
Are the owners wrong for signing a stupid agreement in their last contract negotiation and trying to correct it, or are the players being more than generous by cutting their share of the pie by five percent?
Let's look at things in the real world, and I'm not talking about the TV show or reality television, which everyone knows is not real.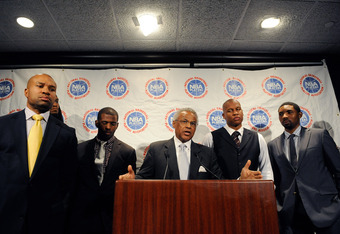 Patrick McDermott/Getty Images
I live in the real world. I sell luxury automobiles, and I get paid 20-25 percent of the profit I make on the vehicle.
That's after the owner takes the first $250 to $500 or more before I get my commission. I also get charged for a pre-delivery inspection, detailing of the car, and gas and incidentals before I get paid my part of the profit.
That's the real world, and you can say I'm getting the shaft, but I have no say in the matter. I can't go to the owner and demand fifty percent or more of the profit made on the vehicle. I would love to be able to do that, but I would be shown the door.
I know what you're thinking—nobody would pay to watch me sell a car, so the comparison doesn't make sense. But just like nobody would pay to watch NBA owners, most owners of car dealerships couldn't sell a car, so a good salesman is a valuable commodity.
I'm not begrudging the players' ability to earn a living, but I am questioning just how much they are entitled to. I know hardly anybody ever says it, but the more they make, the more fans pay to attend a game.
Most fans tend to fall on the players' side, but that's like red state dwellers voting Republican. They vote against the health care they need, and a tax increase for the top one percent of the richest people in the country, something they are unlikely to qualify for.
Why be on that side? Of course the owners are richer than the players, but they are the ones taking a risk.
If they sign a player to a long-term contract and he busts out, they're responsible for every penny of it. What exactly is the players responsibility?
Is it to buy as many diamond-encrusted watches and exotic automobiles that can fit in the garage of their 50,000 square foot houses? Do they need to make enough money in their careers to allow three generations of their family to also live like kings?
I don't have a problem with the top players being paid, but when scrubs and journeyman are signed to lucrative long-term contracts because it happens to be their contract year, is that fair?
For every Kobe Bryant and LeBron James, there is a Rashard Lewis making over $21 million a year and a Gilbert Arenas pulling in over $19 million.
Those aren't even the worst examples, because at least they achieved some success in their careers, though they obviously were way overpaid. How about a DeSagana Diop making almost $7 million a year or Darko Milicic, the biggest bust of one of the best drafts in league history pulling in over $4.7 million a year?
Luke Walton, another career scrub is making $5,680.000, while his dad Bill, finished his illustrious career with the great Boston Celtic teams of the mid-80s drawing a salary of just $425,000 a year.
Sure times have changed, but have the salaries of the average American increased to the degree it has with athletes? In many cases, it's less now that it was a few years ago because of the crisis this country has faced in recent times.
I know the argument. Again, sports are not the real world, so why should the players take a cut? But isn't it about time that athletes feel the same effect the economy is having on average Americans?
In 2010-11, the average NBA salary was $5.15 million dollars. That's higher than any other sport, with baseball being next at $3.34 million.
Of course in basketball, with fewer players on the roster, that number is skewed by a few high-priced players. The median salary in 2009-2010 was $2.33 million, with the minimum being $473,604 for a rookie, and $1,352.181 for a 10-year veteran.
The owners deserve an opportunity to make a profit, and there are several franchises that don't have a fair chance of that in smaller markets.
What could be more fair than fifty-fifty? Supposedly the latest offer was 51 percent in favor of the players, so I think they're being more than fair.
I'm not for the owners or the players. I am for the fans, and as long as the players keep on getting outrageous sums of money, we're the ones who really pay for it.
Bryant Gumbel recently came out and compared NBA commissioner David Stern to a plantation owner on HBO's Real Sports.
His quote was, "His efforts were typical of a commissioner who has always seemed eager to be viewed as some kind of modern plantation overseer treating NBA men as if they were his boys."
I think I know what he was getting at, and that was calling him a modern day slave owner.
If that's slavery, sign me up.