Todd Haley, Jack Del Rio and 4 Coaches Not off the Hot Seat Just Yet
Jared Wickerham/Getty Images
Coaches on the hot seat can manage to find themselves off of it with a win or two. Sometimes, they are wins indicative that the coach has taken the necessary midseason adjustments to flow with the rest of the NFL. Other times, it's because their team just has a favorable matchup. Then, there's pure dumb luck.
When a coach wins, it hides the flaws a team has. Notice how fans' outcries at Andy Reid are starting to die? Even though nothing has really changed?
These are the coaches, that for whatever reason, may think that they're off the hot seat, but are either still on it, or may be hovering right above it.
Jack Del Rio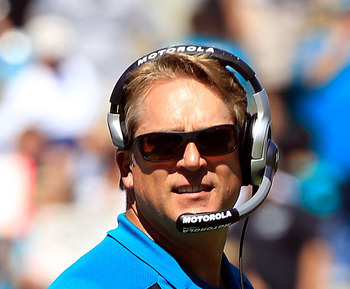 Sam Greenwood/Getty Images
The Jaguars may have just lost to the Texans, but they fought until the bitter end in Houston. Plus, they aren't that far removed from a big win over the Ravens, a perennial playoff power.
However, after spending nearly a decade in Jacksonville, two wins after eight weeks just won't cut it. Now his ownership may give him a benefit of the doubt excuse, he had a rookie QB that he needed to coach up. How can they expect him to have a successful year with a rookie QB?
Well, how about his ability as a coach? After all, a coach for eight years should be great at time management and use of challenges right? Err, not exactly.
The MNF game showcased Del Rio using needless timeouts and horrible challenges, something that shouldn't be happening to a coach in his ninth year.
Steve Spagnuolo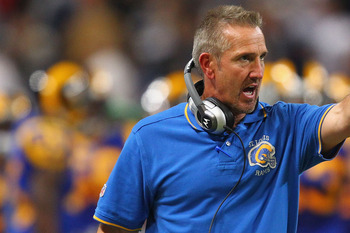 Dilip Vishwanat/Getty Images
After their dominating win over the New Orleans Saints, you'd forget that the Rams are 1-6 and will likely miss the playoffs after coming within one win of hosting the New Orleans Saints last year.
Still, this offensive line hasn't changed and the offense had trouble scoring on a weak Saints defense, were it not for turnovers and good field position.
The defense played well against New Orleans, but it took the entire defensive unit having one of the best games of their lives to do so. You can't play the best game of your life every week.
The win really smelled like a "win one for the coach" game. Which proves that Spagnuolo still has the locker room. After a few more losses though, will he be able to keep it?
Mike Shanahan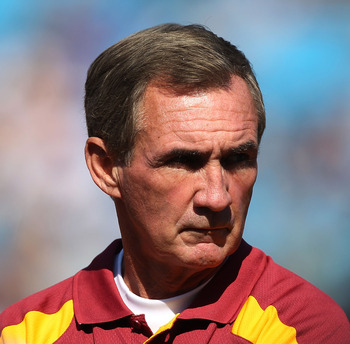 Scott Halleran/Getty Images
In his second year as head coach for the Redskins, he got off to a perfect start. Rex Grossman had been a decent QB and was leading his team to victories. Their defense was top notch and the team was looking like a playoff contender.
What a difference a three loss streak can make. Shanny's team is now 3-4 and back to being the joke of the NFC East.
What saves Shanahan is the fact that he's in his second year as coach. He hasn't had much time to leave his impact, and did have a decent draft for the Redskins. Additionally, the Skins have a lot of injured players, which only makes winning more difficult.
While Shanahan is being saved by circumstances, he can't allow it to get much worse or he may be wondering what went wrong while he's in the unemployment line.
Todd Haley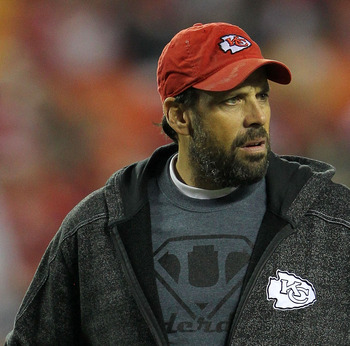 Jamie Squire/Getty Images
He may not have shaved in four weeks, but there are still problems on the Chiefs. His team won in overtime against the Chargers, but both teams played poorly; something the Chargers excel at.
The boneheaded plays racked up all night long, and the Chiefs needed four turnovers, including a Philip Rivers snap fumble at the last minute to send the game into overtime.
This, combined with a defense that gave up almost 500 yards of offense and an offense that struggled to get a first down after their initial success, leads some believe that the Chiefs can't adjust very well.
Haley may be safer after his nice victory, but he's only another loss or two away from feeling the heat again.
Keep Reading