Atlanta Falcons vs. Indianapolis Colts: Live Score, Video and Analysis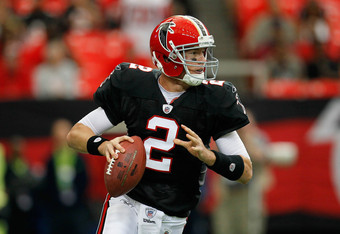 Kevin C. Cox/Getty Images
This one was over early.
From the second play of the game when Delone Carter fumbled, it was evident the Falcons were going to have a good day. It wasn't until later that fans would find out that Julio Jones specifically would be the Falcon who had the best day.
First, Jones made an unbelievable diving grab in the end zone for a 50-yard touchdown. That by itself was impressive. But the rookie wasn't done working on the dismal Colts defense.
Just a few minutes later, Jones caught a slant and ran all the way into the end zone for an 80-yard score. And suddenly, the Falcons had a 21-0 lead early in the second quarter and the game was already out-of-reach.
The Colts looked as if they may start a comeback when Jerraud Powers intercepted Matt Ryan and returned it six yards for a touchdown, but the Colts' offense simply had nothing going today. That was the only Colts score of the day. The offense managed no points.
Atlanta tacked on another touchdown and a field goal for good measure, but honestly, the game was over in the first half. The commentators even struggled to keep this game interesting in the fourth quarter.
Final score: Falcons 31, Colts 7
In case you didn't see QB Curtis Painter throw two passes on the same play, you can here!
Thankfully for all involved, the game is over. I'm pretty sure even the Falcons were getting bored with this game.
This is now the third legitimate blowout the Colts have suffered this season.
For the Falcons, it gives them momentum moving forward, especially since the Bucs and Saints are busy beating each other up today.
Craig Mitchelldyer/Getty Images
Is this what Colts fans should expect from commentators for the rest of the season? Exclusively Andrew Luck talk after the first half?
I suppose there isn't a whole lot left to talk about in this game, but really? Andrew Luck talk already? I'll be tired of hearing about him before the Colts even draft him.
Colts show some pride by making that stop. It'd be easy to just throw in the tank now, but the defense stepped up and made a stop on third-and-one. That's what fans want to see. They want to see energy, passion and emotion. They don't want to see a lifeless team that looks like it doesn't really care if it ever wins a game this season.
Finally, a win for the Colts!
Ok, so it's not an actual win. But, the defense did hold the Falcons to a field goal instead of a touchdown.
Unfortunately, the Colts are 24 points behind the Falcons now.
There will be no actual win for the Colts today. Or the foreseeable future for that matter.
That was just an awful call on that fumble. His progress was stopped? Have you seen Colts players tackle before?
Until these guys manage to get offensive players on the ground, I never count out the offensive player breaking a Colt tackle. The Colts were right to keep playing aggressively, and Julio was still fighting for extra yards. That whistle should not have been blown.
And the Colts should've had a touchdown.
But, it's just one of those days where everything, essentially, is going wrong for the Colts.
It's surprising to see the Colts get beat at home like this. It would be much more understandable if this game was at the Georgia Dome, but it's in Indy.
The Colts have always played well at home. Always.
To see them get blown out like this really just makes one think that the Suck for Luck campaign is in full force. I'm not saying that the players aren't trying, but they're just awful.
Number one pick, prepare to meet the Indianapolis Colts.
It's really unfathomable just how bad this offense is today.
This offense is as bad as FOX's non-animated programming and it's drives have been shorter than Kim Kardashian's marriage.
Seriously, don't blink, otherwise you might miss a Colts offensive possession.
Peyton Manning looks disgusted and in disbelief that his team is struggling this much to put together yards.
John Sommers II/Getty Images
Great start to the second half for the Colts defense. Many people say Jim Caldwell hasn't been aggressive enough on defense. Well, he was that time, blitzing the linebackers, resulting in Phillip Wheeler bringing down Matt Ryan.
On another note, where are Robert Mathis and Dwight Freeney today? Do they still rush the passer or not? Those two have been almost invisible today, a very infrequent occurrence at Lucas Oil Stadium.
And just like that, the Colts go three-and-out and will punt out of their own end zone. This looks all too reminiscent of the Tennessee game.
There has just been no offensive movement all game for the Colts.
If the Colts can put a solid drive together before the half ends that finishes with at least a field goal, the Colts will be in good shape moving into the second half.
It will give them plenty of momentum to build on in the locker room and boost confidence.
However, if the Colts fail to convert this third down deep in their own territory, it could turn out to be a disaster for the Colts. The Falcons will have plenty of time, and great field position, setting them up for a score before the half.
Just when you started to think the momentum had swung the Colts' way, the Falcons put together a solid drive. This team really is an offensive powerhouse. It's tough to stop Matt Ryan when he has weapons like Jones and Roddy White.
John Sommers II/Getty Images
Sometimes wishes do come true.
Jerraud Powers steps up big for the Colts with the interception returned for a touchdown as the Falcons were in the shadow of their own goal line.
That's exactly what this team needed to jump back into the game. It gives the offense some time to collect itself and gives the defense not only confidence, but also momentum.
Besides, when was the last time a Colts defender scored a touchdown? FOX is showing that this is the Colts first takeaway since Week 3.
Big chance for the Colts defense to make a play to try to get this team back in the game.
That hurdle by Donald Brown really looked cool. Too bad it was all for a gain of one yard.
Why does Joe Lefeged continue to take the ball out of the end zone? Has no one on the special teams staff told him that he's not Devin Hester?
If the ball is kicked into the end zone, take a knee, pick up 20 yards. Earth to Joe: starting at the 20 is better for the team than you returning it to the 15.
Stephen Brashear/Getty Images
That was simply too easy.
Julio Jones IS good, but he's not THAT good. No, the Colts defense is just THAT awful.
All Jones had to do on that play was catch the ball and take off. No defender even stood a chance. It's really just sad at this point.
I hate to say, "I told you so," but, this one is looking ugly already. We're not even halftime yet. This should be a long day.
Well, unless you're a Falcons fan, in which you're loving every minute of this and thinking Julio Jones is the next Jerry Rice.
The Colts have to do that more. Even though they didn't get the flag for pass interference on that one, they might in the future. Or, better yet, they may actually convert. Sometimes this team doesn't go for the deep pass enough, especially looking Reggie Wayne's way. Even though they didn't convert, it was good to see them at least attempt the deep ball to Wayne.
Otto Greule Jr/Getty Images
Not much the defense can do about that one. Great catch by Julio Jones. He was double covered, there's nothing more you can do than that.
As stated before, the Atlanta offense is explosive. If the Colts fail to score, this game will get out of hand.
Because Atlanta can make plays like that.
The Colts just can't find an offensive rhythm. Fortunately it is still early, but they must find it quickly. The Falcons are a powerful offensive team, and the Colts defense is, well, the Colts defense.
The Colts must score points if they want to stay in the game. Three-and-out will not get it done, nor will sloppy turnovers. With play like that, the Colts could find themselves down big by halftime or the third quarter.
Interesting that Jim Mora is the color commentator for today's game. He must be in an interesting predicament since he is the former coach of the Falcons and his father is the former coach of the Colts. The question is, which split with the organization was uglier?
Andy Lyons/Getty Images
Two possessions, two turnovers. That simply won't get it done, even if Peyton Manning was the quarterback.
Besides, Manning would never allow a former Colt to pick him. Manning would destroy all former Colts because he has all of their tendencies memorized. He would not have thrown at Kelvin Hayden like that, he would have exploited his weakness.
But, Manning isn't the quarterback. Curtis Painter is. And Curtis Painter makes mistakes. Not a good start for the boys in blue.
Key third down run by Donald Brown. Many fans have questioned his value to this team and his ability to be an NFL running back. He did a good job of lowering his shoulders to pick up something that has long plagued the Colts: third and one. Big pick up to keep the drive going.
Grant Halverson/Getty Images
Important catch for Dallas Clark. If he can get active early for this offense, the team as a whole is much better off. He allows the team to keep drives going by making key catches on third downs. That allows the defense to stay off the field and give the offense a better chance at putting points on the board.
Gregory Shamus/Getty Images
There's the famous Colts run defense.
Now you seem them, now you... wait, the defense was never there to begin with.
The Falcons easily run through the Colts defense en route to a one-yard touchdown run by Michael Turner after the Delone Carter fumble. It looks all too familiar for Colts fans.
The Falcons grab the early lead, 7-0.
This article is
What is the duplicate article?
Why is this article offensive?
Where is this article plagiarized from?
Why is this article poorly edited?

Indianapolis Colts: Like this team?