Philadelphia Flyers: Grading the New Additions One Month in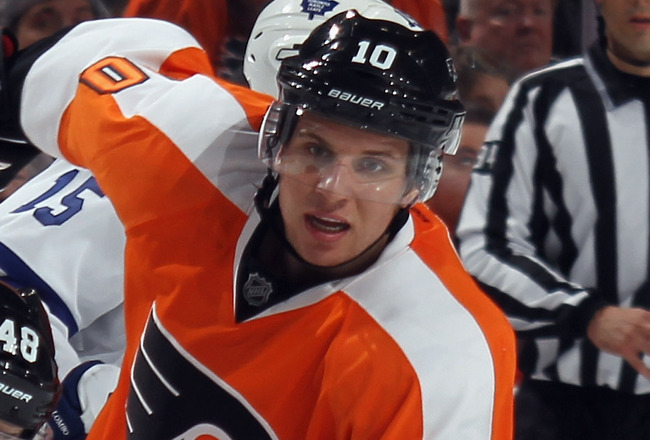 Bruce Bennett/Getty Images
For the Philadelphia Flyers, the 2011 offseason was probably more exciting than the team's previous regular season. Out went the likes of Mike Richards, Jeff Carter, Brian Boucher, Ville Leino and Dan Carcillo and in their place came an influx of new players, some veterans, some rookies. It was by far the most active summer the Flyers have had since the summer of 2007 but 2011 was way more controversial, with the team saying goodbye to the two players they once thought would be the dual faces of the franchise for the next decade and a half.
We're officially one calendar month into the season. Let's take a moment to see how each of the new guys are progressing thus far.
Brayden Schenn: Incomplete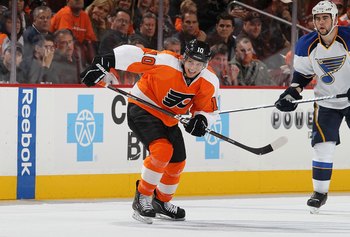 Jim McIsaac/Getty Images
Brayden Schenn was the key component in the Mike Richards deal. He is a top prospect who many people compare favorably to Richards. There was some doubt about whether or not he was NHL ready. After starting with the Phantoms in the AHL and tearing it up the Flyers promoted him. He has only played four games so far, seeming to struggle here in the early going. He is pointless and a minus 5.
He broke a bone in his foot after only four games and the time he has spent so far with the Flyers was during a stretch where the whole team seemed to momentarily be floundering.
Due to his youth, lack of games played and injury, we'll give Schenn an incomplete.
Andreas Lilja: C
Jim McIsaac/Getty Images
Andreas Lilja was acquired basically to play the Sean O'Donnell role of the veteran big defensive defenseman. So far he's been unspectacular but not bad. He's been average. He's made some mistakes, given away the puck sometimes, but also has played periods of solid defense. He, like all of the new players, is working to find where he fits on this team.
His plus/minus rating of 0 pretty much sums his season up thus far. He's younger and slightly more mobile than O'Donnell so in that respect he is an upgrade.
Jakub Voracek: C+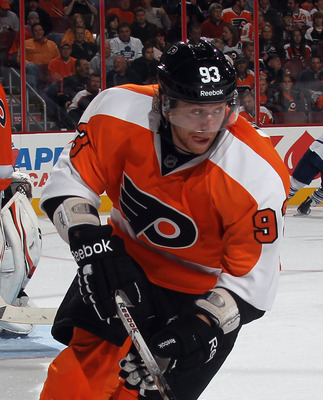 Bruce Bennett/Getty Images
Jakub Voracek was traded from Columbus for Jeff Carter. Carter, for all of his many flaws, did put the puck in net and Vorcek has struggled to score thus far. His monster game against his former team on November 5, though, has lifted his grade to a C+. He is a young player with a lot of promise and has added depth to the Flyers offensively as the team seems to be able to consistently roll out four lines that are capable of scoring.
Wayne Simmonds: B-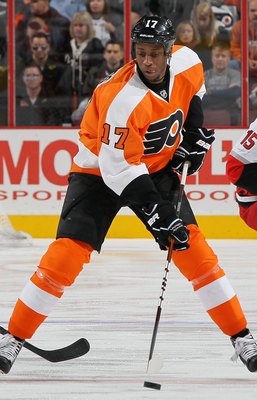 Jim McIsaac/Getty Images
Wayne Simmonds was the other player in the Mike Richards deal. While Schenn was the blue chip prospect, Simmonds was the solid three-year veteran. He is a prototypical power forward in that he can hit, skate, shoot and pass and he has shown nice stick handling ability in tight around the net as well. He is Mike Richards with a bigger snarl and he'll drop the gloves with anyone willing. Unlike Richards, he wins the fights.
His physical style of play has made him a fan favorite in Philadelphia already and he has been a solid second and third line player for the club during October and has shown a lot of promise.
Ilya Bryzgalov: B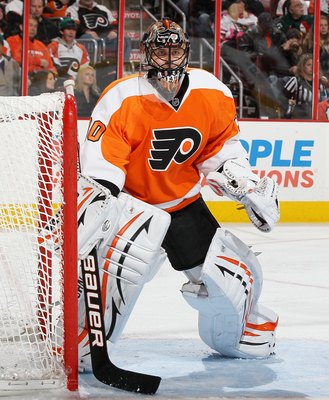 Jim McIsaac/Getty Images
Ilya Bryzgalov was brought to Philadelphia to be the team's savior; to give them an elite goaltender between the pipes for the first time since Ron Hextall. His season started out great with impressive road victories over the defending Stanley Cup Champion Boston Bruins and a shutout (something rare in these parts) against the New Jersey Devils.
His home debut against the Western Conference Champion Vancouver Canucks was a little shaky, he gave up four goals, but that was to a team that is just plain lethal on offense.
What followed was five straight losses including that insane pond hockey game against Winnipeg. After that game, Bryzgalov famously took all of the blame, admitted he had zero confidence in himself and claimed to be "lost in the woods."

Since then, Bryzgalov has put together three very good games (all wins) and has shown flashes of brilliance. He has seemed snake bitten early on as most of the goals that have been scored against him have been on bad bounces and there has been some communication problems between him and his new teammates on defense...also the team's best defenseman, Chris Pronger, has been out for half of his starts.
He hasn't proven to be an elite goalie, but he has shown the Flyers fans that he's been better than anything else the team has had between the pipes since Roman Cechmanek and there is potential there for greatness.
Max Talbot: B+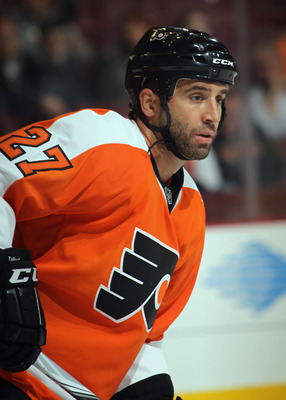 Bruce Bennett/Getty Images
Talbot, who Flyers fans once hated after he goaded the perpetually brain-dead Dan Carcillo into a fight that turned a 3-0 Flyers cake walk into them being elimniated at home by Talbot's Pittsburgh Penguins, has fit in quite nicely in Philadelphia.
A defensive specialist, he also has been contributing timely offense and his crafty penalty shot goal against New Jersey the other night, followed by his beautiful goal against Columbus, shows just how skilled he is.
He has done pretty much everything the Flyers have asked of him so far this young season.
The fans have seemed to fogotten Max "shushing" them after the Carcillo fight that eventually lead to the end of the Flyers 2009 playoff hopes.
Sean Couturier: B+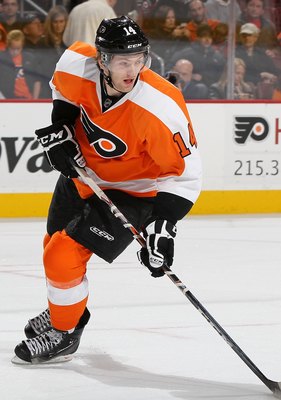 Jim McIsaac/Getty Images
There were rumblings early in training camp that the 18-year-old first round draft pick Sean Couturier could make the roster. His play in the preseason gave credence to these rumblings and his play thus far in the NHL has Flyers fans thinking the team may have a superstar on the hands.
At just 18, he is showing the poise and maturity of a 10 year veteran. He has great hockey skills and game knowledge. He has scored five goals just a month into his career and he is a stud defensive forward.
Jaromir Jagr: A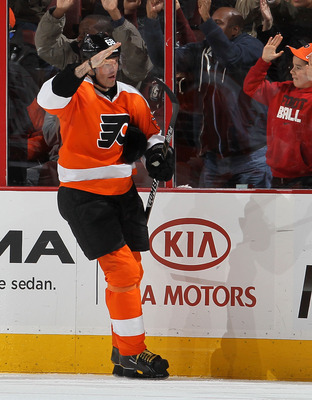 Jim McIsaac/Getty Images
Detested, despised, loathed, take your pick to describe the fan's opinion of Jaromir Jagr in Philadelphia prior to July 1, 2011. A lot of people were scratching their heads as to why Paul Holmgren would sign a player who will be in his forties by season's end and who hadn't play in the NHL since 2008. Jagr's play so far is making Holmgren look like a genius.
Jagr's pairing with Claude Giroux is the most dynamic forward set the Flyers have put on the ice since the brief moments when Peter Forsberg and Simone Gagne looked like they were going to take over the NHL. The great news here is both of Jagr's feet work so the issues that befell Forsberg/Gagne in 2006 hopefully won't repeat themselves in 2011.
Jagr still seems to possess the level of skill on the ice that made him an all time great and his play is helping Giroux emerge as a superstar in the NHL
There was some slow going for Jagr in the beginning (goal scoring at least, he was making plays since game one) but once he got his first goal against Toronto they seem to be coming more easily to him. His puck handling and play making are amazing and Peter Laviolette's decision to put Scott Hartnell on the first line with Giroux and Jagr has revived the slumping, disgruntled Hartnell and may have kept him in Philadelphia.
Keep Reading

Philadelphia Flyers: Like this team?