Alabama Football: Tide Kicker Cade Foster Fails on Biggest Stage
November 6, 2011
Streeter Lecka/Getty Images
Devoted fans of any college football team will more often than not decry harsh criticism directed towards players or coaches.  In Tide kicker Cade Foster's situation, however, there is no argument that could possibly defend him.
Cade Foster has officially derailed Alabama's title hopes by missing three key field goals and provided LSU with great field position on every kickoff.  
The team as a whole had many missed opportunities, certainly.  There are too many to list.  But only one player on the field tonight was given so much responsibility—and so many opportunities—after almost a full season's worth of failure.
Cade Foster has been one of the worst kickers in the nation in 2011.  He is tied for 96th in the nation with just a mere two touchbacks on kickoffs.  His kicks often land between the 10- and 20-yard lines. Alabama has faced terrible field position all year long due to Foster's wet noodle-like force on kickoffs.
His vaunted "leg-strength" coming out of high school showed promise in his freshman season with the Tide, but he has come up short—quite literally—this entire season.  
To put it bluntly, Cade Foster is not a kicker.  He does not have the ability to be a kicker in college football, let alone an SEC team, and certainly not for an historic team such as the Crimson Tide.
Foster performed well in high school as a kicker, but he was primarily a linebacker.  He confirmed this in his freshman season in Tuscaloosa with passable kicking performances and excellent coverage after the kick.  At one point he lead the Tide in special teams tackles.
Where has Foster been since then?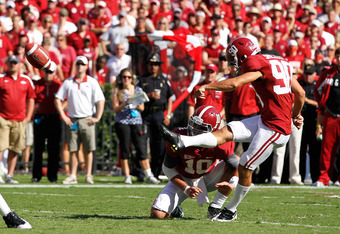 Kevin C. Cox/Getty Images
Foster missed three key field goals against LSU.  While one might argue that they were far too long to expect any kicker to make (44, 50 and 52), it is a poor case.  Foster's missed 50-yard field goal was a good five yards short and would have been a miss even if he had it between the uprights (which he wasn't).  
Nick Saban is still the best coach in college football, but after tonight many would argue otherwise. All the good that Saban has brought the team is tainted by his decision to stick with Cade Foster on kickoffs and long field goals, despite the fact that Foster has proven time and again that he is not capable of performing his duties on the field. 
Saban has said multiple times that Foster almost always puts the ball in the end zone during practice kickoffs, yet Foster has yet to do it one time in the 2011 season.  After eight games and terrible performance halfway in the ninth game, how could Saban put his faith in with an outright failure?
Kickers are often the victims of knee-jerk reactions by fans after heart-breaking losses, such as Boise State's Kyle Brotzman (who received many death-threats) when the Broncos lost to Nevada in 2010.  Brotzman, however, was a beloved kicker who had broken many records in his conference and had a full career of success with Boise State.  
Cade Foster has had one mediocre season of kickoff duties.  He has no résumé with which to save his career with the Tide.  
In a game where the entire team played their hearts out, Cade Foster alone was offered the chance to come up big on multiple occasions with kickoffs and field goals. 
Instead, Foster came up dry on three out of four attempts, and consistently gave LSU great field position on kickoffs.  
Alabama's other kicker, Jeremy Shelley, was not even offered the opportunities that Nick Saban gave Foster, which leaves the Tide with no solid kicker.  
Alabama has a new kicker on their 2012 recruitment list, Adam Griffith (5'11'', 180 lbs) out of Calhoun, Georgia.  After tonight's abysmal performance by the Alabama kickers, Griffith is a sure-fire bet to be the starting kicker—both on kickoffs and field goals—come next season.  
Very few games are decided by such a small margin as the Alabama-LSU game, and fewer yet are decided by game-winning field goals.  
Cade Foster, however, had more opportunities than most kickers get in a lifetime.  Instead, he utterly failed the team in both kickoffs and field goals.  
He is a detriment to one of the greatest teams of the season, and in history, and has no place on the Tide's roster.  If he had respectable performances in the past it would be a different story.  But Cade Foster has no leg to stand on—let alone kick with—when it comes to pulling his own weight.  
As an Alabama fan, I wish him the best in his future, but at the same time I hope that future doesn't involve the Alabama Crimson Tide.