UFC 138: Retrospective Analysis and English Witticisms from Cageside
UFC 138...Not a great card, but a great night of fights nonetheless
Unfortunately, one of the principal lessons I've learnt from my first live UFC experience as a reporter is that the internet connection in England is shocking.
Anyway, ladies and gentleman, without further ado here is the belated full 138 report.
What is it they say? "Better late than never." And for good measure, I've infused the text with a smattering of my customary idiosyncratic humour.
Introduction: If UFC 138 hasn't inspired much excitement amongst hardcore MMA fans, it will at least be remembered for showcasing the first ever 5-round non-title fight between Chris Leben and Mark Munoz. Though both Leben and Munoz have ensured that the number of rounds is merely a formality, because they'll require less than three to end proceedings.
The general consensus amongst most Brits is that the UK has gradually become an afterthought for the UFC, an idea reinforced by the lack of high-profile fighters on this particular card. However, a distinction must be made between a great card and a great night of fights. As Dana often reminds us, let's witness the calibre of the fights before we jump to criticise;
MAIN EVENT
Mark Munoz (186) VS Chris Leben (186)

MAIN CARD
Renan Barao (136) VS Brad Pickett (134)
Papy Abedi (170) VS Thiago Alves (171*)
Edward Faaloloto (155) VS Terry Etim (156)
Anthony Perosh (205) VS Cyrille Diabate (206)

ONLINE FIGHTS
Justin Edwards (170) VS John Maguire (170)
Jason Young (145) VS Michihiro Omigawa (145)
Phil De Fries (243) VS Rob Broughton (258)
Che Mills (169) VS Chris Cope (170)
Vaughan Lee (135) VS Chris Cariaso (135)

*Alves made weight on his second attempt after initially weighing in at 172 pounds
Begin Slideshow

»
Both men emerge to exhilarating hip-hop numbers by P. Diddy and Jay-Z. Crowd is officially pumped.
Round 1
Both connect with glancing blows then clinch. Lee attempts a standing guillotine, releases then takes Cariaso to the mat…another guillotine attempt, he must be fond of this particular manoeuvre…to the mat again, wearing on Cariaso against the fence. Very dominant first round from the Brit debutant, securing two takedowns earning him the first round, much to the satisfaction of his hometown Birmingham crowd.
Round 2
Both men emerge swinging, both trade takedowns. Lee is bullying Cariaso with his physicality, backing him up to the fence, but like a wounded animal, Cariaso responds in kind with venom. Vaughan demonstrates effective defence to nullify Cariaso's attack. Cariaso now returns the favour and takes Lee to the mat, and works to side control, then back into half-guard. Cariaso smothering but not administering much G 'n' P. Cariaso controlled position for most of the round, evening up the scores. All to fight for in Round 3.
Round 3
Vaughan Lee must have a solid chin because he is exposing it to a former golden gloves champion. Lee harnesses his size again to force the fight to the fence. He then misses with a speculative spinning backfist. Cariaso sloppily takes Lee to the mat, but with 2 minutes left in the round this looks ominous for the Brit. Cariao Ground 'n' Pounds followed by a Rear-Naked-Choke attempt. Lee escapes. Three consecutive vicious elbows soften up Lee, who relinquishes his back. Another RNC attempt concludes the round. Cariaso's round, as his jubilant gesticulations suggest. He ought to win the fight 29-28…that is, if the judges aren't drunk.
29-28 Lee, 2x 29-28 Cariaso, split decision victory.
Che, half Jamaican-half Scottish, pays homage to his roots (his Jamaican ones that is) by entering to a lively reggae tune. Cope enters to the Rocky theme tune, smiling like the cat that got the cream, and wooing of course. This one is likely to be predominantly a stand up affair according to my exclusive with Che this week.
Round 1
Both men trade, Che catches Chris with a knee, drops Cope, ref appears to intervene but allows action to continue. Cope, still a little foggy, struggles back to his feet and is confronted with another knee that lands flush. Cope falls again, and for good measure, Che catches him with a punch on the mat. Timely intervention by the ref at 40 seconds of the first round.
Officially adjudged a TKO, though it was verging on a KO. A very impressive debut by "Beautiful" Che Mills, described by Senor Rogan as "picture perfect." As a media man I know I'm meant to master the art of impartiality but I must admit that I've just texted Che to congratulate him. Follow him on Twitter @CheMillsMMA
Cockney (slang for Londoner) vs. Japanese
Muay Thai vs Judo= Stand up war hopefully, though maths and MMA aren't always the most reliable of bedfellows.
Round 1
Both men stand and trade bombs, tag each other and demonstrate immediately that they are both more resilient than you or I (sorry if you're reading this Andrei Arlovski). Omigawa takes Young to the mat, and busts up his right eye. Young gets back to his feet and ever so slightly rocks Omigawa with his right shin. Omigawa quickly recuperates, and Young takes him to the mat in an attempt to secure the round. Omigawa reverses instantly. Close round.
Round 2
Both men commence the round in the pocket trading. Omigawa takes Young to the mat and proceeds to count sheep for 60 seconds, much to the displeasure of the booing crowd. Omigawa looks for a submission with some slick grappling but Young evades his clutches. Fight returns to the feet, before Omigawa neatly employs his Judo skills by tripping Young to the mat. Omigawa responds to the boos by working this time, though still appears reluctant to fully commit himself to submission attempts. He finishes the round on top. Omigawa's round.
In between rounds, the British crowd cheers enthusiastically for Arianny. You'll be glad to learn that us Brits also appreciate aesthetic beauty.
Round 3
Another textbook Judo trip by Omigawa. Young escapes the leg and ankle lock, though only returns to the feet temporarily before Omigawa asserts his will yet again. Omigawa cautious on the ground again, half-heartedly attempts to lock on the kimura, almost as a means of ensuring that the fight remains grounded. Young winds up on top for the last 20 seconds but it's another round to the Japanese Judoka.
29-28 x 3 Omigawa.
Ironically, the chubbier of the two isn't the one called Fries
Two British Heavyweights, both surprisingly that can display finesse on the ground. Broughton will look to keep this standing against a man with seven consecutive submission victories in his first seven pro MMA fights, five by RNC. Broughton, born with his feet the wrong way around, is a testament to the human spirit.
Round 1
As anticipated, UFC debutant De Fries immediately shoots for the takedown. After a couple of minutes of resisting the takedown, De Fries takes Broughton to the mat. With five sub victories himself, Broughton is no slouch on the ground either. Fries appears the superior grappler, manoeuvring the burly Broughton around with consummate ease. He takes "The Bear's" back before the round ends. Fries returns to his corner, which includes TUF 9 winner Ross Pearson. De Fries wins Round 1.
Round 2
Fries takes it to the mat again, and secures Broughton's back. If this remains on the ground, it looks ominous for Broughton. However, in a dramatic turn of events, Broughton attempts for the kimura. Fries attempts to return the favour. "An eye for an eye, a kimura for a kimura" as the old Brazilian proverb denotes. Broughton is now in top position, and is proving a hefty man to shift. Broughton secures the mounted crucifix and drops some heavy shots, reminiscent of Nelson vs. Kimbo in TUF 10. Ref allows action to continue. Broughton's round.
Round 3
Fries forces the fight to the fence, goes for the single leg and subsequently forces the fight to the floor. He gains side control, coincidentally the best way to handle an actual bear if you ever encounter one in the woods. Fries moves smoothly for a heavyweight, taking Broughton's back before transitioning to full mount. However, Broughton's BJJ defence has proven tidy thus far. Fight is returned to the feet for a cursory 10 seconds by the referee, and Broughton desperately requires the knockout. One last swing and the horn sounds to signal the end of the fight. De Fries takes Round 3.
29-28 x 3 De Fries (it appears the judges really are "sober as judges" tonight)
I present to you John Maguire...he likes Aero chocolate! How do I know? I gave him a bar at the post-fight presser
John "The One" Maguire has fighting in his blood. An English "Gypsy" traveller, he is probably no stranger to the concept of bare-knuckle brawling. However, he is more renowned for his excellent ground game, which hitherto has yielded a dozen submission victories. #GypsyJiuJitsu to join in the conversation about Maguire on Twitter. Also, the journo to my right observantly points out that Maguire might very well be the long-lost younger brother of Phil Baroni (I'm not one to take credit for somebody else's quips).
Round 1
Edwards immediately connects with Maguire in a rather delicate part of his anatomy. Not cool man, not cool. Fight resumes, and Edwards attempts a speculative spinning back-kick before dropping Maguire with a right hand. He jumps on Maguire, but "The One" regains his faculties on the ground. Edwards attempts a choke, but Maguire then reverses Edwards and winds up on top. Back to the feet, against the fence, and Maguire lands another takedown. Back again to the feet, Maguire attempts to emulate Che Mills by landing a couple of knees. Maguire and Edwards both enjoy periods of dominance in the grappling. The knockdown should have secured it for Edwards, fairly even aside from that.
Round 2
Short bursts of aggression on the feet interspersed with cagey circling. Maguire gets fight to the mat and secures the back, then proceeds to attempt a RNC but cannot secure the hold around the neck. Round ends with Maguire attempting an armbar. Maguire takes the round.
Round 3
Both men find themselves on the mat, exchanging simultaneous leg-lock efforts. Another speculative spinning back-kick from Edwards (I thought this guy was meant to be a boring fighter?). Maguire takes Edwards to the mat and attains side control. Edwards concedes his back. Maguire works for the RNC again. Unsuccessfully. Edwards and Maguire exchange top position as the fight concludes. Very even round, and overall tough to call, but Maguire might have eked out a result here with the home crowd advantage.
Maguire gets the unanimous decision victory, a clean sweep of 30-27, suggesting it was an emphatic triumph for Maguire, and in my opinion, slightly belying the reality. Maguire tells Joe that he is proof that Brits can wrestle and grapple. Against a decorated wrestler like Edwards, perhaps he has a point.
For those struggling to comprehend Etim's muffled, screechy English on the VT, I can assure you that even as a fellow Brit that originates from a town a matter of miles away from Terry's native Liverpool, I was also having difficulties. Essentially, I think he said that he was prepared. Though he might have said that he was really scared. Liverpudlian English is a debased version of the Queen's English.
For any English readers, you're fortunate, because you'll understand the next reference. Etim enters the Octagon to Phil Collins' "Feel it in the air tonight". In Birmingham, we are merely a few miles away from the Cadbury's chocolate factory in Bournville. Cadbury's award-winning advert with the drum-playing gorilla featured the same song. Tenuous link, but I wonder if Terry was thinking along the same lines.
Round 1
No sooner had I stopped pondering Terry's walkout tune, had Etim caught Faaloloto with a spinning back-kick and secured a fight-finishing guillotine and all within an explosive half a minute. After a protracted injury layoff, welcome back Mr.Etim. Rapturous applause from the crowd. Contrary to his name, FaaaLOLoto will not be laughing out loud after this one. In fact, he will not be laughing at all. Great way to kick off the main card.
What happens when a Hippo meets a Snake inside a cage?
Diabate walks out to the cage accompanied by the upbeat rhythm of British rapper Tinie Tempah. The English and the French have a notoriously frosty rapport, so this is an astute ploy by the Frenchman. However, there is a slight paradox about a 6'6" fighter being serenaded by a 5'8" rapper. Anyway, some sort of physical conflict is about to ensue.
Round 1
Both men circle for a couple of minutes, Diabate appears decidedly more comfortable in the stand-up domain as predicted. Diabate and Perosh both have a short period in top position. Thus far, the nickname battle ("The Hippo" vs "The Snake") has proven infinitely more entertaining.
Round 2
No matter how much a one-dimensional grappler will attempt to convince you otherwise during the build-up to a fight, it's unlikely that they'll look to stand and trade with a one-dimensional striker. Perosh unsuccessfully shoots for the takedown but finally takes the fight into his realm. For a man with such long limbs (and boasting five submission victories), Diabate looks a little lost on the ground. Men against boys stuff. Perosh softens up Diabate, takes his back and sinks in the RNC, forcing Diabate to tap at 3.09.
"Cuban cigar, I just bite it, it's for the look, I don't light it" - Will Smith at his imperious best
If the weigh-in staredown between these two is to be viewed as an indicator, this should prove explosive. Abedi makes his UFC debut having only commenced his professional MMA career at the mature age of 28. However, within five years he has accrued an impressive unbeaten record of 8-0. Tonight, however, will prove his sternest test to date, in the formidable, Dolce-dieted shape of Thiago Alves.
Round 1
These are two enormous welterweights. Abedi emerges from the corner on all fours, reminiscent of Jonny "Bones" against Rampage, another sign (along with the flatcap and cigar at the weigh-ins) that this man is a confident showman. The type of confidence afforded by an unblemished record. Both men look willing to trade, exchanging heavy kicks. Alves catches Adebi with a right hand which staggers the Congo native, and he subsequently swarms, pushing the debutant to the ground and unleashing a savage flurry of ground and pound.
Having sufficiently softened up Adebi, Alves secures the back and delivers his first submission victory in the UFC, forcing Adebi to tap at 3.32 of Round 1 via RNC. He proceeds to "kick that dirt off his shoulders," as Jay-Z plays loud in his mind. Perhaps too stern a test for Adebi at this embryonic stage of his MMA career.
"Vintage Thiago Alves" according to Mr.Rogan.
"This ain't Pride rules homie, you can't be wearing no hat tomorrow night"
We Brits remain hopeful that this bout is a number one contendership fight in the bantamweight division. Speculation indicates that a Pickett triumph could potentially set up a title fight against Dominick Cruz in the UK. Here's hoping. It may only require "One Punch".
A conspicuous English entrance from Brad Pickett, a fiercely proud East End Londoner. He makes his way to the cage serenaded by dulcet cockney tones, and reading a quintessential British broadsheet, "The Telegraph," home to Britain's most recognised MMA journalist Gareth A Davis.
Round 1
Both swing wildly, with some semblance of technique. Pickett confirms immediately that he has a good chin. It's difficult to analyse this one as it's unfolding at breakneck speed. Just as Picket begins to assert a little control and force Barao on the back foot, he gets caught with a solid knee, followed by a succession of blows which land him to the mat. He continues his relentless barrage, as Pickett holds on for dear life.
Eventually Barao takes Pickett's back and gradually sinks in the RNC, consigning Brad to his fate and compelling him to tap at 4.09. He embarks on a rather flamboyant post-fight celebration and ends up slipping. Instant Karma, I believe that's called.
Barao laughs at himself and continues his joyous exhibition undeterred. And who can blame him, he just demolished a highly-touted striker in his own backyard. Barao looks the real deal, and is a daunting prospect for any bantamweight given his striking and BJJ skills. Oh, and he just comfortably extended his 27-fight undefeated stretch, dating back to 2005. Feed Cruz to Barao please Dana.
Bisping now remains as the sole Brit with the most remote of chances of bringing a title fight to Britain in 2012.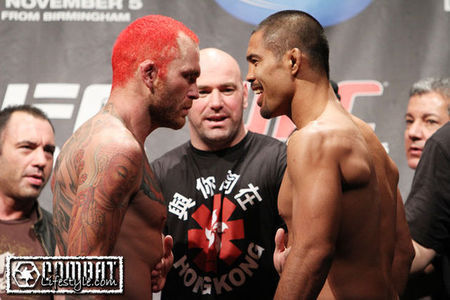 The two heavy-handed middleweights have guaranteed fireworks on Bonfire Night in the UK. In terms of walkout tunes, Munoz pays homage to his native Phillipines whilst Leben opts for a more sombre number, certainly not a common choice for the supercharged environment of MMA. But then again, when has Leben ever adhered to convention.
A streaker (wearing clothes…what would he be labelled?) jumps over the cage and is manhandled out of the cage. Dana tweets that it's the first Octagon invasion in the past decade.
Round 1
Both men may have pulled the wool over our eyes here, having promised to stand and bang.
Munoz secures a takedown, but the fight remains grounded only temporarily. Leben returns the favour and trips Munoz to the ground. He delivers some brutal blows as Munoz is pinned against the cage. Leben attempts the guillotine. Leben does his customary zombie impression, withstanding a blow which would have ended most other fighters, whilst walking forward swinging.
Round 2
Munoz takes Leben to the mat, and administers some vicious G n P, which causes a cut to the face of Leben, and also provokes him to cheekily stick his tongue out at Munoz. Leben gets back to his feet, but is soon returned to the mat. Chris reverses and attempts to sink in a guillotine. Marc Goddard requests that a doctor checks out Leben's cut. He allows the fight to continue. Leben tags Munoz, takes him to the mat but Munoz quickly reverses and dishes out some punishment of his own. Fight ends with Leben attempting to hit Munoz from an unorthodox position on the bottom. Leben is certifiably one hard b*stard.
Leben's corner call a halt to the fight, as Chris is unable to see clearly out of his eye below the nasty gash. The crowd are vocally disappointed with this conclusion to the evening's entertainment. Munoz wins via TKO at 5.00 of Round 2. I can't help but think that the issue ran deeper than the cut, since it would ordinarily require the loss of limb for Leben to concede so willingly.
Leben is downbeat as he visits with Joe, but admits that he was second best on the night. Munoz, on the other hand, respectfully requests a title shot in the near future. He may want to reevaluate what he wishes for.