Tim Tebow vs Carson Palmer: Why Broncos, Raiders QBs Have Much in Common
November 6, 2011
Brian Bahr/Getty Images
Tim Tebow and Carson Palmer are two quarterbacks from entirely different backgrounds with entirely different track records, yet the two find themselves in strangely similar positions in the present moment.
While Tebow was the darling of college football at the University of Florida, Heisman Trophies, National Championships and accolades piled up at his feet. So did expectations.
In becoming the Denver Broncos' first-round draft pick in 2010, he tripped over all of them.
Tebow was the golden child. He looked the part of a Florida kid playing for the iconic Gators, and the pressure only multiplied when Josh McDaniels traded away picks to gamble on Tebow late in the first round.
Since that time, Tebow has been critiqued to shreds despite only a handful of NFL starts. Once a "gamer" who could do no wrong, and thought of simply as a "winner," Tebow became a punch-line. His quirky delivery, his happy feet, his inaccurate passes and his propensity to run-to-throw went unnoticed in college. 
Once NFL draft analysts shined a light on Tebow's flaws, a massive dichotomy was created between NFL quarterbacking purists and Tebow supporters, the likes of which the NFL has never seen.
On one side, those who still see the Gator in a Broncos uniform, on the other, a multitude that sees Tim Tebow as simply a draft bust.
In the middle of those two camps sits a good guy who works hard, keeps his mouth shut and does everything he can to be the best he can possibly be. Perfect? No. Driven? Yes.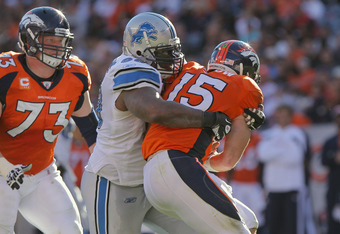 Doug Pensinger/Getty Images
Is it hard to watch him struggle? Absolutely.
The Raiders haven't done Carson Palmer any favors, either. Palmer, like Tebow, primarily kept his mouth shut throughout a dramatic situation involving himself and the Bengals front office. Palmer wasn't asking for much, just a chance to play football in a city he liked with an organization who he felt appreciated him.
Don't we all want that at work? Sure we do. 
The Raiders shoved an unprepared Palmer immediately into battle, in a hopeless situation, only to force three interceptions when he had no other choice. It was embarrassing, especially for a player with so much class, so much talent, and such an excellent track record.
Palmer was once that local kid, also. The talented, tall, rifle-armed quarterback who won a Heisman Trophy at a storied program down the street. While Palmer was drafted first overall, his expectations mirrored that of Tebow due to the overwhelming tribe of Tebow-backers. 
But, now he's the forced-fed savior for a team searching for an identity and a record that likely is overachieving for the talent level with which Palmer is surrounded.
Furthermore, Palmer simply can't live up to what the Raiders gave up to get him. While this is entirely out of his hands, giving up two first-round draft choices immediately forces Palmer to either make the Raiders' organization good on its gamble, or have the failure of the organization laid down at his feet.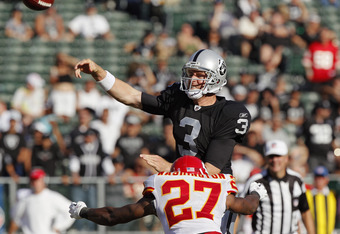 Brian Bahr/Getty Images
No pressure.
While these players are separated by hundreds of miles and nearly a decade in age, both have been forced into unfavorable situations that they didn't necessarily ask for. The expectations for both Palmer and Tebow are outrageous and unrealistic.
Palmer has paid his dues in the NFL and doesn't owe anything to anyone. He took an annual loser and turned them, if only for a short time, into a contender. He is the only quarterback to have handled Chad Ochocinco and Terrell Owens. Now he's sent to the Raiders?
Tough luck, kid.
Tebow was set up for failure in Denver. An egotistical, inexperienced head-coach gave up too much to get him, and brought him into an organization that continually refuses anything not named John Elway.
They traded Jay Cutler, for Pete's sake.
In reality, Tebow should have been a third-round draft pick that sat behind a veteran quarterback for two or three years. He should have had a chance to grow before being gutted, processed and consumed by the media.
He didn't have that chance.
While the differences for Tebow and Palmer are obviously present, there is reason to empathize with both and the situations in which they have been thrust.
I only hope, for their sake, it ends better than it's begun.