WWE Dream Tag Team Matches: The Rockers vs. Brian Kendrick & Paul London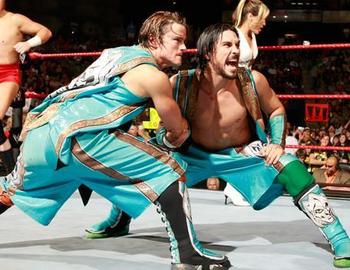 This new series, Dream Tag Team Matches, will consist of 10 editions that will be posted every other day over the next three weeks. As the title suggests, it will contemplate tag team matches that WWE fans never got to see, whether it be because of a generational divide or simply poor booking.
Not only will it contemplate the match, each edition will give play-by-play on how it would have gone, sometimes with the matches having special stipulations, being hosted at certain events and other different concepts.
In this, the first edition of the series, the match being analysed is The Rockers vs. Brian Kendrick & Paul London, in a two-out-of-three falls match. This match is featuring as the main event of Monday Night Raw, which is being held in Columbus, Georgia.
Background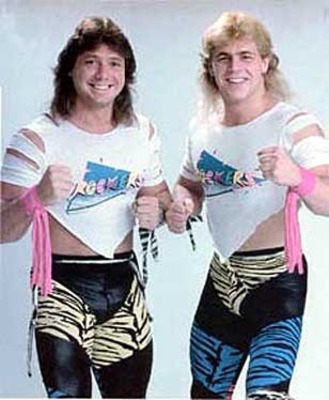 In a match for the WWE Tag Team Championship, Paul London and Brian Kendrick are the defending ream, eight months in to their record 331-day reign holding the title belts.
This is the team that highlighted their stunning aerobatics every Friday night on the CW network, defending their titles on SmackDown. For this match, in which they are facing highly celebrated opponents, they are not accompanied by valet Ashley Massaro, wanting the match to be completely even.
On this occasion, with such a phenomenal reign as champions, the titles are being defended on WWE's flagship show as the main event, as decreed by the Interim General Manager of Raw and Chairman of WWE, Vince McMahon.
Their opponents on this night are a team that acted as a source of inspiration to them, the Hardy Boyz, and high-flying daredevils worldwide: the Rockers.
Marty Jannetty and Shawn Michaels, innovators of energetic, death-defying tag team maneuvers and trailblazers for all future tag teams in the same mold, are seeking to win their first tag team championship in the WWE; despite wrestling their for a sustained period, they have never won tag team gold in that promotion.
All is not well with the team, though; this is the Rockers of late 1991, when their disputes where soon to escalate and result in a split in the team.
Entrance: The Rockers
As the Rockers enter to their typically energetic, rip-roaring theme, there is a warm reception for Shawn Michaels but a particularly deafening ovation for hometown wrestler Marty Jannetty.
With him being one half of the team, the Columbus crowd are definitively pro-Rockers, and hope to see them win their first tag team gold in WWE. They erupt when Jannetty climbs the top rope and salutes, as well as beckons them to cheer louder and louder.
Entrance: Kendrick & London
In the same way the Rockers were given a thunderous ovation, Kendrick and London are booed mercilessly simply for being the opposition of Columbus' hometown hero and his tag team partner.
They take it in stride, entering with confidence. Kendrick climbs the top rope and points to his ear, indicating he can't hear the raucous crowd, and smirking as they redouble their efforts at booing the team out of the building.
1st Fall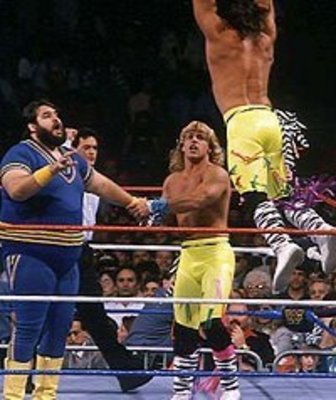 The match start out between Shawn Michaels and Brian Kendrick, who trade arm drags and dropkicks early on.
Both men get to their feet at the same time, receiving a small ovation from the crowd as both size each other up. They begin circling the ring and Michaels teases a few grapples, but instead tags in Jannetty, much to the delight of the crowd. They cheer loudly as Jannetty enters from the ropes, and from the apron Michaels rolls his eyes enviously.
Jannetty and Kendrick lock up, and the Rocker puts him into a headlock before delivering a strong punch to the head. Following up on it, he forces "Spanky" into his own corner with more punches, but doesn't notice a blind tag made by Paul London, who leaps over the rope and hooks Jannetty from behind.
Kendrick delivers a drop kick to Jannetty, allowing London to get the back slide. Michaels rushes in and breaks the pin, looking angry about something as he returns to his corner.
Pressing the advantage, Kendrick and London stomp at Jannetty in the corner, isolating him from Michaels. London bounces off the ropes and delivers a drop kick to his prone form, and tags Kendrick back in. Picking Jannetty up, the pair deliver a double hip toss and then drop their elbows onto his chest while he lays on the mat.
As Kendrick picks up Jannetty, the Rocker reverses an attempted Irish Whip into the corner and runs to deliver a clothesline, but Kendrick propels himself over the ropes and onto the apron. As Jannetty hits the turnbuckle and staggers, Kendrick runs across the apron and tags London back in. London hits a missile drop kick on Jannetty, sending the Rocker back into his own corner where Michaels makes a blind tag.
While London gets to his feet, Michaels tries to hit the superkick. London ducks and grabs Michaels' other leg, then sets up the legsweep DDT. Michaels manages to unhook London's arm from his head, and takes him down for a crossface. London rolls out as Michaels is unable to hook his head, and manages a drop toe hold as Michaels runs at him.
Trying to tag in Kendrick, London is stopped by Jannetty, who runs in and drops an elbow on him as he crawls to his partner. Beckoning for Michaels to get up, Jannetty picks up London and holds him for Michaels to hit a superkick. As Michaels does so, London ducks and Jannetty gets hit right in the jaw, prompting the crowd to groan audibly.
Michaels, shocked, drops to the mat to check on Jannetty, and pounds the mat in frustration when his partner doesn't move. Noticing London again trying to get to the corner, he grabs him by the leg. London gets up on his other leg, and rolls through, propelling Michaels into the corner. His face hits the turnbuckle hard, and Kendrick gets the tag.
Executing a springboard over the ropes, Kendrick uses his momentum to hook a sunset flip on Michaels, who doesn't go through until London hits him with a dropsault. As the referee makes the count, Jannetty gets up but for some reason doesn't break up the pin, allowing Kendrick to get the three count.
Winners (1st fall): Kendrick & London

2nd Fall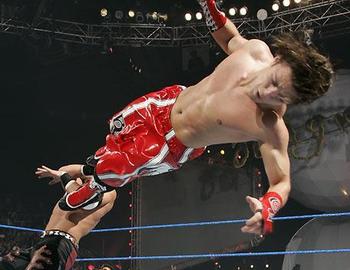 Jannetty walks angrily to his team's corner and stands on the apron. Meanwhile, Michaels is still highly disoriented from the combination move of Kendrick and London. Kendrick is focusing on the head Michaels hit hard on the turnbuckle, executing a headlock and delivering the occasional punch for good measure.
Michaels lifts him up with a burst of strengh, but Kendrick reverses into a flying headlock takeover.
After nearly a minute, Michaels forces himself up with the headlock still applied, but manages to push Kendrick off and into the ropes. As Kendrick comes back, Michaels delivers a backdrop only for "Spanky" to land on his feet and tag in London.
Staggering towards Jannetty, Michaels is clobbered by London, who delivers some forearm shots to the back of the head. Again London attempts a legsweep DDT, until Michaels elbows him in the stomach. Aiming to ground London by focusing on the leg, Michaels grabs it only to be countered with an enziguri, which cuts him open above the eye.
Losing blood that's exacerbating his head condition, Michaels tries again to reach Jannetty only for London to apply a front facelock. Frustrated, Jannetty enters the ring and stomps on London (to cheers), prompting Kendrick to come in.
Both start throwing punches, until London gets involved and they double team him. Whipping him into the ropes, they are both taken down by a double clothesline when Jannetty bounces back off the ropes, getting a nice pop for his efforts. He exits the ring and calls for the tag.
Michaels, stirring slightly, runs the ropes only for London to hook a sleeper hold and take him to the ground. The referee drops his arm once, twice, until Michaels keeps it from dropping a third time and forces himself to reach his feet and deliver a slam.
Getting up again, he bounces off the ropes and delivers a flying forearm to London who had just reached his feet. Unbelievably, Michaels kips up and gets ready to deliver the superkick, only for Jannetty to make the blind tag and go to the top rope.
He delivers a crossbody to London as Michaels looks on in bewilderment, but London rolls through and gets a two count before Michaels breaks up the pin. Kendrick runs in and Michaels propels him over his head and into the turnbuckle.
Expecting Kendrick to bounce off of it painfully, Michaels doesn't look around to see Kendrick land on it successfully and get ready to hit a moonsault. Jannetty does, and pushes Michaels out of the way as "Spanky" comes off of the top rope, landing painfully with no one to hit.
Michaels, disoriented and unaware of what happened, pushes Jannetty back, and subsequently out of the way of London, who hits a running shoulder block on Michaels, impaling him in the corner. As he turns around, Jannetty hits a superkick of his own, getting the pin as the crowd pop massively.
Winners (2nd fall): The Rockers
3rd Fall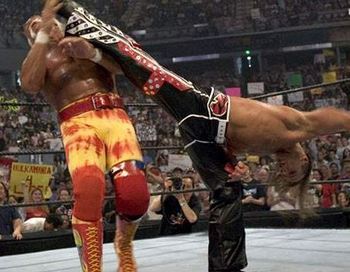 With Michaels out in the corner, Jannetty throws Kendrick out of the ring, not noticing as he skins the cat and comes back in.
Picking up London, Jannetty goes for a powerbomb while the referee checks on Michaels. With London on his shoulders, Jannetty is suddenly hit with a chop block by Kendrick. He falls back, with all of London's weight coming down on his head.
As Kendrick exits the ring, London hooks Jannetty's leg and the referee returns his attention to the action. London only manages a two count, so drags him into his corner and tags in Kendrick, who misses with a somersault off of the top rope.
Both men climb to their feet and Kendrick attempts a hurricarana; countering, Jannetty pulls Kendrick from the mat and back onto his shoulders for the powerbomb, until Kendrick counters that into a sunset flip, getting another two count.
Again, Kendrick runs at Jannetty, only to be sidestepped and run into the Rockers' corner. Michaels, finally on the apron, tries to punch Kendrick, but is blocked and hit with a return punch, falling to the mat.
Taking advantage of the distraction, Jannetty delivers a crucifix from behind, that London breaks up at the two count with a splash from the top rope. London stays in the ring but moves to the corner as both men stand up; Kendrick comes off the ropes and goes for the sunset flip, but is reversed when Jannetty sits down and hooks his legs. Again, London breaks it up at the two count.
Pulling Kendrick to their corner, London gets on the apron and tags himself in. Kendrick pulls himself up onto the apron using the ropes, and Jannetty hits London with a running crossbody. Still on the outside, Michaels is up and moves to Kendrick's corner, pulling his legs out from under him and dropping his face onto the apron.
Kendrick is knocked out, as London reverses an Irish Whip only for Jannetty to hit the same sunset flip as Kendrick did. Like Jannetty himself did, London drops down and hooks the legs, and is set for a two count until Michaels hits a superkick to the back of the head. Delighted with Michaels, the crowd cheers loudly.
Jubilant at their victory, Jannetty gets to his feet and claps Michaels on the back. As he turns to London for the pin, Michaels' chronic backstabbing disorder returns and he hits Jannetty with a superkick, eliciting deafening boos from the crowd, who are incandescent with rage.
Michaels pulls London over his tag team partner and gives the opposition team the victory as he exits the ring and walks to the back, booed out of the building and dodging projectiles thrown his way.
Winners (3rd fall): Kendrick & London

Overall Winners: Kendrick & London

Thanks for Reading!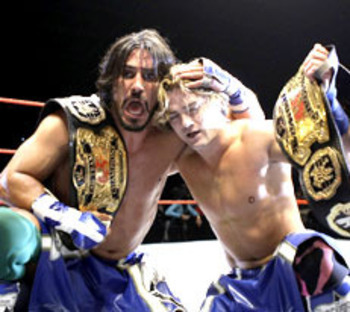 I feel as though I'm really going to enjoy writing this series, so I certainly hope you enjoy reading it. Though I have some tag matches in mind already, I would certainly welcome any suggestions; if I think they're as good as my own ideas, or if they're ones I haven't already thought of, I'll definitely consider adding them and I'll give full credit to whoever gives me the inspiration.
The next edition of this will be released on Monday.
For those wondering about my other series', The Bucket List and IWC Analysis, the next edition of IWC will be posted on Monday and two special editions of Bucket List will be posted on Wednesday. For those of you who haven't read either of those, shame on you!
They can be read here, as can all the other articles I've written. If you have any praise, criticism or issues with this or any of the other pieces I've written, I'm available to talk about it if you follow me on Twitter
Keep Reading