New York Mets Offseason Outlook: Third Base
November 5, 2011
Christopher Pasatieri/Getty Images
The hot stove is beginning to heat up. Moves are beginning to be made and rumors are swirling. Every general manager is looking for a way to improve his team for the 2012 baseball season. 
Sandy Alderson is entering his second offseason as the Mets' general manager and he is in a tough spot. He has a limited amount of money to spend on the many holes that the Mets need to fill.
Third base seems to be held down for the Mets though. David Wright was referred to by many as the New York Mets' franchise third baseman. Third base had been one of the weakest positions in Mets history. Wright changed that.
He burst upon the scene in 2004. He managed to hit for a .293 average and 14 home runs in his rookie season. He played in 69 games in 2004 and the 21-year-old established himself as the Mets' starting third baseman. Wright went on to play in 160 games for the Mets in 2005. He came in 19th place in the MVP voting in his first full major league season.
A star was born.
Wright went on to get nominated to the 2006 All-Star Game and bring his team within a game from the World Series. Wright placed fourth in the MVP voting in 2006 and it seemed as if the Mets had a dynasty in the making and Wright would be the face of it.
The Mets "dynasty" never took flight. The team hasn't made the playoffs since that amazing 2006 season. The Mets have suffered from two collapses in which they missed the playoffs by one game in 2007 and 2008. 
Things continued to go downhill in 2009. The team put together a horrible season and 2010 wasn't much better either.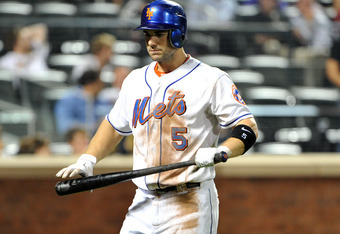 Christopher Pasatieri/Getty Images
Although the team was struggling, Wright was a constant bright spot for the team. He continued to play like a superstar in 2007 and 2008, and although his stats took a hit in 2009 and 2010 he was still a fantastic player.
However, last year was a career low for Wright. He missed 60 games due mostly to his pesky back injury that he suffered in May. It seemed as if he struggled to get into any type of rhythm.
He hit for a career low average of .254 and he didn't get elected to the All-Star game for the first time since 2006. Wright did show flashes of his old self though. Injuries prevented him from getting into a real "David Wright" groove this season.
Despite that, some people believe that the New York Mets should part their ways with David Wright by trading him.
I strongly disagree with them. First off, Wright is the face of the franchise. Secondly, his value is at a career low. Wright won't bring back much in a trade. The Mets would be lucky to get a few B prospects for Wright and Wright is worth much more than that.
Wright has indeed been struggling but there is every reason to believe that he will revert back to his old form. If it hadn't been for his pesky injury this year then he probably would have had another great year. 
It is not even like Wright is an injury threat. Most of his recent injuries weren't even a result of him not being fit or healthy. He got hit in the head by Matt Cain in 2009 and suffered from a concussion. And he hurt his back this year when he dove awkwardly to tag out a player proceeding to third base.
Wright has played at least 154 games in five of his past seven years. Barring anymore crazy injuries to Wright, he will most likely have a healthy season in 2012. Wright has showed that when he is healthy, he puts up big numbers.
The walls at Citi Field have recently been brought in to fit Wright's needs. It is safe to say that Citi Field has robbed him of a bunch of home runs in these past three years, and that has messed with Wright's mind.
It seems as if Wright changed his approach at the plate once he saw how big Citi was. That definitely screwed him up. 
Look for Wright to put up monster numbers this year. 
The Mets should still look into trade options for Wright because no player should be considered untouchable, but the truth is that the Mets won't get the right deal for him. 
Wright's importance to the Mets goes beyond his stat line. He is a proven leader of this ball club and he is primed to have a huge 2012 season. Wright is 28 years old and considered to be in the "prime" of his career. I believe that Wright's best days are ahead of him and fans should begin to realize that too.