Michael Cuddyer: Why Minnesota Twins Would Blow 2012 Season by Letting Him Go
November 5, 2011
Jeff Gross/Getty Images
Now that Michael Cuddyer has finally been freed from the Minnesota Twins organization for an off-season, the fans are split between bringing him back or letting him take a big contract with the Philadelphia Phillies.
While Cuddyer has been great for clubhouse chemistry and community contributions in his 11 years with Minnesota, some point to his career .272 average and lack of run production (only one season with more than 100 RBI) as not worthy of a big-time deal.
How big of a deal are we talking about, exactly? Smart money says he'll go for somewhere around the $10.5 million he earned last year with the Twins, but there will undoubtedly be a club (see: Philadelphia) that breaks the bank and offers somewhere between $12-15 million a year. While some say the Twins would be fools to match an offer like that, I beg to differ for multiple reasons.
1) Minnesota has a serious lack of power from the right side of the plate.
Cuddyer led the team with 20 homers in 2011. Seeing as the Twins only had 103 all season, that's a lot of production walking out the door, especially since the second-biggest "power source" on the squad is Danny Valencia (15 home runs, .246 average).
Honestly, the subtitle above should read "Minnesota has a serious lack of power, period." Jim Thome (12 home runs) and Delmon Young (four home runs) are both gone, leaving Jason Kubel (12), Trevor Plouffe (seven) and Luke Hughes (seven) as the remaining sluggers.
Seeing as Justin Morneau (30 home runs in 2009) and Joe Mauer (28 in 2009) can't be counted on due to injury and an unexplained power outage, it makes no sense to let Cuddyer walk away when he's been the only consistent source of any kind of power the last couple years.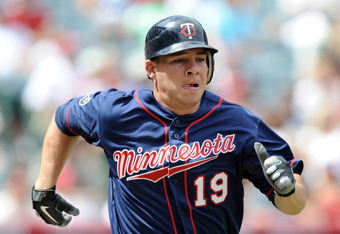 Harry How/Getty Images
2) Drew Butera is not an everyday player.
This may sound like a simple statement, but if Cuddyer leaves, backup catcher Drew Butera will undoubtedly be pressed into an everyday role if Morneau or Mauer go down again. While not a terrible hitter, Butera does not belong in the starting lineup five or six days a week.
The reason Cuddyer is so valuable defensively is because he can play everywhere. He even tossed a scoreless inning in 2011 when the Twins ran out of relief pitchers. His ability to fill in the first base spot when Morneau is out is a great help. He's at home in right field, but make no mistake about his value in the infield.
3) The Twins won't spend much money on new players.
Twins Focus recently posted a great article detailing the payroll options for the 2012 season. General manager Bill Smith has said the payroll will be lowered from a franchise-record $115 million in 2010, but it is not clear by how much. Twins Focus has it set around $105 million, meaning the team will have around $20 million to sign new talent.
Seeing as Cuddyer will command the $12-15 million we talked about, Minnesota could only have around $5 million to play with, a minuscule number when talking about solid, new talent. "Okay," you say, "then let's dump Cuddyer and use that $20 million!"
In my opinion, the Twins won't be able to find value on the level of Cuddyer with the week free agent market in 2012. Who else can the Twins sign for $12 million that provides the things Cuddyer does? His departure leaves a serious hole in the Minnesota lineup, one that could doom the team to an even worse record than their 63-99 output in 2011.
4) Michael Cuddyer is consistent.
Unlike faces of the franchise Mauer and Morneau, the Twins know what they will get out of Cuddyer when they pay him the money. He's played in at least 139 games in the past three seasons, with batting averages of .276, .271 and .286, respectively. His 70 RBI in 2011 were down 11 from 2010, but he still finished second on the team to Valencia (72).
Cuddyer's numbers don't stack up that well with stars across the league, but the fact is, he was the Twins' best player in 2011, and was the only Minnesota representative at the All-Star game.
In most other years, it might've been conceivable to look at Cuddyer's numbers and his projected salary and say he's not worth it, but the Twins were awful this season, and not bringing him back makes them worse than they already are.
And that says a lot when you're the worst team in the American League.