Fantasy Football Week 9: Fred Davis and TEs That Will Fail
November 5, 2011
Patrick McDermott/Getty Images
NFL tight ends are the most reliable receivers on some teams, but a tight end's value purely relies on the ability of the quarterback.
Who are the best tight ends in the league? Once you've gathered that list, look at their quarterbacks. Other than Jason Witten and Vernon Davis, who have solid QBs, the rest seem to have an unquestionably elite playmaker leading the charge.
Here are three tight ends that will fail to help your fantasy team's chances, although it may hardly be their fault.
Fred Davis
Rex Grossman or Josh Beck: It's a lose-lose situation for Davis.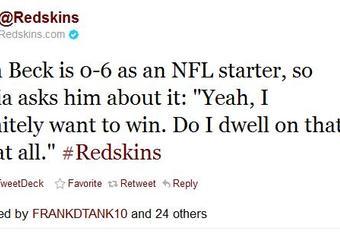 I'm sure the Washington Redskins would rather fish a quarterback out of the college ranks to suit up on Sunday against the San Francisco 49ers.
To make things even worse, an injured ankle makes Davis questionable for this game. The Niners also have some great linebackers and safeties to contain Davis, should he play.
He's the top receiver for the Skins, but they're atrocious on offense. Sit Davis this week in favor of a definite starter on a better team.
Kellen Winslow
When he came to the NFL from the University of Miami, I was convinced Winslow would storm onto the scene.
After an injury crushed his rookie campaign, Winslow had two mega-productive seasons for the Cleveland Browns. The move to Tampa Bay looked like a good one, but Winslow has not been able to take the next step.
Josh Freeman's inconsistent play does not help Winslow's value. Against New Orleans in Week 6, Winslow only had five catches for 40 yards. A verbal argument between the two was observed by some, but according to Josh Freeman, it was nothing to worry about.
I have a great relationship with K2 [Winslow]. In no way shape or form has he ever pressured me to get him the ball. You know, it's a deal where we're both extremely competitive.
The pair will not connect against the New Orleans Saints either, as the Bucs will fall to the Saints to split the season series.
Dallas Clark
Clark is perhaps the player whose value is most affected by the absence of Peyton Manning. He's been worthless this season in terms of fantasy, only gaining more than 50 yards twice.
Clark is questionable due to a knee injury entering the Colts' game with the Atlanta Falcons, and the Falcons defense is looking sharper as the weeks pass by.
Curtis Painter has only thrown five touchdowns this season, which is a quarter of the number league-leader Aaron Rodgers has tallied.
Until Peyton returns, Clark is a useless fantasy option—unless you get points for crime-show cameos.