10 Players Not Named Trent Richardson or Tyrann Mathieu Who Could Decide Game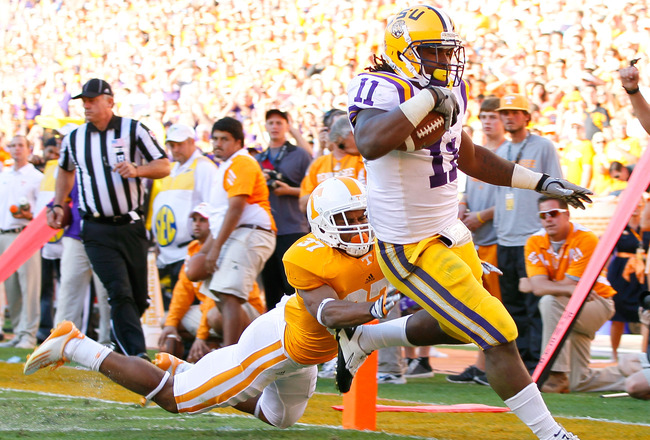 Kevin C. Cox/Getty Images
The game of the century is now just hours away. The two most recognized players in the game are Alabama running back Trent Richardson and LSU defensive back Tyrann Mathieu.
However, both teams are built on team play—not individual skill. As a result, I will list 10 players who will have an important impact on this game.
I have not mentioned the offensive lines of either team, because each player is an important part of the game. I also did not mention Spencer Ware, because either of the three LSU running backs could take this game over.
Alabama Football: AJ McCarron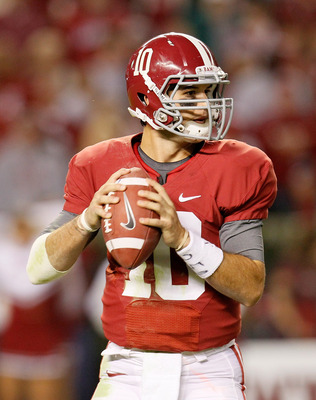 Kevin C. Cox/Getty Images
AJ McCarron is second in the SEC in passer efficiency rating. He has completed 134-of-200 passes for 1,664 yards, 10 touchdowns and three interceptions. These stats have led to an overall 150.4 passing rating.
McCarron supporters will argue that AJ has been even better than that since the first game of the season when he threw two interceptions while splitting time with Phillip Sims. At the same time, critics will argue that McCarron threw 40 percent of his touchdowns in one game against Vanderbilt.
Both of these points are legit statements. However, we really don't know how good or bad McCarron is. Critics believe that McCarron has been hidden within the Alabama offense, pointing out that Alabama has feasted on screens, dumping the ball off to the running backs and short crossing routes.
For the first time all season, these passes are unlikely to be open very often. As a result, McCarron will be forced to look downfield with more regularity. It should be stated, however, that just because McCarron has not gone deep often does not mean that he cannot.
Tiger fans might find out today that his lack of deep passes is not the result of not being able to make those plays—instead it is because he has not needed to make those passes.
LSU Tigers: Jarrett Lee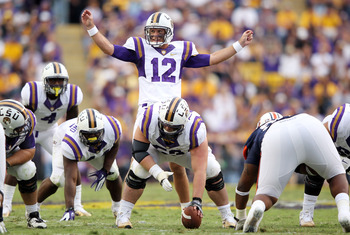 Jamie Squire/Getty Images
Jarrett Lee is in a similar situation as AJ McCarron. He is first in the SEC with a passer efficiency rating of 157.4. He has completed 98-of-155 passes for 1,250 yards, 13 touchdowns and one interception.
You read that correctly—one interception.
In his last five games he has thrown 10 touchdown passes and zero interceptions. At the same time, he has not faced any defense that even resembles the talent of the Alabama secondary.
Of the two starting quarterbacks in tonight's game, Lee has been the most impressive. He will not be called upon to win the game tonight. He will, however, have to protect the football at all costs. Alabama doesn't just force interceptions, they also focus on stripping the quarterback on the way down.
These seem like simplistic points. However, against this Alabama defense, starting and finishing the game is not something that opposing teams have fared well with.
Alabama Football: Marquis Maze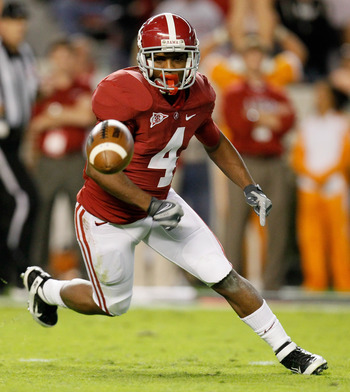 Kevin C. Cox/Getty Images
Marquis Maze has been the epitome of hot and cold. He has caught 39 passes for 482 yards, but only has one touchdown. It is not the overall numbers that are a concern for either Alabama or LSU.
The concern for both teams is which version of Maze will show up. He has had three strong games this season. Those games were against Kent State (118 yards), Vanderbilt (93 yards) and Tennessee (106 yards).
The problem is that in the other five games of the season, he has averaged 33 yards.
Alabama will need the high-octane version of their star receiver and not the Maze-light version.
Maze will face single coverage anytime the Tigers are in man coverage. He has the ability to make plays against the elite secondary of LSU. However, the window is small and he will need to make the most of his opportunities.
In my opinion, if Maze does not have 60 or more yards, the Tide will fall to defeat.
LSU Tigers: Rueben Randle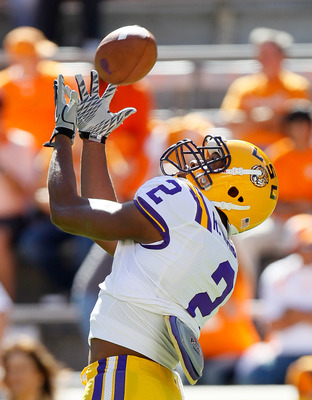 Kevin C. Cox/Getty Images
Rueben Randle has been nothing short of dominant this season. Randle has totaled 33 receptions for 638 yards and seven touchdowns. As the offensive coaching staff has become more confident in LSU quarterback Jarrett Lee, the more Randle has excelled.
Over the last three games, Randle has made14 receptions for 319 yards and four touchdowns.
At 6'4" and 210 pounds, Randle is one of the few wide receivers in the nation who can cause mismatch issues for this vaunted Tide defense.
If Alabama can keep Randle out of the end zone and under 65 yards receiving, they will win this football game.
Alabama Football: Josh Chapman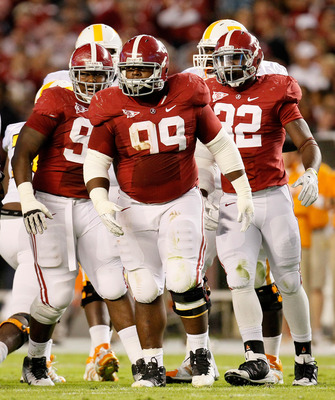 Kevin C. Cox/Getty Images
One of the most important players in tonight's game has only registered 13 tackles and half a sack this season—and he has done his job well. No position is of greater importance than the defensive tackle position inside the Tide's 3-4 defenses. Chapman has been able to force double and triple teams for most of the season. His stats are never going to be great, but his impact will determine the outcome of this game.
LSU loves to wear on the opposing team's defense throughout the game. However, they might find that challenge more difficult with Chapman.
At 6'1" and 310 pounds, Chapman does not have the size that former nose tackle Terrance Cody had. However, his strength is second to none. Chapman might be the strongest man in all of college football.
Can Chapman continue to dominate the line?
LSU Tigers: Deangelo Peterson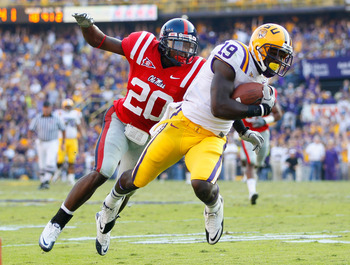 Kevin C. Cox/Getty Images
Deangelo Peterson felt the need to call out the Alabama linebackers this past week and now he will have to back up those words. Peterson has a skill set at 6'4" and 235 pounds that could create a mismatch.
For the season, Peterson has 12 receptions for 137 yards and one touchdown. He has been more effective than those numbers would lead you to believe. However, he has not been good enough to call out the best linebacking unit in the nation.
With Alabama trying to stop the run and with Randle pulling the secondary long, there should be room for Peterson to make some key plays. However, if he does not make the plays and LSU loses, he will be reminded of his quotes.
Will Peterson be remembered as a hero or a goat? We will know in just a few hours.
Alabama Football: Dont'a Hightower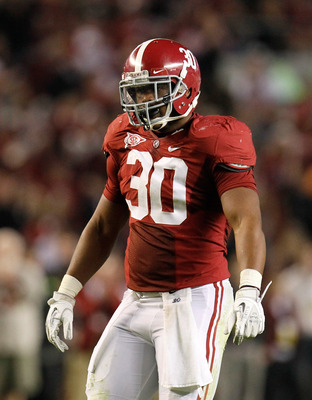 Kevin C. Cox/Getty Images
Don't'a Hightower is a finalist for the Butkus Award and the Lombardi Award this season and rightfully so. He has put together an All-American type season so far with 48 tackles, 1.5 sacks, six tackles for loss and six quarterback hurries.
Hightower is one of the top three linebackers in the nation and they will need every bit of his explosiveness to win this ball game.
Deangelo Peterson called Hightower out as being slow this past week. What he forgot to mention is when Hightower reaches you he hits you like a freight train.
I fully expect Hightower to boost the nation's economy by keeping the medical workers occupied today with opposing players.
LSU Tigers: Morris Claiborne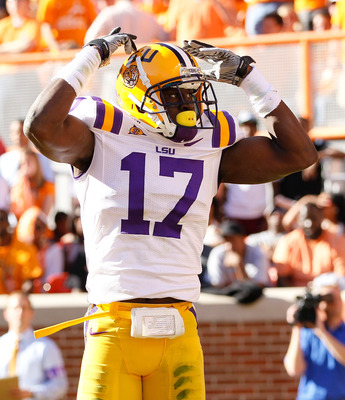 Kevin C. Cox/Getty Images
Tyrann Mathieu gets all of the headlines but Morris Claiborne might be the best lockdown corner in college football.
Claiborne will be asked to do more tonight than he has in any other football game this season. I fully expect for LSU to throw more man-to-man looks than they have so far this season. They know Claiborne can lock down any receiver for the Tide without any help.
This will allow them to put more men in the box to stop the run. Even if they play mostly zone coverage, Claiborne's role will expand.
Like it or not, Claiborne is LSU's x-factor this game.
Alabama Football: Dre Kirkpatrick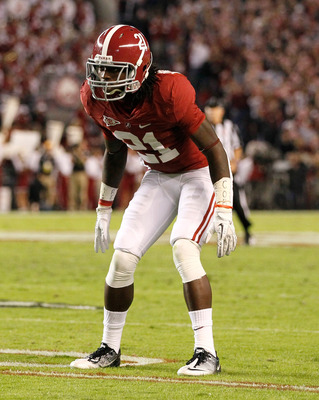 Kevin C. Cox/Getty Images
Dre Kirkpatrick might be the most physical defensive back in the nation and seems headed to being a first-round draft pick next season. However, he has been vulnerable to the big pass play early in the game this season.
Kirkpatrick must keep the LSU wide receivers in front of him or this game could get out of hand early.
LSU is too good in the running game to attempt a flurry of passes downfield. Alabama has only been tested twice this season in the passing game. They were able to limit Tyler Wilson and Arkansas, but gave up almost 200 yards in the first half to Florida before John Brantley went down with an injury.
Many of those yards were because of Kirkpatrick.
LSU Football: Brad Wing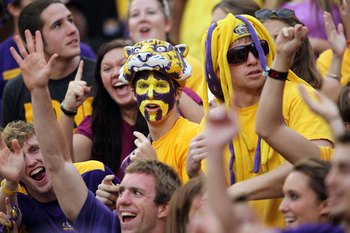 Jamie Squire/Getty Images
Punters are often forgotten until they make a mistake. In this game, the punter could have an outside shot of game MVP.
With the top two defenses in the nation doing battle, field position becomes of greater importance. Neither team is going to be mistaken for Oklahoma State on offense. As a result, the punter who can give his team the field position is going to be of great importance.
LSU's freshmen punter Brad Wing has been one of the most consistent punters in the nation. Wing has punted the ball 31 times for an average of 44.4 yards per punt.
Wing already has a popularity rarely seen for punters. This game could help him reach rock-star status.
Keep Reading

Alabama Crimson Tide Football: Like this team?