Colt 45 URCC XX Provides 10 Fights of Fantastic Action in the Philippines
November 5, 2011
Colt 45 URCC XX provided an awesome advert for Filipino MMA with all 10 fights finishing with first round stoppages.  Fans packed into the World Trade Centre in Manila for one of the best cards in the promotion's nine year history and were treated to a night of non-stop action.
In total there were six titles on the line including Honorio Banario defending his lightweight strap, Froilen Sarenas fighting for the middleweight version and Jessie Rafols and Red Romero doing battle for the interim bantamweight belt.
The highlight of the night was the main event between Rafols and Romero with the champion setting a quite staggering pace. It was back-and-forth to begin with as both men battled for position with Rafols scoring multiple takedowns only to see his opponent explode out and escape.
Rafols was looking to swarm all over Romero, who was a replacement for injured URCC flyweight champion Kevin Belingon, right from the opening bell. He came close to finishing the fight with an armbar, but Romero showed real courage and resilience to power his way out.
In the end Rafols paid the price for starting so fast as he began to tire and Romero took advantage in clinical fashion by mounting him, taking his back and ground-and-pounding his way to a stoppage win.
It was a frenetic fight which had the crowd on its feet throughout and a fitting end to a fantastic card of action.
Speaking afterwards Romero said he had been prepared for the frightening pace which Rafols would set: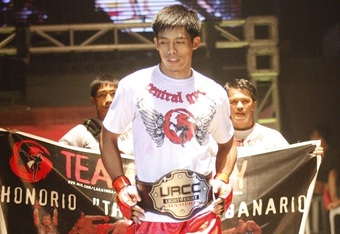 "I was expecting that because it is how he fights, we know that is his style and so we had a counter prepared for everything he would do. I could feel him getting tired but so was I because he is so strong, I am very happy to have fought in front of so many fans and to have won the title," he said.
While Romero's win over the highly rated Rafols was something of an upset rising star and reigning lightweight champion Honorio Banario made no mistake against Patrick Manicad, improving to 6-0 with a submission win. Manicad has a background in Muay Thai and was making his debut. He showed impressive composure as he used his height and reach to good effect in the early exchanges.
Banario is a part of Team Lakay Wushu and he was able utilize the strong wrestling skills we have come to expect from the Baguio based camp to duck under some wild strikes and take the fight to the floor.
Manicad showed a surprisingly sophisticated ground game to tie up his unbeaten opponent sufficiently long enough for the referee to stand up the fight but proved only a brief respite as Banario started to become increasingly more effective with his offence and was able to use the strikes to set up a second takedown.
This time there was no escape as Banario moved into side control and then took Manicad's back before transitioning into an armbar which forced his opponent to tap. Team Lakay Wushu fighters seldom win by submission and the URCC Lightweight Champion admitted that this was very much on his mind going into his title defence:
"My plan was to take advantage of his height to take him down but I wanted to finish the fight by submission because I wanted to show that Team Lakay is evolving. Even though everyone thinks we are stand up fighters we can also fight on the ground and I wanted to win with a submission to show this," he said.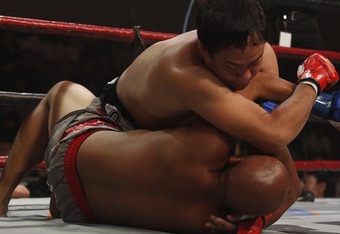 Sarenas defended his middleweight title successfully but was also able to finish the fight in an unexpected way. He has a purple belt in Brazilian Jiu Jitsu and proved he is much more than merely a submission specialist by standing and trading with Robin Jose who has a background in Muay Thai.
The reigning URCC middleweight champion looked in no hurry to take the fight to the floor as he showed off some of his new found striking skills early in the opening round. When the fight finally did go to the ground he chose to pulverize Jose, securing the first TKO win of his career by standing up and throwing vicious soccer kicks to the body of his grounded opponent.
A large contingent of Sarenas supporters from Submission Sports, one of the biggest BJJ schools in the Philippines, sounded their appreciation of the unbeaten fighter's performance and afterwards he said he had set out to put on a show for the fans,
"I won both my previous fights by submission but this time the promoter told me he wanted an exciting fight. I wanted to finish the fight with strikes and not a submission and that's why I stood up and went for the soccer kicks instead of staying on the ground and going for a submission."
Three brand new URCC titles were on the line and the newly crowned champions are Heavyweight Igor Subora, Cruiserweight Pete Brooks and Light Heavyweight Nicholas Mann. It was a triumphant night for the most prestigious promotion in the Philippines and owner Alvin Aguilar was quick to sound his appreciation,
"We have been putting on shows since 2002 and next year, when we overtake Pride, the URCC will be longest running MMA show in Asia. We have had some great nights but this has to be up there with the best of them and the fight between Jesse and Red was one of the most exciting I have seen, the crowd were going absolutely crazy. I want to give a special mention to our main sponsors Tribal Gear and Colt 45and thank them for all their fantastic support."
For more information about URCC visit: www.urccmma.com.