Fantasy Football Rankings and Analysis for the Top Week 9 Quarterback Matchups
November 5, 2011
Jim McIsaac/Getty Images
Here are your Week 9 quarterback power rankings.

10. Matt Schaub (vs. Cle)
Schaub has thrown at least one touchdown pass in every game this season and hasn't been shut out since Week 9 of 2010. I mention this because the Browns have shut out two of the last three QBs they have played and held six of seven this season to one TD or less.
That being said, the best quarterback they have faced is Matt Hasselbeck, who threw for three touchdowns on just 20 passing attempts.
Schaub has been playing at a high level for most of the season thus far, so I expect a pretty nice fantasy day from Matt—even if Arian Foster goes nuts on the ground.
9. Matt Cassel (vs. Mia)
After a sluggish start to begin 2011, Matt Cassel has amped up his game a bit and re-entered the mix as a potentially relevant fantasy QB this season.
It won't be often where he can be used as a starter, but this might be one of those games, with the Dolphins allowing the fourth-most fantasy points per game to opposing QBs.
Cassel has a tendency to rip apart bad pass defenses, and now that he has a new weapon in rookie Jonathan Baldwin to throw to, I expect him to do well this Sunday and possibly put up one of those 3-4 TD games he has every once in a while.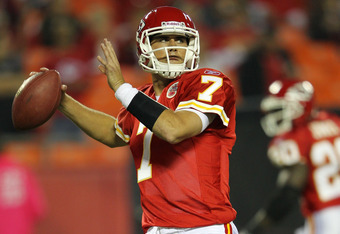 Jamie Squire/Getty Images
8. Matt Ryan (at Ind)
Ryan has been a major disappointment so far this season, as he was expected to take the leap into fantasy-starter status with the drafting of rookie WR Julio Jones.
That hasn't happened yet, with Matty Ice tossing up one or fewer touchdown passes in six out of the Falcons' seven games.
This week, however, owners have hopefully been patient with the young QB, as he'll have a chance to put up one of the better games of the season against a Colts defense that has allowed most passing TDs in the league and 10th-most fantasy points to opposing quarterbacks.
7. Tony Romo (vs. Sea)
The Seahawks defense has turned into one of the better defenses in the league this year, but they've also shown that they can be beaten through the air by an upper-tier quarterback with good weapons around him (i.e. Big Ben, Matt Ryan and Eli Manning).
Romo seems to be fine now after dealing with that rib injury for about a month, so with the Seahawks being especially stingy against the run, I expect him to start playing at a high fantasy level again this weekend at home with Miles Austin, Dez Bryant, Jason Witten and even Laurent Robinson getting in on the fun.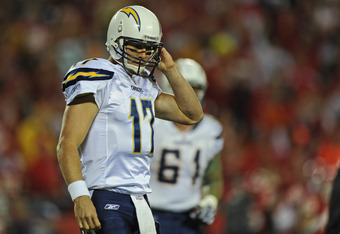 Peter Aiken/Getty Images
6. Philip Rivers (vs. GB)
Rivers has had a real rough go of it this season, barely putting up top 15 fantasy numbers after landing in the top five last season. He hasn't thrown three TDs in a single game yet and is on a current streak of throwing one or less TDs in five straight games now.
However, he returns home this Sunday after being on the road for three games to play against a Packers defense that allows the third-most fantasy points to opposing QBs.
With Gates looking close to normal again and the backfield all banged up, I'm looking for Rivers to right the fantasy ship this weekend by tossing the pill between 40 and 50 times while putting up a good 300-plus yards and a couple of TDs.
5. Drew Brees (vs. TB)
I have no idea who that man was in the No. 9 jersey last weekend, but that was not Drew Brees working under center for the Saints.
By definition, flukes do in fact happen, but only every once in a while and certainly not two weeks in a row for one of the best QBs of our generation.
Three weeks ago in their first matchup of the year, Cool Brees threw for 383 yards against the Bucs but had just one TD in the narrow loss.
Again, that showing was not the norm for Drew, as he had averaged just over two TDs a game versus Tampa Bay during the past three seasons.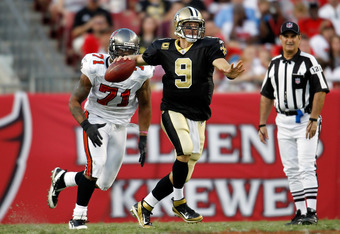 J. Meric/Getty Images
Things tend to even out over time, so a three-TD performance could be in the works here as Drew avoids his third fluky occurrence in the past month.
4. Tom Brady (vs. NYG)
For most quarterbacks, throwing for 198 yards, two TDs and no INTs is at least an above-average day. Not so for the Stetson man.
Last week's loss to the Steelers was Tom Brady's low point of the season from both a real and fantasy standpoint—a situation I have no doubt will be rectified this weekend at home against the Giants.
New York's pass defense relies heavily upon their league-best pass rush, but since Brady gets rid of the ball so quickly, along with the Patriots being one of the best at protecting their QB, I expect Tommy Bundchen to be able to carve up the G-Men's secondary to the tune of 300-plus yards and at least two TDs.
He and Eli should have similar numbers in the end, with the slight edge going to Manning due to his team playing from behind.
3. Eli Manning (at NE)
Eli is quietly putting up the best stats of his career thus far (both in fantasy and reality) completing nearly 65 percent of his passes while pacing for 4,862 yards and 30 touchdowns.
Playing against a league-worst New England pass D shouldn't hurt his chances for a career year, as the Pats allow the second-most fantasy points per game to QBs while giving up a whopping 323 passing yards a game.
With Ahmad Bradshaw likely out and this game looking like a shootout waiting to happen, I expect nothing less than 300-plus yards and at least two TD passes from the only active Manning in the NFL (both brother Peyton and Texans safety Danieal are injured).
2. Michael Vick (vs. Chi)
I believe the Michael Vick we all saw dominate the league last year is back, and just in the nick of time for a Philly team that was sinking pretty fast during the early part of the season.
Last week, Vick seemed to pick apart the Dallas defense with ease as the Eagles trounced their divisional rival on national TV.
As they showed on the screen during the game, Andy Reid and his coaching staff do incredibly well in the remaining games after their bye week. Vick did so as well last season and seems to be following suit once again this year.
Against the Bears in 2010, Vick threw for 333 yards and two TDs in a loss at Chicago. My guess is he'll be looking for a little payback and try to stick it to them hard come Monday night. Count on it.
1. Aaron Rodgers (at SD)
The Packers' all-world QB has his game on auto-drive at this point, as he's thrown for two or more TDs in every game this season while completing a staggering 71.5 percent of his passes.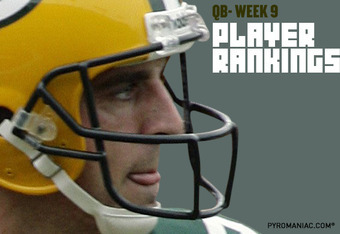 He also currently owns the highest career passer rating in the history of the league (101.9—the only one over 100) and is hooking up with pretty much every wide receiver on the team at will.
The Chargers pass D can dominate the lesser teams of the league without a problem, but against the likes of Aaron "it out" Rodgers, they don't stand a chance (Tom Brady threw for 423 yards and three TDs against them earlier in the season).
Click here to see Other Positional Rankings plus QBs 11-28
Click here to see the Full List of QBs 1-28
Listen & subscribe to our Pyro® Weekly Podcasts: http://pyromaniac.buzzsprout.com
Follow Pyro® on Twitter:  https://twitter.com/pyroman1ac
Follow Pyro® on Facebook:  http://www.facebook.com/pyromaniac