Week 9 Fantasy Football Projections: Roddy White & WRs Sure to Dominate Sunday
November 5, 2011
Leon Halip/Getty Images
The wide receiver industry in the NFL is boom or bust, with very few players able to stay at the top of the league for more than a couple years. But these three guys can say their names have top-tier for about five years.
It takes more than talent at the professional level, and these three players all have quality quarterbacks who target them. All three players have been on the same squad since day one, meaning they have the trust of their organization.
With no teasing needed, here's three guys poised for another day at the office in Week 9, despite not being chosen by LeBron James.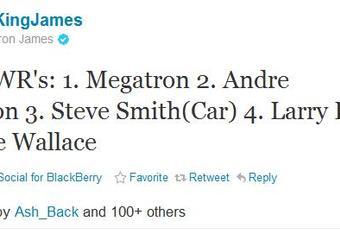 Greg Jennings
Through seven games this season, Jennings is on pace for his best season yet.
He's collected 42 grabs for 677 yards, along with five touchdowns for the undefeated Green Bay Packers. It certainly doesn't hurt that Aaron Rodgers is having an MVP-caliber season, but Jennings is quickly becoming this generation's Marvin Harrison.
He may not talk much, but he performs well almost every time out. The San Diego Chargers won't be able to stop him, as their struggles will continue.
Projection: 9 catches, 128 yards, 1 TD
Roddy White
The opponent is Indianapolis, and Julio Jones is in his first week back, so White is an incredible start for fantasy owners in Week 9.
Yes, the Falcons will pound the ball with Michael Turner for most of the game, but they'll also take some chances downfield to try and get a early lead.
White finished with 115 catches and almost 1400 yards last year.
He's only caught three touchdowns so far this season, but I foresee two TDs in Week 9.
Prediction: 11 catches, 87 yards, 2 TDs
Marques Colston
After a three-catch, 50-yard letdown in a loss to the St. Louis Rams in Week 8, Colston will be a bigger part of the New Orleans Saints offense on Sunday.
Colston already missed two weeks completely and produced little output another week due to injury. The Saints are up against the Tampa Bay Buccaneers Sunday, who they lost to in Week 6 this season. In that game, however, Colston caught seven balls for 118 yards and a touchdown.
Colston and the Saints have a lot to prove this week.
Prediction: 9 catches, 141 yards, 1 TD