Terrell Owens' Legal Issues Will Keep Him out of NFL
November 5, 2011
Mike Ehrmann/Getty Images
Terrell Owens reportedly missed his court date for child support payments because he held an NFL tryout, but a bench warrant for his arrest proves he's not above the law.
According to TMZ, Owens' warrant was issued on Nov. 1 after the former NFL star receiver missed his date in family court. The mother of his four children was waiting for him in court, wanting to collect missed child support payments.
According to TMZ, TO famously said he couldn't afford the payments because they were based on the wages he was making with the Dallas Cowboys years ago. He's currently not an employed athlete, as the tryout he held wielded no suitors.
According to Sporting News, TO's publicist, Diana Bianchini, had this to say about the legal issues surrounding the afflicted receiver:
"We are confident that Mr. Owens will be signed this season to the NFL and all of his child support payments will be modified according to his true income."
However, Owens' failure to provide his children with money will negatively affect his chances to enter the league. Also, TO will not be able to bite the bullet and sign a low contract to the NFL if he is even offered one.
The failed tryout and bench warrant for his arrest are going to send the fragile wide receiver into a tailspin, as his usual swagger and confidence will be compromised.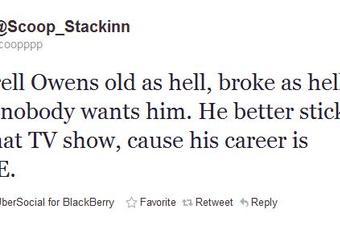 Without his cockiness, TO is not himself. At age 38 and coming of surgery for a torn ACL, Owens' days in the NFL aren't numbered—they're over.
According to CBS Sports, recently retired Randy Moss is still getting calls about his return, further proving teams are desperate—just not desperate to destroy their locker room with Owens' attention-seeking behavior.